Bunk beds are a smart way to add an extra sleep surface without taking up more floor space. They usually have two mattress frames, one above the other, though different configurations are available.
These space savers are a popular choice for families with children, teens, or a guest room. They're also often seen in hostels, dorms, barracks, and other places with limited space.
Because bunk bed frames differ from standard frames, there are additional factors to keep in mind when choosing the right mattresses, including weight, profile, and safety.
We'll take a look at some of the best mattresses for bunk beds and weigh their pros and cons. We'll also explain what sizes and types of mattresses are best for bunk beds, how firm they should be, and how much they cost.
Avocado Eco Organic Kids Mattress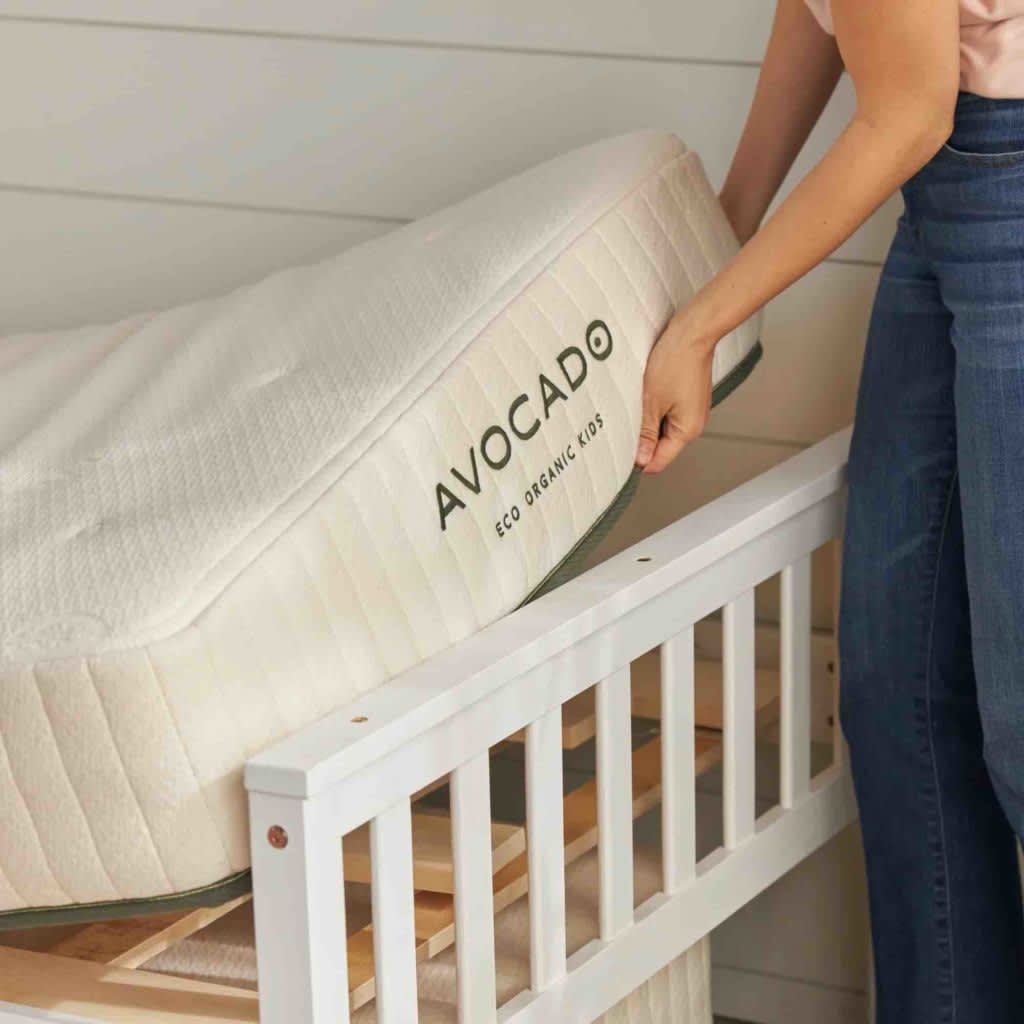 Warranty 10 Year, Limited

Trial Length / Warranty

100 nights / 10 Year, Limited
Sleep Doctor's Take
The Avocado Eco Organic Kids Mattress is a hybrid model made with high-quality materials like organic latex, wool, and cotton. The low profile, firm support, and responsive surface make this an excellent choice for kid's bunk beds.
Latex and coils balance pressure relief and support
Wool and cotton promote breathability
GOLS and GOTS organic certification
Latex produces some motion transfer
May be too firm for kids who enjoy feeling "hugged" by their bed
The Avocado Eco Organic Kids Mattress checks a lot of boxes when it comes to kid mattresses. In addition to high-quality materials and construction, a standout feature of this model is the eco-friendly design – with certifications to back up eco-conscious claims.
The mattress is a latex hybrid with a firm (7) feel and 7-inch profile, so it fits perfectly on bunk beds or trundle beds. The design begins with an organic cotton cover and a thin layer of organic wool, which acts as the bed's flame retardant. Beneath is a 1-inch latex layer followed by a layer of 6-inch pocketed coils. The cotton and wool gently cushion your child's body without too much sinkage, and the latex has a buoyant feel that gently contours but still offers ample support.
All the materials in the Eco Organic Kids Mattress have natural cooling properties, so this bed is a great pick for children who sleep hot. Latex has an open-cell composition that retains minimal heat, especially compared to foam. Cotton and wool are highly breathable and air circulates freely through the coil interior.
The cotton and wool have organic certification from the Global Organic Textile Standard (GOTS) and the latex has organic certification from the Global Organic Latex Standard (GOLS). The mattress also has GREENGUARD Gold certification to show it has passed rigorous standards for chemical emissions.
Avocado offers a 100-night sleep trial for this model. You'll also receive a 10-year warranty. Customers residing in the contiguous U.S. receive free shipping.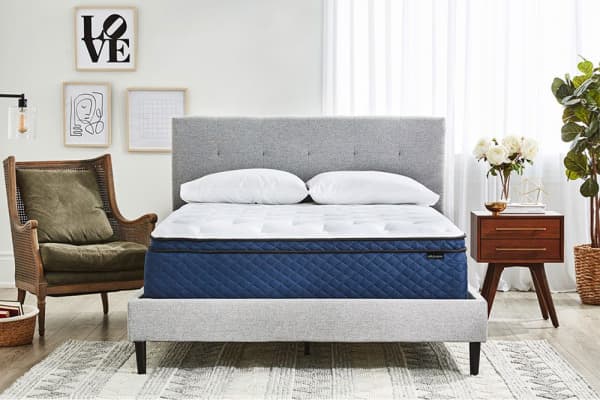 Trial Length 100 nights (30-night requirement)

Warranty 15 Year, Limited

Trial Length / Warranty

100 nights (30-night requirement) / 15 Year, Limited
Sleep Doctor's Take
The Silk & Snow Hybrid is a foam-and-coil hybrid that hugs your child's body while still offering plenty of support. The bed has an approachable price-point compared to other comparable foam hybrids we've tested.
Zoned support core to promote good posture
Gel-infused memory foam engineered for cooling
Silver-infused cover designed for antimicrobial protection
Profile may be too thick for top bunk
Foam may produce temporary off-gassing odor
The Silk & Snow Hybrid Mattress is an affordably priced medium firm (6) model that includes high-quality features to satisfy discerning bunk bed sleepers without breaking the bank.
The cover is a polyester and spandex blend infused with silver, which is intended to provide antimicrobial properties. Quilted into the cover, a 1-inch polyfoam layer cushions the surface. It's followed by a 2-inch memory foam layer that cradles sleepers and redistributes their weight. A gel infusion in the memory foam is engineered to combat heat retention by wicking away body warmth. Our testers found that this combination provided notable pressure relief without trapping heat against their bodies.
Individually pocketed coils make up the zoned support core. These coils enabled our team members to move easily while limiting the spread of vibrations. Increased firmness across the middle enhances lumbar support to promote good spinal alignment. An additional layer of firm foam wraps around the outside of the core for robust edge support that may make it easier to get into and out of a bunk bed.
We found the Silk & Snow Hybrid particularly comfortable for side sleeping. Our testers under 230 pounds also enjoyed it for back sleeping, and those under 130 pounds felt it was supportive enough for stomach sleeping.
At 12 inches thick, the Silk & Snow Hybrid might be a little too tall for some top bunks. However, it's ideal for many bottom bunks.
The Silk & Snow Hybrid has a 100-night sleep trial. Shipping is free in the contiguous United States and the Canadian provinces. The Silk & Snow Hybrid also comes with a 15-year limited warranty.
While hybrid mattresses often come at a premium price-point, the Silk & Snow Hybrid is budget-friendly. This makes it approachable for families that need a bunk bed mattress with the responsiveness of springs and the conforming of foam.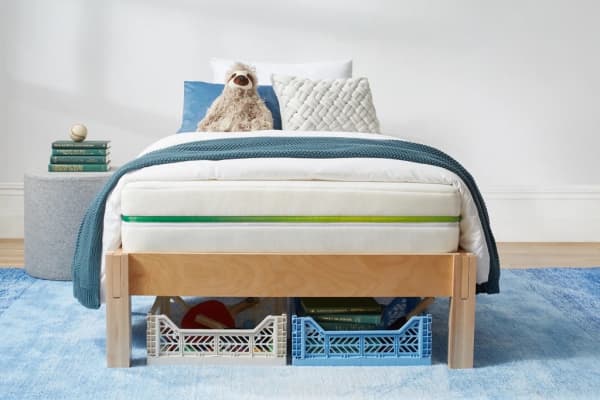 Trial Length 100 nights (30-night requirement)

Warranty 10 Year, Limited

Trial Length / Warranty

100 nights (30-night requirement) / 10 Year, Limited

Firmness Medium Soft (4), Medium Firm (6)
Sleep Doctor's Take
The Helix Kids Mattress is a dual-sided model that offers a different firmness level on each side. Having two firmness options in one bed ensures the mattress will stay comfortable for your child throughout their growth.
Dual-sided design offers two firmness options
Water-repellent surface
Breathable Tencel cover
May not be suitable for children over age 12
Children may notice temporary VOC odor
The Helix Kids Mattress is a hybrid model designed with children in mind. The dual-sided mattress has a medium soft (4) feel on one side and medium firm (6) feel on the other. The dual firmness options are meant to accommodate your child's needs as they grow from toddlerhood into adolescence.
The bed measures 8 inches thick and features a 6-inch coil layer sandwiched between foam layers. The surface of the softer side is composed of plush memory foam while the firmer side features a denser polyfoam. The entire mattress is encased in a water-repellent cover made with breathable Tencel fabric. The water-repellent finish ensures protection for the mattress from nighttime bedwetting or accidental spills.
While children can sleep on whichever side feels most comfortable, the medium firm side is meant for children roughly 3 to 7 years old. The softer side is aimed at children ages 8 to 12, since older children may gravitate toward beds with a softer feel. Simply flip the mattress to pick your child's preferred firmness level.
Helix offers a 100-night sleep trial and 10-year warranty. Shipping is free to all 50 states.
Warranty Lifetime, Limited

Trial Length / Warranty

120 nights / Lifetime, Limited

Firmness Soft (3), Firm (7)
Sleep Doctor's Take
The Nolah Nurture 10 is a flippable hybrid mattress made with latex, wool, and organic cotton. We recommend this model for parents who prioritize beds made with non-toxic, premium materials.
Flippable with soft and firm sides
Made with natural materials
Zoned support core
Above-average price-point
Children who enjoy feeling "hugged" by mattress may find this too bouncy
The Nolah Nurture 10 is a hybrid mattress made with natural materials and designed with kids in mind. It's flippable, including a soft (3) side for smaller children and a firm (7) side to support them as they grow.
Each side includes a GOTS-certified organic cotton cover, a temperature-regulating wool fire barrier, and a 2-inch Talalay latex comfort layer. Combined, these materials cradled our testers and cushioned their pressure points while letting heat escape.
The HDMax Tri-Zone support core consists of 6-inch pocketed coils that react independently to contour to the body and isolate motion. Our testers felt minimal vibrations when we dropped a kettlebell next to them. Three firmness zones also help support good posture by limiting midsection sinkage.
Most of our testers preferred the extra support of the firm side, especially when lying on their stomachs. However, our team members under 130 pounds preferred the soft side for back and side sleeping.
The Nurture Mattress and its components hold several certifications pertaining to content and sourcing, including OEKO-TEX Standard 100, GOTS, eco-INSTITUT, and Rainforest Alliance.
This model is 10 inches high, making it versatile enough to work on either the top or bottom bunk of many frames. However, read the manufacturer's guidelines to ensure the guardrails on the upper bunk are high enough and that the total weight does not surpass recommended limits.
Nolah provides a 120-night sleep trial. Shipping is free to the lower 48 states. The Nurture also comes with a limited lifetime warranty.
With its kid-friendly design and high-quality materials, the Nolah Nurture is especially appropriate for families seeking natural luxury. The two built-in firmness options make the mattress adaptable to changing needs and preferences.
Why You Should Trust Us
Our team members are veterans in the field of sleep products. We base our reviews and guides on extensive research, impartial criteria, and rigorous in-house testing to provide unbiased information.

With a range of body types and preferred sleeping positions, our sleep experts personally test each mattress so we can accurately assess how a model performs for a broad range of sleepers.
What Size Mattress Is Best for a Bunk Bed?
Typical bunk bed frame sizes include twin, twin XL, and full. Twin mattresses are 38 by 75 inches, twin XLs are 38 by 80 inches, and full mattresses are 54 by 75 inches. For safety reasons, it's vital to match the mattress size to the dimensions of the bunk bed frame.
There are several types of bunk bed frames, each with different characteristics. Not all options take the same size mattress on each bunk. Additionally, some frames have three bunks, and some have just one.
| Bunk Bed Type | What It Is | What Sizes Fit |
| --- | --- | --- |
| | Two mattresses of the same size, one placed above the other | |
| | A bed above and an empty space below to accommodate a dresser, desk, etc. | |
| | Three beds stacked directly above each other | |
| | A bottom and a top bunk that are at right angles to one another, one atop the other | Twin, twin XL, or full on top, and twin, twin XL, full, queen, or king on bottom |
| | A twin mattress directly above a full | Twin on top, full on bottom |
| | A bed that can be pulled out from under another bed frame | |
Keep in mind that bunk bed frames have different weight capacities, even among the same type. Be sure to check your frame's rated weight capacity and calculate the total weight of the mattress and the individual sleeping on it before making a purchase.
How Thick Should a Mattress Be for a Bunk Bed?
A bunk bed mattress should be no thicker than what safely fits in the frame. This depends on the height of the guardrails and the depth of the frame.
Federal requirements stipulate that the mattress profile needs to be at least 5 inches below the top of the guardrail for the upper bunk. When in doubt, we generally recommend looking for a mattress 6 to 7 inches high. However, always check the thickness requirements for your specific bunk bed frame.
This is especially important for the top bunk because a mattress that is too thick could increase the risk of the sleeper rolling over the safety railings. It may be less of a concern for bottom bunks under 30 inches off the ground. Mattress thickness can also impact how much overhead space is available, so this is something to consider for both the top and bottom bunks.
What Mattress Type Is Best for a Bunk Bed?
The type of bunk bed mattress you should choose depends largely on who sleeps on it. The ideal mattress for small children may be different from the best option for guests. Safety, quietness, durability, and versatility are frequently top considerations.
Any of these four major mattress types may be suitable for some bunk beds, but each carries potential pros and cons.
| Material | Description |
| --- | --- |
| | Foam models are popular for bunk beds. They typically consist of at least two layers of foam intended to cradle and support the body. Their light weight makes it easier to stay within the recommended weight capacity, and they're generally the quietest choice. |
| | Innerspring models consist primarily of supportive metal coils. Responsive and easy to move around on, this type of mattress can simplify the process of getting in and out of the bed. However, innersprings are often prone to squeaking, which may be problematic for the sleeper on the other bunk. |
| | Latex models usually contain natural latex derived from the sap of the rubber tree, though synthetic and blended options are also common. This type of mattress may appeal to shoppers who value durability or natural materials. While often heavier than other varieties of mattresses, latex models frequently have a lower profile. |
| | If you have a guest room, a hybrid model may be versatile enough to accommodate different sleepers. A hybrid consists of a generous comfort system coupled with a metal coil core. This combination tends to provide a balanced performance. Since hybrid mattresses are often thicker than other designs, pay careful attention to the profile before selecting a hybrid model for a bunk bed. |
How Firm Should a Bunk Bed Mattress Be?
The ideal bunk bed mattress firmness depends on the weight and preferred position of the sleeper. Unfortunately, this can be difficult to anticipate if you plan to use the bunk bed for guests.
In general, most sleepers prefer a mattress with a medium (5) or medium firm (6) feel. Individuals who weigh under 130 pounds and side sleepers usually favor this range or slightly softer. Stomach sleepers and those over 230 pounds generally gravitate toward the higher end of the firmness spectrum. Back sleepers, combination sleepers, and individuals between 130 and 230 pounds typically fall right in the middle.
How Much Does a Bunk Bed Mattress Cost?
Several factors can influence how much you'll need to spend on a bunk bed mattress. First and foremost, you'll likely need to budget for several mattresses. Standard bunk beds need two sleep surfaces, while triple bunk beds call for three.
Since most bunk beds fit twin, twin XL, or full size mattresses, they should be less expensive than queen and king sizes. Choosing lower-profile models suitable for bunk beds also often saves money since they use less material.
Innersprings and all-foam models are often the most affordable options for budget shoppers, but there are also price variations between brands. Comparison shopping and watching for sales can help you get the best bang for your buck.