Sleep is crucial to a toddler's health and development, which is why the American Academy of Pediatrics encourages parents to reinforce good sleep habits at an early age. One way that parents can foster healthy sleep is by choosing a quality mattress for their child.
Support and safety considerations are top priorities when buying a toddler bed. A mattress needs to be firm enough to promote spinal alignment but not uncomfortably rigid. The mattress should also fit snugly within a crib or bed frame to prevent entrapment and other hazards.
To assist parents with their search, we've come up with a list of the best toddler mattresses. We'll discuss their materials, features, and company policies so you can find the best fit for your child. We'll also give tips for recognizing when your child is ready to transition from a crib to a toddler or twin size bed.
Avocado Organic Crib Mattress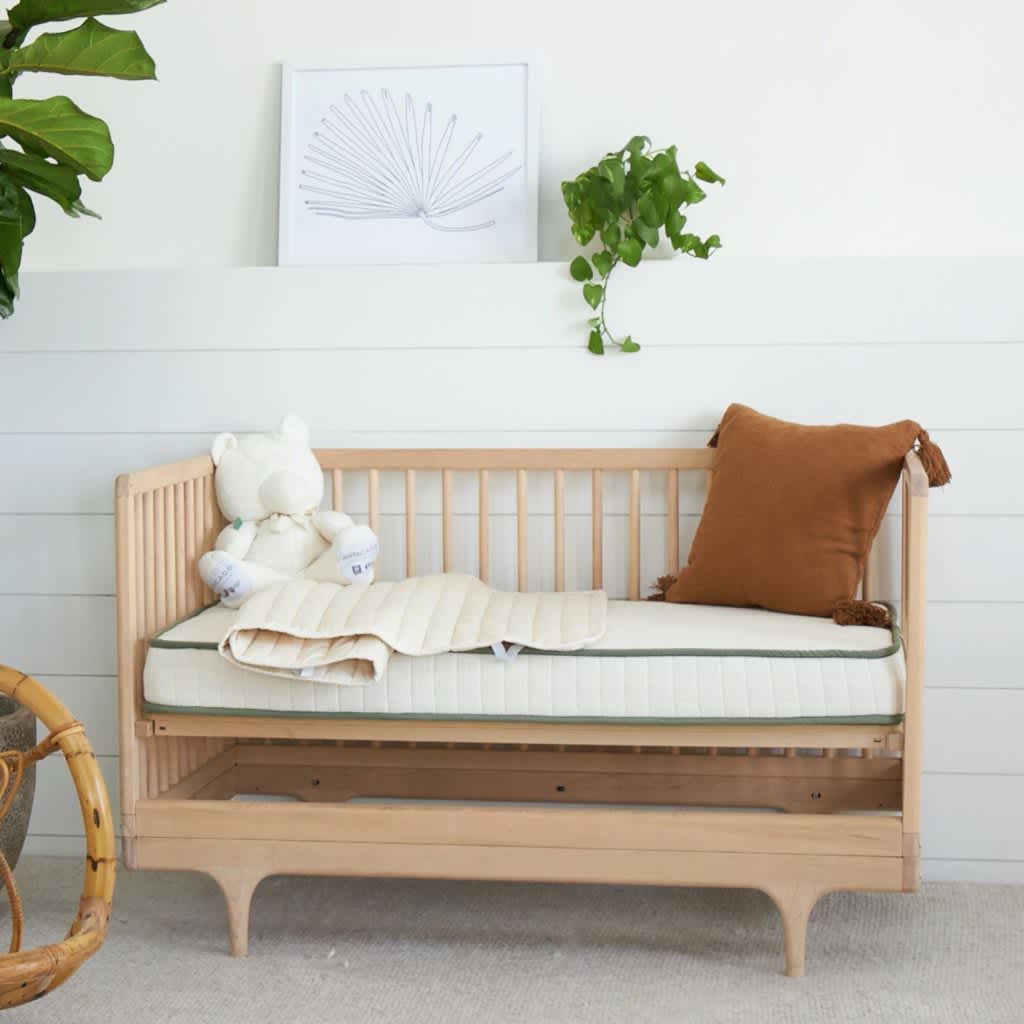 Warranty 25 Year, Limited

Trial Length / Warranty

30 nights / 25 Year, Limited

Firmness Medium Firm (6), Firm (7)
Sleep Doctor's Take
The Avocado Organic Crib Mattress is made from natural and durable materials that should last your child through their toddler years. A flippable design with medium firm and firm feels ensures your child stays comfortable as they grow, helping them maintain healthy sleep postures.
Handmade using natural and organic materials
Dunlop latex gives firm yet responsive support
Excellent value
The mattress' natural and organic materials hold a higher price-point
The firm and responsive feel may not be great for children who prefer more surface cushioning
Some natural and organic beds have a premium sticker tag, but the Avocado Organic Crib Mattress is not one of them. The handcrafted mattress uses sustainably sourced, quality materials that should satisfy eco-conscious shoppers. The dual-sided model sleeps infants and toddlers, so parents get even more value for their money.
The infant side uses a combination of coconut husk fiber and firm organic Dunlop latex to support small bodies. Both materials are naturally breathable, so your young child is less likely to overheat. The surface has a firm (7) feel designed for babies up to 12 months old.
Flipping the mattress exposes a medium firm (6) feel intended for kids ages 1 to 4 years old. This side features 1 inch of Dunlop latex with a layer of cushiony wool. The latex encourages good sleep posture, while the wool eases pressure buildup. The latex is more responsive on this side since toddlers move more than infants.
Both sides feature quilted organic cotton covers designed to disperse heat. Our testing showed that the mattress does indeed do a good job of staying temperature neutral. The combined layers amount to 6 inches thick.
The organic cotton and wool is GOTS-certified, while the organic latex holds GOLS certification. GREENGUARD Gold and OEKO-TEX certifications indicate that the mattress is free of harmful chemicals and emits low levels of volatile organic compounds (VOCs).
Avocado's Organic Crib Mattress ships for free within the contiguous U.S. Customers are protected with a 30-night sleep trial and a 25-year limited warranty.
Featuring certified organic materials and a flippable design built to accommodate growing kids during all of their toddler years, the Avocado Organic Crib Mattress shows that affordability and sustainability can go hand in hand.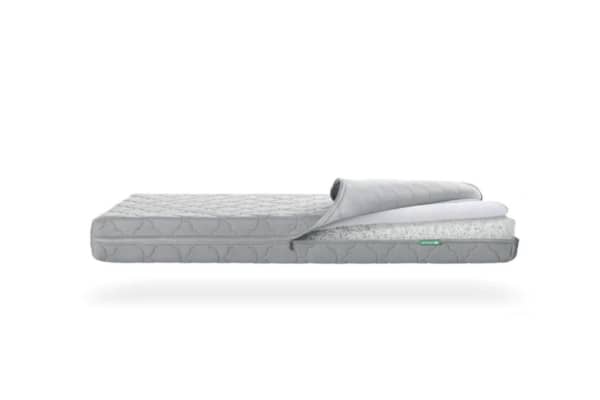 Warranty Lifetime, Limited (Core) 2 year, Limited (Cover)

Trial Length / Warranty

100 nights / Lifetime, Limited (Core) 2 year, Limited (Cover)
Sleep Doctor's Take
The Newton Crib Mattress is a great affordable option for value-seeking parents. You can choose between three style options: the least expensive Essential, the Original with a cooling cover, and the Waterproof. All three offer great support and breathability to keep your child comfortable throughout the night.
Choice of three styles
Machine-washable cover
Sleeps exceptionally cool for a foam mattress
The Wovenaire construction may not be as durable as other materials
The mattress may emit some off-gassing odor after unboxing
The Newton Crib Mattress features a minimalist design available in subtle variations for parents with different needs.
The most affordable of the standard-size crib mattress options is the single-layer Essential, which measures 4 inches in height. The 5.5-inch Original has a dual-layer cover with additional viscose padding, while the Waterproof model features the same construction as the Original but also includes a waterproof lining for a slightly higher cost. Newton Baby also sells the Mini Crib Mattress designed for infants, which is about 14 inches shorter and 4 inches narrower than the standard crib models.
All versions of the Newton Crib Mattress feature a Wovenaire core. This unique mattress material is 90% air. The other 10% is a polymer similar to the substance used in recyclable yogurt containers. The airy material retains very little body heat while also providing a firm sleeping surface suitable for small bodies.
A major selling point of the Newton Crib Mattress is its ease of cleaning. In addition to a machine-washable cover, the inner core of the Essential version can be cleaned in the shower with soap and cool water or simply rinsed outdoors with a hose.
The Original has the same cleaning recommendations as the Essential, but also allows owners to machine-wash and dry the padded viscose encasement that goes between the cover and the mattress core. As its name suggests, the Waterproof option aims to cut down on accident-related washings by including a barrier in the cover that prevents liquids from reaching the inner layers.
The Newton Crib Mattress comes with a 100-night sleep trial and a limited lifetime warranty. Shipping is free in the contiguous U.S.
Comfortable, affordable, and a breeze to clean, the Newton Crib Mattress is an appealing choice for budget-minded parents who don't mind upgrading to a larger size when their toddler grows out of it.
Organic Dream ComfortSupreme 2-Stage Crib & Toddler Mattress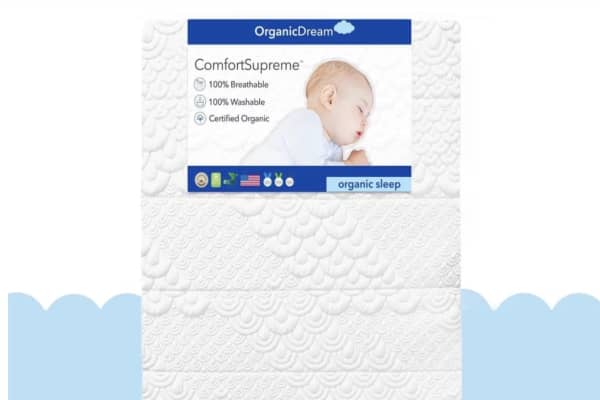 Warranty Lifetime, Limited

Trial Length / Warranty

100 nights / Lifetime, Limited

Firmness Medium (5), Firm (7)
Sleep Doctor's Take
Eco-conscious parents who prioritize organic products for their children will enjoy the Organic Dream ComfortSupreme 2-Stage Crib & Toddler Mattress. The mattress features an organic cotton cover and a foam construction made from a food-based polyfoam. A flippable design also makes it comfortable for growing children.
Reversible design intended to serve your child throughout their infancy and toddler years
Organic cotton cover promotes cooling and breathability
Cover is water-resistant and machine-washable
Kids who prefer more surface cushioning may find the mattress too firm
Only designed for children up to 3 years old
If you prefer to buy and use eco-friendly products, the ComfortSupreme 2-Stage Crib & Toddler Mattress from Organic Dream should appeal to your priorities as a consumer. The core is composed of food-grade polymer processed into a foam that cushions your little one's body without sinking too much. Another green component is the cover, which is made of breathable organic cotton.
The mattress has a reversible design to keep your child comfortable and sufficiently supported through their infancy and toddler stage. One side has a firm (7) and responsive feel, and is intended for babies who sleep in cribs. Organic Dreams follows CPSC guidelines to help ensure the utmost safety. The reverse side is medium (5), resulting in a gentle, adaptive feel for kids between 12 and 36 months.
You may remove and machine wash the cover whenever a cleaning is needed. Please note that washing in hot water can lead to shrinkage, which in turn can cause difficulty when zipping the cover back onto the mattress core. Although the cotton is not waterproof, it will resist liquid seepage for up to 16 hours if bedwetting occurs.
The mattress is available in mini and standard sizes. Both options are reasonably priced, and shipping is free of charge within the contiguous U.S. Your order includes a sleep trial that runs for 100 nights. If you are satisfied with the mattress and decide to keep it, you'll also receive a lifetime warranty covering structural defects as long as you retain original ownership.
Best Dual-Sided Crib Mattress
SleepOvation Baby Mattress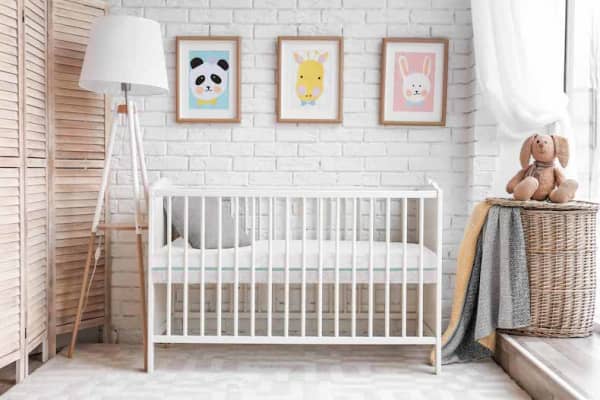 Trial Length / Warranty

None / 5 Year, Limited

Firmness Medium Firm (6), Firm (7)
Sleep Doctor's Take
The SleepOvation Baby Mattress' flippable design and affordable price-point should be appealing to parents looking to get more lifespan out of their child's mattress. A removable and machine-washable cover also makes the mattress a great choice for kids who frequently wet the bed.
Dual-stage model suitable for infants and toddlers
Pocketed coils reduce motion transfer for fewer nighttime disturbances
Removable and machine-washable cover
The foam layers may trap heat
Some toddlers may prefer a mattress with a plusher surface
Parents looking for a versatile hybrid should consider the SleepOvation Baby Mattress. The dual-sided model is appropriate for infants and toddlers, so shoppers get more mileage for a relatively modest price-point. The hybrid is 5.75 inches thick and comes in standard and mini sizes. Toddlers will probably feel more comfortable on the standard's extra surface area.
The mattress has a stretchy polyester-cotton blend cover with a zipper for easy removal. The fabric holds OEKO-TEX Standard 100 certification, indicating that it doesn't contain certain harmful substances. The machine-washable cover is waterproof on the toddler side and water-resistant on the infant side.
Both sides have the same basic construction, but varying foam densities create distinct surface feels. The infant side uses a high-density polyfoam comfort layer for extra sturdy support. Medium-dense polyfoam on the reverse side provides a little more give for toddlers.
The shared support core utilizes pocketed coils designed to reduce motion transfer. When your toddler changes position, movement is less likely to cause disturbances across the mattress. The responsive springs also help distribute body weight more evenly to minimize pressure buildup.
Parents should note that the flame retardant was made without chemicals. Additionally, the foam is CertiPUR-US certified, meaning that it doesn't contain formaldehyde, heavy metals, and other potentially harmful substances.
SleepOvation ships the Baby Mattress free of charge for orders to the contiguous U.S. A five-year limited warranty protects customers from manufacturing defects.
Designed for longevity and ease of cleaning, the SleepOvation Baby Mattress is an excellent choice for both infants and toddlers.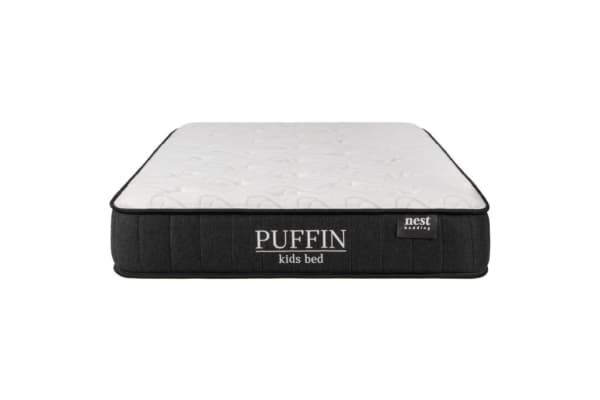 Warranty Lifetime, Limited

Trial Length / Warranty

30 nights / Lifetime, Limited
Sleep Doctor's Take
Value-seeking parents wanting a twin mattress to accommodate their growing toddler's needs should look no further than the Nest Bedding Puffin. A firm feel and responsive Energex foam layers prevent your child from sinking too deeply into the mattress, supporting healthy spinal alignment as they grow.
Available in twin, twin XL, and full sizes
Responsive Energex foam comfort layers
Lifetime warranty
The mattress may emit some off-gassing odor after unboxing
Children who sleep on their sides may prefer more surface cushioning
The Nest Bedding Puffin uses innovative technologies to comfortably sleep toddlers and older kids. The foam model comes in three sizes, all of which have a firm (7) feel. The twin size is most appropriate for toddlers but will also suit your child as they grow older.
Temperature control is one of the mattress' strong performance features. The soft polyester cover contains phase change material that's designed to pull heat away from sleepers. Polyfoam is sewn into the cover for an extra layer of pressure relief.
The comfort system features 2 inches of Energex polyfoam to blend contouring with support. Because the foam has an open-cell structure, it's less likely to retain heat. Below is 5 inches of dense polyfoam that resists slackening under weight and pressure. Despite its sturdiness, the foam has a responsive feel to facilitate movement.
Hydrated silica forms the mattress' non-chemical fire barrier. The foam is CertiPUR-US certified and off-gassed in advance to minimize odors. Any smells present when the mattress is unpacked should dissipate quickly.
Nest Bedding backs the Puffin with a limited lifetime warranty and 30-night sleep trial. Shipping is free for orders to the contiguous U.S.
While mattress prices generally increase with size, the twin size of the Puffin has a price tag on par with smaller toddler mattresses, making it a solid choice for budget-conscious parents seeking a bed with enough leg room for a growing child.
Why You Should Trust Us
We're committed to helping people of all ages sleep better. Young kids have different mattress requirements than adults, and we make sure that comfort and safety are top concerns when assessing toddler beds. 

We understand that families have different budgets and priorities, so we test a variety of mattress types with a range of price-points. Parents are busy enough as it is, so we hope to take some of the stress out of buying a new bed for a toddler.
More Mattress Options for Unique Groups
What Do Toddlers Need for a Good Night's Sleep?
Toddlers have certain support and contouring needs in order to sleep soundly and safely. We'll discuss what to look for in a mattress, including construction type and safety certifications. We'll also highlight signs that your child is ready to switch from a crib to a toddler or twin bed.
Find the Type of Mattress That Works for You
A mattress' materials and assembly determines how it feels and performs, as well as its ease of cleaning. Most toddler beds are innerspring or foam models, but shoppers can also find hybrid and latex options.
When Is It Time to Change Mattresses?
Toddlers who have outgrown their crib can move to either a toddler or twin size mattress. Most children make the transition somewhere between 18 months and 3 years of age. Speak with your child's pediatrician if you have questions about the appropriate time to transition from a crib to a larger bed.
Dual-sided mattresses are designed for either infants and toddlers or toddlers and older kids. Each side has a firmness level specific to a developmental stage. Twin beds are more expensive, but they'll fit your child much longer than a toddler mattress.
Safety and Mattress Certifications
Young kids are more sensitive to chemical exposure, so it's important that mattresses meet rigorous safety criteria. Various certifications, such as CertiPUR-US and GREENGUARD Gold, verify that materials comply with strict content standards.
What Size Is a Toddler Mattress?
The average toddler mattress is approximately 28 inches wide by 52 inches long. Height varies, but most models are between 4 and 6 inches tall.
Sizing is fairly standard since mattresses must fit snugly inside a crib or toddler frame. Space between the mattress and bed frame should not exceed the width of two fingers. The snug fit helps prevent entrapment and other injuries.
Excessive tossing and turning or requests to sleep in your bed are telltale signs that your child feels confined in a crib. The Consumer Product Safety Commission stipulates that toddler beds are intended for kids weighing less than 50 pounds, so your child will need an upgrade once they reach this limit. Most kids are ready to sleep on a twin or twin XL mattress when they are 3 or 4 years old.
| Mattress Type | Size |
| --- | --- |
| Toddler Mattress | 28″ x 52″ x 4-6″ |
Is a Toddler Mattress the Same as a Crib Mattress?
Toddler and crib mattresses are generally the same size, though their firmness levels sometimes vary. Toddler mattresses often have a slightly plusher feel since older babies don't require as much support as infants.
A crib mattress rests in a taller bed frame, while toddlers can safely sleep closer to the floor. Toddler beds also don't need front rails on the frame.
What Type of Mattress Is Best for a Toddler?
All toddler mattresses should be comfortable and supportive, but parents can choose from a range of styles. A bed's performance varies somewhat based on its materials and construction method.
Foam Mattresses
Foam beds are popular choices for toddlers because they are lightweight and usually economical. Medium- to high-density polyfoam is commonly used since it is the most supportive. Memory foam is rare in a toddler mattress since its close cradling poses a safety risk.

All-foam mattresses are usually very quiet since they absorb motion well. Foam off-gasses more than other materials, so new mattresses tend to have a chemical-like smell. Shoppers can look for manufacturers that off-gas in advance, which reduces odors by the time the mattress reaches your home.
Hybrid Mattresses
This design merges a coiled support core with foam or latex comfort layers. Hybrid adult mattresses are very popular, but toddlers can also benefit from their combination of support and pressure relief. Hybrids tend to outperform foam models when it comes to edge support and temperature control. 

Hybrids often have a higher sticker price because of their more complex construction. On the other hand, their steel coils and thick comfort layers usually make them quite durable.
Latex Mattresses
Latex mattresses are made entirely from natural latex, synthetic latex, or a combination of the two. Natural latex is produced using either the Dunlop or Talalay process. The Dunlop method produces firmer latex, so it's more common in toddler mattresses. Latex mattresses are breathable and durable, but they're also on the pricier side.
Dual-Sided Mattresses
Dual-sided mattresses are popular because they are designed to sleep a wider age range. Some models sleep infants and toddlers, while others are suitable for toddlers and older children. 

Each surface has a firmness level tailored to certain developmental needs. An infant side is firmer to keep young babies from sinking into the mattress, while toddler sides are usually a little softer. Dual-sided models use any number of materials, including foam, coils, and wool batting. 

Kids can generally switch from the infant to toddler side when they are 18 months or older. Check with a pediatrician if you have questions about your child's readiness for a toddler mattress.

Innerspring Mattresses
Innerspring mattresses are sometimes confused with hybrids because they both have coiled cores. Their similarity ends there for the most part. Innersprings have thinner comfort systems, so pressure relief is sometimes marginal. This isn't as much of an issue for young children since they need a solid surface for safety reasons. As your child grows, a bed with thicker comfort layers may be necessary to provide sufficient cushioning. 

Since the space between coils promotes airflow, innerspring mattresses usually have excellent temperature control.
When Is Your Baby Ready for a Toddler Mattress?
Every child develops at their own pace, but most babies can switch to a toddler or twin bed between 18 months and 3 years of age. Toddler bed frames often come with side rails to prevent children from falling out of bed, though safety rails can also be installed on twin beds.
The following behaviors may indicate that your child is ready to make the transition to a larger bed:
Your child's scaling their crib like it's Everest. Children who attempt to climb out of their crib are at risk of injury. This usually signals that a crib feels too confining, so it's probably time for a bed that sits closer to the floor.
They prefer sleeping in your bed. Children who frequently want to sleep with their parents or older siblings may just want more space to sprawl out. Transitioning to a toddler mattress can reestablish sleep independence.
Your child recently had a growth spurt. Cribs can start to feel oppressive when kids are about 3 feet tall. If more than half of their body is visible when standing in a crib, it's likely time to switch to a toddler or twin size bed.
Should You Forgo a Toddler Mattress and Upgrade to a Twin Instead?
Mattress firmness and pressure relief needs change as your child grows older. Toddler mattresses are on the firmer side since a toddler's developing musculature requires extra support. School-age children can sleep on a softer model with deeper cradling. Pressure points start to develop more as children grow, so plusher comfort layers help reduce tension.
More developed toddlers are sometimes better off going directly to a twin bed, which they can use for several years. A less expensive toddler mattress might be more suitable for kids still prone to bedwetting, especially one with waterproofing.
Toddler Mattress Safety and Certifications
In addition to buying a well-constructed mattress from a reputable company, parents are advised to take certain safety precautions. Periodically checking the bed for loose splinters or rough metal edges can prevent scratches and other injuries. It's also a good idea to limit accessories like blankets, pillows, and toys, all of which increase the risk of choking and suffocation. Avoid placing your child's crib directly by a window, and make sure dressers and hanging objects are at a safe distance.
Kids are more vulnerable to toxins and chemicals, especially when exposed to them on a nightly basis. Certain trust marks show that materials are free of harmful contaminants and are safe for use by children. Parents can look for the following certifications on company websites, product pages, and labels:
CertiPUR-US:
This certificate is specific to foam and shows that harmful chemicals and other heavy metals weren't used during its manufacturing. It also indicates that the foam emits low levels of volatile organic compounds (VOCs).
Standard 100 by OEKO-TEX:
Used for foams and textiles, this third-party testing rules out the presence of hundreds of harmful substances. Qualifying materials can't contain any of the tested contaminants.
Global Organic Textile Standard (GOTS):
GOTS certification shows that chemicals, pesticides, and other contaminants weren't used to source and produce a textile.
GREENGUARD Gold:
This third-party testing verifies that a product emits low levels of VOCs. The certificate indicates that any off-gassing present is not considered harmful.