Medical Disclaimer: The following content should not be used as medical advice or as a recommendation for any specific supplement or medication. It is important to consult your health care provider prior to starting a new medication or altering your current treatment.
Getting a restful night of sleep isn't always easy when you're expecting a new baby, especially as you progress to the later stages of pregnancy. Many pregnant people experience symptoms such as nausea, depression, and anxiety, which can negatively impact a person's sleep. Finding a comfortable sleep position and moving around in bed can also get harder, particularly if you experience joint pain or heartburn.
One way to alleviate some of the discomforts of pregnancy as you sleep is to find the right mattress. This can help prevent pressure points from forming, as well as making it easier to change positions and get in and out of bed.
We'll discuss our top picks for the best mattresses for pregnancy and walk you through the most important features so you can make the best purchasing decision for you.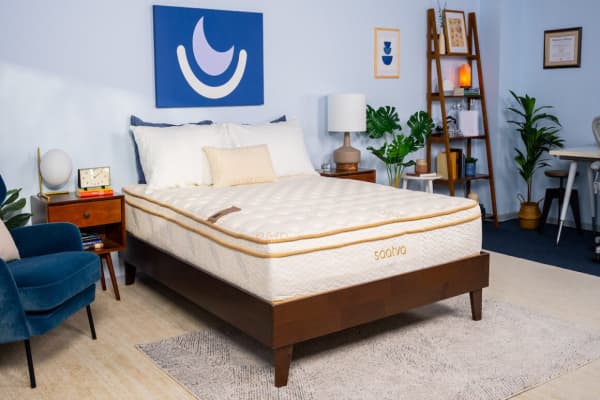 Trial Length 365 Nights ($99 Return Fee)

Warranty Lifetime, Limited

Trial Length / Warranty

365 Nights ($99 Return Fee) / Lifetime, Limited

Firmness Soft (3), Medium Firm (6), Firm (8)
Sleep Doctor's Take
The Saatva Classic provided our testers versatile comfort and impressive support across most body types and sleep positions. The bed's design is durable and offers a good mixture of features for pregnant sleepers, including a cool feel, above-average pressure relief, and a slight bounce that makes it easy to change positions.
Two thickness and three firmness options to choose from
Breathable dual-coil design limits heat retention
Reinforced lumbar zone and edges for consistent support
Average motion isolation
Slightly higher-than-average price tag
The Saatva Classic is an innerspring mattress that comes in three firmness options: soft (3), medium firm (6), and firm (8). You can also choose between two height options: 11.5 inches and 14.5 inches. This bed features an organic cotton pillow-top cover with an antimicrobial treatment designed to inhibit bacteria and mold. A polyfoam layer and a memory foam lumbar pad are quilted into the cover for cushioning. A layer of zoned pocketed coils and a layer of innerspring coils add responsive support.
How Does It Feel?
The Saatva's three firmness options offer versatile comfort depending on your sleep preferences. As a result, our sleep testers found this model comfortable for most types of sleepers.
We found that Saatva's updated approach to the traditional innerspring design provided several advantages for mattress performance. The bed's two layers of coils are durable, breathable, easy to move on, and pressure-relieving. However, the noticeable bounce means this bed tends to transfer some motion across its surface.
Why We Like It 
Nearly all of our sleep testers found at least one firmness of the Saatva Classic comfortable. The model's mixture of features enhances performance traits important to pregnant sleepers, including easy movement, notable temperature control, minimal off-gassing, and balanced cushioning and support for the lower back. The bed's construction is also durable, meaning it should last well beyond your pregnancy. Free White Glove delivery, a one-year sleep trial, and a limited lifetime warranty add value to the Saatva Classic.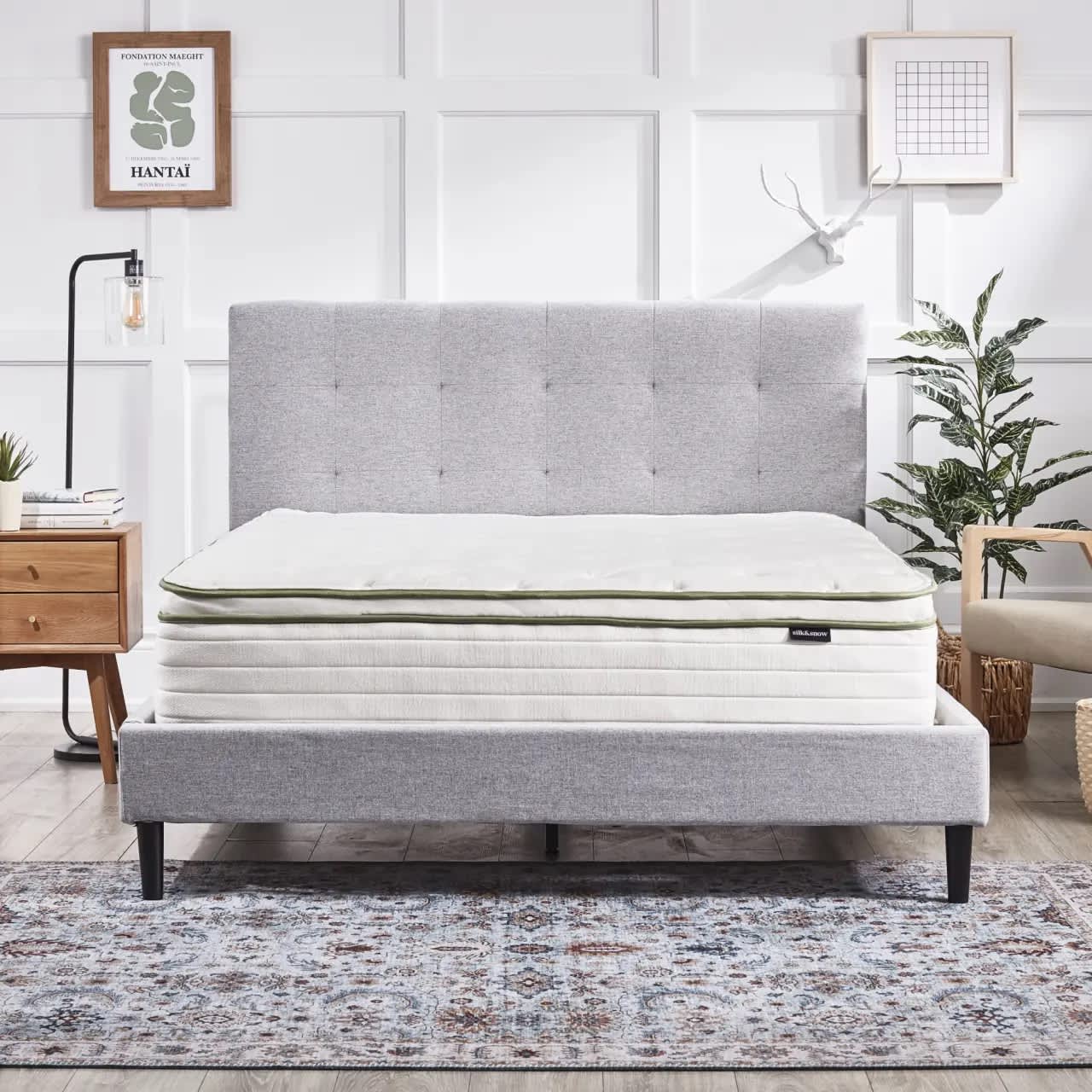 Trial Length 100 nights (30-night requirement)

Warranty 15 Year, Limited

Trial Length / Warranty

100 nights (30-night requirement) / 15 Year, Limited
Sleep Doctor's Take
Premium materials at a reasonable price make the Silk & Snow Organic a great buy for value seekers. This bed's natural comfort layers and medium firm (6) feel work well for side sleepers of all weights. A reinforced coil support core also adds breathability and easy movement.
GOTS-certified organic cotton and GOLS-certified organic latex limit chemical content
Reinforced perimeter makes it easy to sit or sleep near the edge
Zoned coil system provides targeted lumbar support to improve posture
Lacks support for back sleepers over 230 pounds and stomach sleepers over 130 pounds, so it may not be ideal if your partner favors these positions
Average motion isolation
Moderate pressure relief
The Silk & Snow Organic is a medium firm (6), 12-inch hybrid mattress. The bed features largely natural materials, including an organic cotton cover, Joma wool, and organic Dunlop latex. The Silk & Snow Organic's support core is made up of zoned, pocketed coils with a reinforced perimeter. Despite its extensive use of natural materials and sophisticated construction techniques, the Silk & Snow Organic carries a lower price tag than most similarly constructed models.
How Does It Feel?
Our testers found the Silk & Snow Organic's moderate contouring and supportive coil core especially comfortable for back and side sleepers between 130 and 230 pounds. Notably, the mattress earned solid marks across weight groups for side sleeping, which is usually the recommended position during pregnancy.
The Silk & Snow Organic's hybrid construction felt sturdy and responsive. The buoyant latex layer and springy coil system made it easy to move around on the surface. Thanks to zoned support in the center third of the mattress, most of our testers felt they were able to maintain neutral spinal alignment. The bed's reinforced perimeter also did a very good job supporting our testers' body weight at the edge of the bed.
Why We Like It 
The Silk & Snow Organic uses high-quality, GOTS-certified organic cotton and GOLS-certified organic latex. Combined with a zoned coil support core with reinforced edges, this bed represents an excellent value for pregnant sleepers. It also ships for free to the contiguous United States and Canadian provinces and comes with a 100-night sleep trial and a 15-year limited warranty.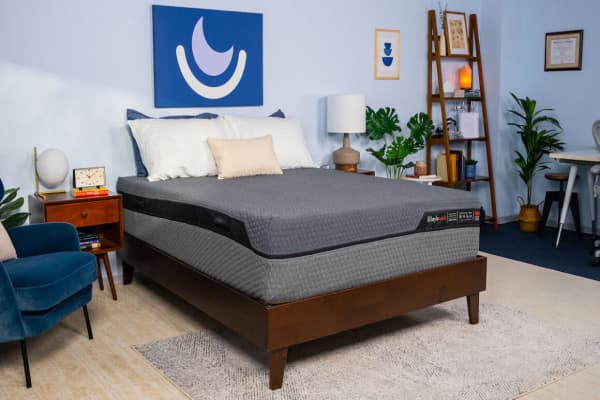 Warranty 10 year, Limited

Trial Length / Warranty

120 nights / 10 year, Limited

Firmness Reversible: Medium Soft (4), Firm (7)
Sleep Doctor's Take
The Layla Hybrid is a flippable mattress with a medium soft (4) side and a firm (7) side that can accommodate a pregnant sleeper's changing needs. A pocketed coil core with a reinforced perimeter facilitates movement while allowing sleepers to sit or sleep along the edge.
Flippable design with two firmness levels for versatile comfort
Removable, washable cover for easy cleaning
Strong edge support for more usable surface area
The mattress is heavy, so pregnant people shouldn't help flip it without their doctor's approval
Firm side provides average motion isolation and pressure relief
Medium soft side offers average breathability and ease of movement
The Layla Hybrid is a 13-inch, flippable mattress with a medium soft (4) side and firm (7) side. With two distinct feels built in, the mattress can provide comfort for changing needs and preferences. Both sides incorporate memory foam for close-conforming pressure relief. A copper gel infusion is intended to combat heat retention.
How Does It Feel?
Each of the Layla Hybrid's sleep surfaces appealed to some of our sleep testers. Our team members who weigh under 130 pounds enjoyed the extra contouring and pressure relief of the medium soft side, especially when laying on their sides. The firm side earned higher marks from sleepers over 230 pounds, back sleepers, and stomach sleepers.
Overall, the hybrid design of the Layla Hybrid has noticeable edge support, and we expect the mattress to hold up well over time. Throughout our testing, we noticed that the firm side provided better airflow and ease of movement, while the softer side offered superior motion isolation and pressure relief.
Why We Like It 
The flippable design of the Layla Hybrid includes two firmness options to accommodate a wide range of sleepers. This is especially important during pregnancy when your sleep preferences and comfort needs may be in flux. The bed's strong edge support also made it easier for our testers to get in and out of bed. An antimicrobial barrier is designed to resist bacteria and resulting odors, and the cover is also removable and washable for easy cleaning. The mattress comes with a 120-night sleep trial and a 10-year limited warranty.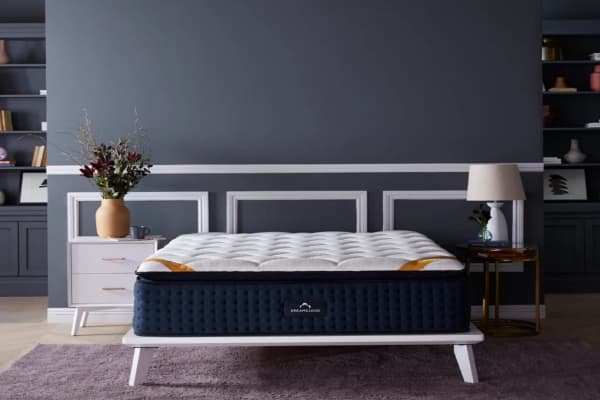 Trial Length 365 nights (30-night requirement)

Warranty Lifetime, limited

Trial Length / Warranty

365 nights (30-night requirement) / Lifetime, limited
Sleep Doctor's Take
The DreamCloud Premier Rest is a hybrid bed with a complex, luxury design. The bed's four-layer comfort system offers impressive pressure relief for side sleepers while staying cool. This hybrid is also incredibly quiet and stifles motion for couples.
Outstanding cushioning and support for most side sleepers
Conforms closely without trapping much heat
Comes with a 365-night sleep trial and a limited lifetime warranty
Weaker edges than many hybrids, making it slightly more difficult to sit on the edge
High-profile design requires deep pocket sheets
Complex construction comes with a higher price tag
The DreamCloud Premier Rest is a 16-inch, medium (5) hybrid bed with a luxurious design. It features a plush cashmere blend pillow-top, several layers of foam, and a pocketed coil core. The Premier Rest may be ideal for pregnant side sleepers seeking a high-profile model with significant pressure relief.
How Does It Feel?
Our sleep testers were impressed with the thick, four-layer foam comfort system of the DreamCloud Premier Rest. This design provided noticeable pressure relief and contouring. As a result, we found this bed worked best for side sleeping, the position doctors usually recommend during pregnancy. However, the bed's ample foam layers and medium (5) feel allowed too much sinkage for some of our testers over 230 pounds.
Additionally, our testers were pleasantly surprised by the Premier Rest's ability to stay cool despite its thick comfort system and close contouring. The DreamCloud Premier Rest was also very quiet when bearing weight and isolated motion to one side of the bed, making this an excellent option for couples or anyone sharing a bed with a sleep partner.
Why We Like It 
The DreamCloud Premier Rest's four-layer comfort system cradled our testers' curves, which we expect to work well for side sleeping during pregnancy. The bed's intricate hybrid design did an excellent job balancing deep contouring with breathability. The bed also ships for free in the contiguous U.S. and comes with a 365-night sleep trial and a limited lifetime warranty.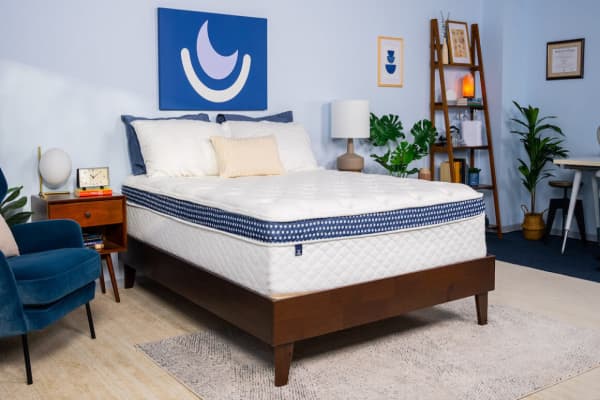 Trial Length 120 nights (30 night requirement)

Warranty Lifetime, Limited

Trial Length / Warranty

120 nights (30 night requirement) / Lifetime, Limited

Firmness Medium Soft (4), Medium Firm (6), Firm (7), Firm (8)
Sleep Doctor's Take
The WinkBed is a modern innerspring mattress. With four firmness levels to choose from, almost any sleeper can find a model that meets their needs. Zoned support helps bolster the lumbar area to reduce midsection sinkage that could otherwise contribute to back pain.
Four firmness options to accommodate different sleepers
Zoned pocketed coils support the lower back
Durable design with great edge support
Average pressure relief
Softer model could slightly impede movement
Firmer options may transfer some vibrations
The WinkBed is a 13.5-inch innerspring mattress that comes in four firmness levels: Softer (4), Luxury Firm (6), Firmer (7), and Plus (8). Designs vary between the firmness options. The Softer, Luxury Firm, and Firmer each include a Euro-top quilted with gel-infused polyfoam to gently cushion the hips and shoulders. The Plus uses a comfort system of polyfoam and latex for extra support. All four designs use zoned pocketed coil cores to promote spinal alignment.
How Does It Feel?
We found the WinkBed's wide range of firmness levels offered excellent comfort for all of our sleep testers regardless of body weight and sleep style. In general, the Softer WinkBed was most comfortable for our sleep testers under 130 pounds, the Luxury Firm appealed to those between 130 and 230 pounds, and the Firmer and the Plus were popular with our team members over 230 pounds.
Our testers reported that the WinkBed's zoned pocketed coils provided noticeable support for their lower backs, making this model a good option for sleepers with back pain. The comfort system subtly cushioned the surface, while the breathable design limited heat retention. Sturdy reinforced edges made it easy for our testers to sit along the perimeter.
Why We Like It 
The WinkBed's four firmness levels allow almost any type of sleeper to find a model that suits their needs and preferences. The bed's firm models are supportive enough for many pregnant people with back pain, including those who weigh over 230 pounds. Overall, the modern innerspring design is durable and breathable, staying quiet when bearing weight. The bed also comes with a lifetime limited warranty and a 120-night trial.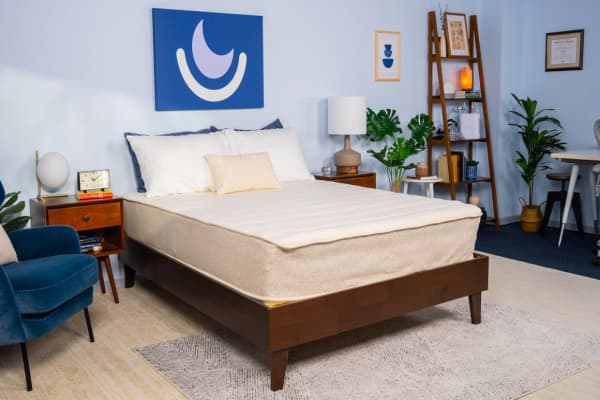 Trial Length 100 nights (30-night requirement)

Warranty 25 Year, Limited

Trial Length / Warranty

100 nights (30-night requirement) / 25 Year, Limited
Sleep Doctor's Take
The Birch Mattress is a hybrid bed made with premium, mostly natural materials. The surface stays noticeably cool thanks to breathable layers of wool, natural Talalay latex, and pocketed coils.
Responsive layers facilitate movement
High-quality natural and organic materials sleep cool
Little to no off-gassing
Responsive layers transfer moderate movement
Minimal hug may not appeal to those who like memory foam
Affordably priced for a latex hybrid, but higher-than-average cost
The Birch Mattress is an 11-inch, medium firm (6) hybrid that uses mostly organic and natural materials, starting with a breathable GOTS-certified organic cotton cover. The bed's comfort system consists of temperature-regulating organic wool and airy natural Talalay latex. Pocketed coils with a reinforced perimeter make up the bed's support core, and a final layer of wool serves as the base.
How Does It Feel?
The Birch Mattress has a medium firm (6) feel that our testers found to be a good middle ground with enough support and pressure relief for most body types. The bed's wool and Talalay latex comfort system contoured to our testers' bodies without letting them sink in very deeply. While this combination helped redistribute their weight, it also made position changes easy. Additionally, the comfort system's natural materials were noticeably cool.
Across weight groups and positions, the Birch Mattress earned high marks from our testers. It performed especially well for side sleepers over 130 pounds. However, we recorded moderate vibrations traveling across the surface when our testers changed positions.
Why We Like It 
We like the Birch Mattress for its quality, natural materials, durable hybrid design, and medium firm (6) feel that meets the needs of many types of sleepers. This bed is also ideal for pregnancy due to its breathable layers and springy, easy-to-move-on surface. Birch also offers a 25-year limited warranty and a 100-night sleep trial.
Why You Should Trust Us
Finding the best mattress for pregnancy requires a unique mixture of features. We searched for beds that worked well for side sleeping while offering strong edge support, easy movement, and breathability. We also wanted beds that could be durable and comfortable far beyond your pregnancy.

Our experienced team of sleep product experts performed comprehensive testing based on key performance metrics. Our team members vary in body types and personal preferences to get a broader idea of how each model might perform for pregnant people and their partners.
How Can You Sleep More Comfortably During Pregnancy?
Being pregnant can pose a number of challenges to sleeping comfortably, but the right mattress can help. In order to determine which mattress is right for you, it's important to consider how pregnancy can affect sleep and what options are available for mattresses and mattress accessories.
Find the Type of Mattress That Works for You
Each type of mattress has its own pros and cons. There isn't one best mattress type for all pregnant people, but understanding the strengths and weaknesses of each mattress style can help you choose the right bed for you.
Understand Pregnancy's Effect on How You Sleep
Doctors recommend sleeping on your side while pregnant. If you're not already a side sleeper, this new position may feel uncomfortable without the right level of pressure relief and support from your mattress. Your changing body and increased baby activity at night may also cause you to wake up more throughout the night, leading to additional discomfort.
Use Mattress Accessories for Additional Support
In addition to finding a good mattress, adding a few accessories to your bedroom can help you get more restful, uninterrupted sleep. A mattress topper, pregnancy pillow, or adjustable bed base can help increase comfort and support for sensitive areas like your stomach and lower back.
Which Type of Mattress Is Best for Pregnancy?
Most pregnant sleepers need a mattress with a moderate level of contouring and support. It also helps to have a mattress that's comfortable for side sleeping and allows for easy movement.
While there is no one type of mattress that's best for all pregnant people, each kind of mattress has its strengths and weaknesses in this area.
Hybrid Mattresses
Hybrid mattresses combine foam or latex comfort layers with a pocketed coil support core. The top layers provide good cushioning, while the support core allows for easy movement, airflow, and breathability. As a result, hybrid beds offer an excellent mix of features for pregnant people.
Innerspring Mattresses
Innerspring mattresses typically feature a slimmed down comfort system and a substantial support core of either pocketed or regular metal spring coils. Once the standard in the industry, traditional innerspring mattresses are less common these days.
Innersprings can be supportive, responsive, and highly durable. However, the minimal comfort layers may not provide enough pressure relief for some sleepers. The thick coiled support core may also lead to more noise and movement, which can disturb your sleep partner.
Latex Mattresses
This type of bed features comfort layers and a support core made entirely of latex. Mattress manufacturers typically use natural latex, but you can also find beds made with synthetic latex or a blend.
Latex offers several key advantages for pregnant sleepers, including moderate contouring and support with a resilient bounce. This material also tends to be more breathable than many foam formulations. However, latex beds are usually heavier and more expensive than other kinds of mattresses.
Airbed Mattresses
Not to be confused with a simple blow-up mattress, a high-quality airbed combines a foam or latex comfort system with a base of heavy-duty rubber air chambers. This design allows you to easily change the firmness of your bed with a remote control.
Airbeds can carry a higher price tag. However, they are generally very durable. They also offer extremely customizable comfort, a key advantage as your body and comfort needs change throughout your pregnancy.
Foam Mattresses
Foam mattresses feature comfort layers made from memory foam or polyfoam combined with a support core made from high-density polyfoam.
All-foam beds are known for their ability to hug and cradle the curves of your body, relieving pressure in key areas. While this design can be appealing to pregnant people sleeping on their side, it's worth noting that all-foam mattresses also tend to retain heat, and they generally aren't as easy to move on as other mattress types.
Is Memory Foam Safe During Pregnancy?
Memory foam is generally safe and does not pose any harm to pregnant sleepers. If safety is a concern, however, you may want to consider shopping for mattresses made with foams that are CertiPUR-US certified. This certification indicates that the foam used in the mattress is free of many harmful chemicals.
Should Pregnant People Avoid Mattress Off-Gassing?
Off-gassing refers to the release of volatile organic compounds (VOCs) when a mattress is first unpacked. VOCs are a byproduct of the mattress manufacturing process and are generally considered harmless. However, the smell of the VOCs as they dissipate can be unpleasant to some. We recommend allowing a new mattress to fully air out in a well-ventilated area before use.
Getting More Restful Sleep During Pregnancy
Sleep is always an important part of good health, and it becomes even more crucial during pregnancy. However, what you need to get a restful night's sleep can change dramatically as your pregnancy progresses.
How Does Pregnancy Change Your Sleep Needs?
Pregnancy comes with a host of physical changes that can impact your sleep, including weight gain and changes in body shape. This can affect your sleep position and what you need from your mattress. For example, in the later stages of pregnancy, stomach sleepers will likely have to change their sleep position, which may make their mattress feel less comfortable.
Additionally, pregnant people are also at risk for certain health issues that can disrupt sleep, including sleep apnea and heartburn. However, finding the right mattress can help increase the likelihood of getting quality rest each night.
Why Is Side Sleeping Important During Pregnancy?
Most medical experts recommend sleeping on your side while pregnant. That's because sleeping on your side helps promote blood between your heart, your baby, and other major organs. It's generally recommended to avoid sleeping on your back, as it's not optimal for fetal health and may aggravate sleep-related breathing disorders.
Side sleepers tend to need a mattress with moderate contouring that relieves pressure points around the hips and shoulders while maintaining proper spinal alignment. A pillow between the legs can also help ease pressure on the lower back and knees.
Which Mattress Firmness Is Best for Pregnancy?
The best firmness level for pregnancy depends on a person's body weight, sleep position, and personal comfort. Most side sleepers prefer a mattress in the range of medium soft (4) to a medium firm (6).
Mattress firmness refers to how hard or soft a mattress feels. We use a scale of 1 to 10 for rating mattress firmness. On this scale, a one corresponds to an extremely soft and highly contouring feel, while a 10 indicates an extremely firm bed with no sinkage.
Keep in mind that as your pregnancy progresses, your comfort preferences may shift. An airbed with adjustable firmness or sleep accessories like a mattress topper can be good ways to accommodate changing comfort needs for pregnant sleepers.
What Other Mattress Features Should You Look For?
Mattress firmness is a key consideration, but features like pressure relief, temperature neutrality, ease of movement, and edge support can also have major impacts on a bed's feel and performance for pregnant sleepers.
Pressure relief: Pressure relief refers to how well a bed can disperse your body weight and prevent uncomfortable pressure points from forming in key areas like the lower back, hips, and shoulders.
Temperature neutrality: Mattresses with excellent temperature neutrality are designed to regulate the sleep surface's temperature and keep you cool. This can help limit sweating and overheating during the night.
Ease of movement: This performance category describes the level of effort it takes to move around on the surface of a bed. Ease of movement depends on a combination of responsiveness and contouring.
Edge support: Beds that resist sagging and provide good support at their outermost perimeter have strong edge support. This feature can increase the usable surface area of your mattress and make it easier to get in and out of bed.
Mattress Accessories for Pregnancy
Mattress accessories are another way for pregnant sleepers to improve their comfort and achieve a restful night's sleep. Accessories are also a good option for people who don't have the funds to buy a new mattress but want to modify the feel and support of their current mattress.
Pregnancy pillows: Extra pillows can provide additional support. Pregnancy pillows are designed specifically for this purpose and come in a range of unique shapes that can offer comfort for side sleepers.
Mattress toppers: A mattress topper adds an extra layer to your mattress and modifies the feel of your bed. Depending on the topper you choose, this accessory can make your bed feel softer or firmer. Toppers with cooling properties can also help you sleep cooler during your pregnancy.
Adjustable bases: Adjustable bases give you more freedom to customize your sleep position by allowing you to raise the head or foot of your bed. Sleeping with your head elevated can be helpful while pregnant, as it may decrease snoring and heartburn symptoms.