There are few things as comforting as curling up under a favorite blanket. A well-chosen blanket can complete your bedding set or simply provide a cozy layer when you're lounging on the couch.
The right blanket for you depends on a variety of personal factors, including how you plan to use it, sleeping temperatures, and budget. We'll discuss our picks for the best blankets, considering characteristics like the materials, workmanship, and design. We'll also touch on factors like sleep trials, blanket care, and shipping policies.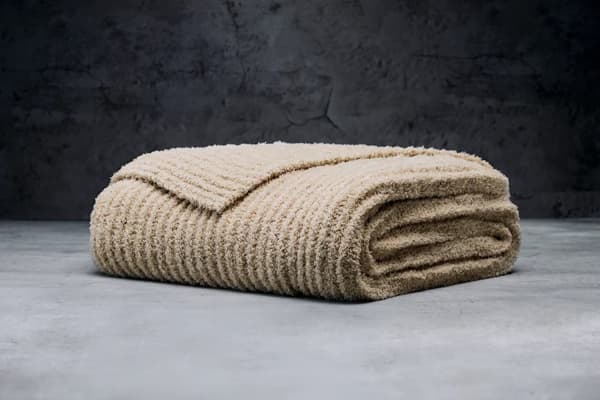 Cover Material: 78% polyester, 22% viscose derived from bamboo

Fill Material: 78% polyester, 22% viscose derived from bamboo

Sizes: 50″ x 70″ 75″ x 100″

Price: $135
Soft, fuzzy texture for comfort and cuddling
Easy machine cleaning
Available in nine shades and two sizes
Customers pay for return shipping
Some consumers may prefer all-natural materials to this synthetic blend
This knit throw blanket has an exceptionally soft texture that's perfect for getting cozy on a couch or chair. The extra large version works well for couples or as a bed covering.
Why We Like It
The Ultra Plush Throw features insulating polyester blended with viscose derived from bamboo, a breathable and moisture-wicking material that helps with temperature regulation. The result is a plush, cozy blanket that won't cause you to overheat.
Care is relatively easy. Just machine-wash on cold and machine-dry on the delicate cycle.
Buying Tips
The blanket is available in two sizes: a more common throw size (50 by 70 inches) or an extra large format (75 by 100 inches) for sharing or draping on a bed. There are also nine color options to suit a variety of styles.
Luxome provides free shipping within the contiguous U.S. on all products and offers a 30-day window for returns and exchanges. Return shipping costs are deducted from refunds but exchange shipping is free.
Cariloha Bamboo Fleece Blanket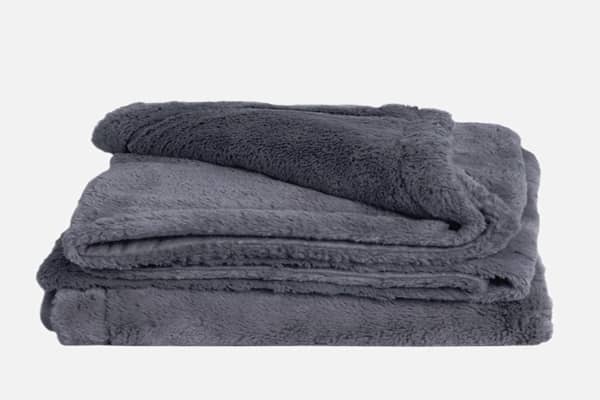 Cover Material: None

Fill Material: 73% bamboo-derived viscose, 27% polyester

Sizes: 68″ x 94″ 90″ x 94″

Price: $119
Accessible price-point for most budgets
Plush-pile fabric and quilt batting make for soft, warm comfort
100-day at-home trial for returns or exchanges
Only available in a single throw-size format
Limited color choices
The Cariloha Plush Bamboo Throw is an affordable blanket with a soft, fluffy texture that makes it perfect for lounging. It blends the insulating properties of polyester with the breathability of viscose derived from bamboo.
Why We Like It
This blanket features plush-pile fabric, meaning tufts of yarn stand up from the base fabric, giving this blanket a soft, textured feeling. It's also filled with quilt batting for added heft and insulation.
Buying Tips
The Plush Bamboo Throw comes in a throw size (50 by 70 inches) that is perfect for personal use or at the foot of the bed. Shipping is free on this and other Cariloha products over $100 within the contiguous U.S.
Cariloha offers a 100-night sleep trial. Exchanges and returns are free during this period, minus return shipping costs.
The Company Store LaCrosse Down Blanket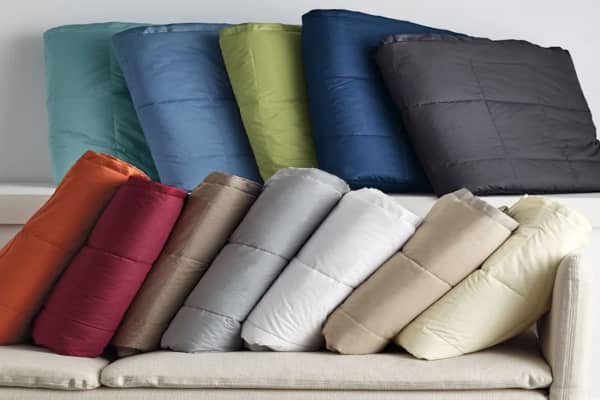 Cover Material: 100% cotton (295 TC)

Fill Material: RDS-certified 500-550 fill power down

Sizes: 66″ x 96″ 90″ x 96″ 108″ x 96″

Price: $219
Plush down filling certified by the Responsible Down Standard
Generous lifetime guarantee for product replacements
Available in 18 colors and three sizes
May not be suitable for vegans
Ideally cleaned in a commercial front-loading washer
The Company Store LaCrosse Down Blanket offers a plush interior of soft, warm, and ethically sourced down encased in a breathable cotton cover for an all-natural blanket that blends insulation and breathability for all seasons.
Why We Like It
We appreciate that the down in the LaCrosse Down Blanket is certified by the Responsible Down Standard and the entire blanket has OEKO-TEX Standard 100 certification, meaning it's been tested and certified free of several hundred potentially harmful chemicals.
The distinctive quilt stitching and a rich array of color choices can make a statement on any bed. The blanket can be machine-washed on a cold gentle cycle and tumble dried on low heat, though a commercial front-loading washer is preferable.
Buying Tips
The blanket is available in twin, full/queen, and king sizes. The Company Store offers a generous lifetime guarantee for exchanges, minus shipping fees, or a 90-day window for refundable returns. Shipping for this product is free in the contiguous U.S. or $30 to Hawaii, Alaska, and U.S. territories.
Peacock Alley Angelo Reversible Blanket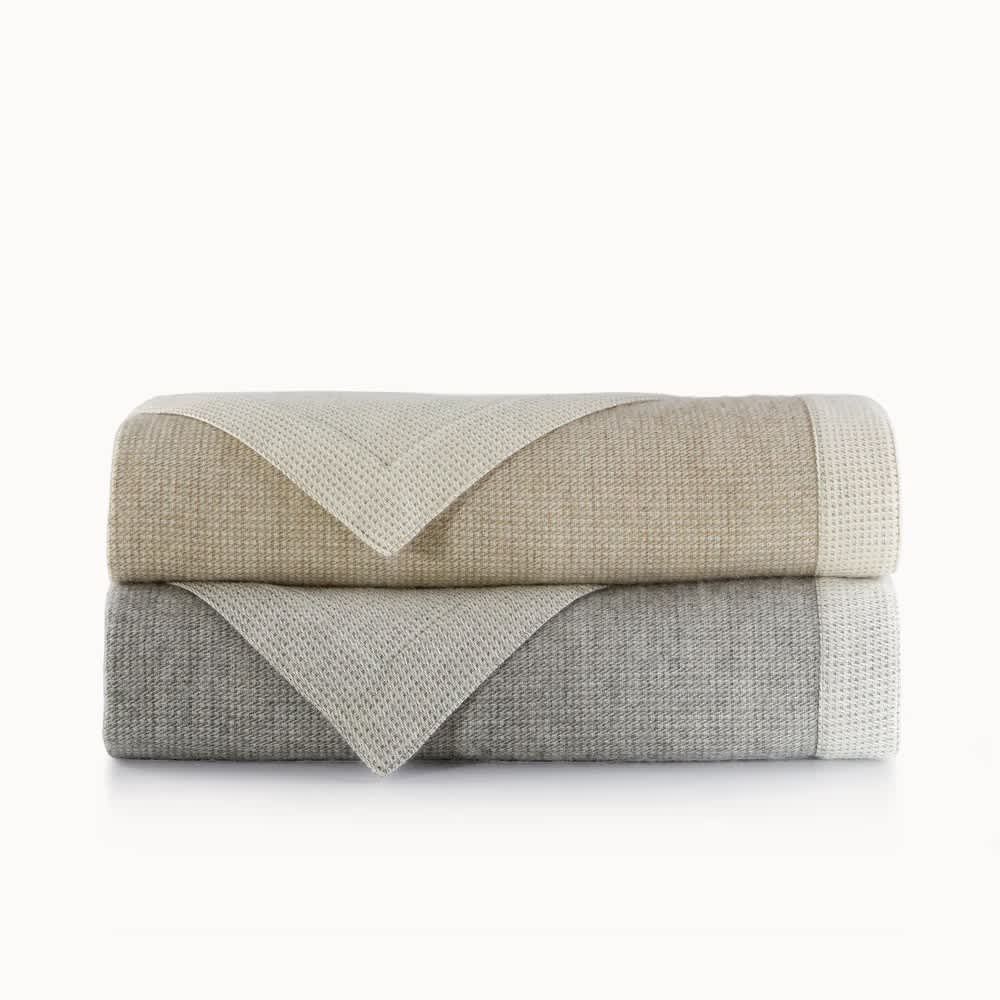 Cover Material: 52% alpaca 48% cotton

Sizes: 96″ x 96″ 114″ x 96″

Price: $900
Soft textured baby alpaca fleece blend is hypoallergenic and luxurious
Reversible blanket offers a lighter or darker shade on either side
Distinct 2.5-inch border on all sides
Luxury pricing not suitable for many budgets
Fee charged for returned items
Care requires dry-cleaning only
This blanket is a statement piece that can be an elegant finishing touch on a bed outfitted with luxury sheets. It has an elegant border and reversible pattern available in two classic colors and features the soft texture of baby alpaca blended with cotton.
Why We Like It
The material blend offers sleepers a luxuriously light and soft feel that combines breathability and insulation with an all-natural fabric.
The blanket features a sharp-looking 2.5-inch border, and the weave creates a reversible pattern in which one side is a darker tone with a lighter pattern on the reverse. Shoppers should note that this blanket should only be dry-cleaned.
Buying Tips
The blanket is available in full/queen and king/California king sizes. Shipping is free in the contiguous 48 states but there is a fee for orders in Alaska, Hawaii, and Puerto Rico. Returns are permitted within 30 days but customers incur a $15 fee.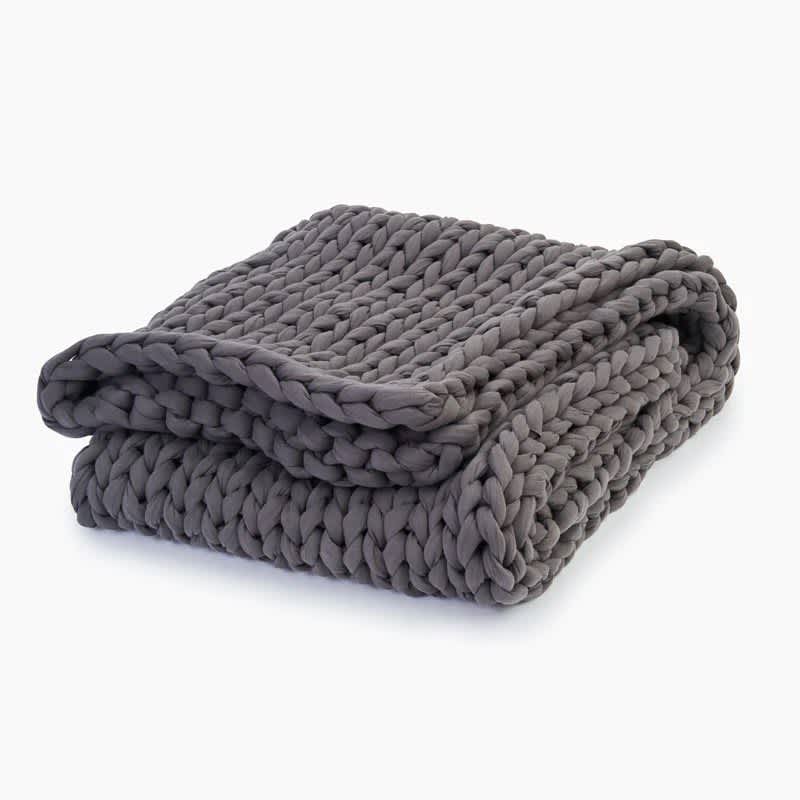 Cover Material: Organic cotton

Sizes: 40"x64" 40"x72" 45"x72" 48"x72"

Price: $249
Breathable large-format knit pattern
Comes as a single piece with no insert
OEKO-TEX Standard 100 certification
Not very insulating due to open knit design
Preferably laundered in a front load washer
Typically, weighted blankets include an insert that is filled with glass beads or plastic pellets, but the Bearby Cotton Napper offers a unique format of heavy, chunky knit cotton that is textured, cozy, and breathable yet offers a comforting weighted feeling.
Why We Like It
We give high marks to the blanket material, which contains layers of chunky organic cotton yarn that are also weighted with spandex in the three higher-weight models. Airflow through the open knit provides excellent breathability for a weighted blanket, but note that it is not very insulating for cold temperatures. There are six shades to choose from.
Buying Tips
The blanket is available in four weights with relatively similar dimensions: 10 pounds (40 by 64 inches), 15 pounds (40 by 72 inches), 20 pounds (45 by 72 inches), and 25 pounds (48 by 72 inches). Bearaby recommends choosing a model close to 10% of your body weight.
Shipping is free in the contiguous United States, with returns permitted for 30 days. The company charges a processing fee for returns.
Why You Should Trust Us
Our specialty at The Sleep Doctor is helping you get a quality night's sleep. Our staff has years of experience as product testers and researchers, and we use many of these products ourselves at home. We share our in-depth knowledge of different kinds of materials, fabric weaves, and knits so you can choose the best bedding products and blankets for your needs.
What Kind of Blanket Do You Need?
Blankets come in a wide variety of styles and sizes suited to different purposes and times of the year. While bed sheets are typically used just for sleeping, blankets are designed for sleeping, lounging, and decorative purposes. Depending on the type of blanket, it can be used as a primary bed covering, an intermediate layer for additional warmth, or for settings beyond the bed like lounging in a chair, couch, or even outside.
Depending on material and thickness, some blankets provide lots of warmth and insulation, while others are more temperature neutral or ideal for summer.
Common Types of Blankets
There are numerous types of blankets designed for a variety of uses, and they're typically divided into several major categories.
Comforter: This type of blanket is a one-piece covering consisting of a shell that's filled with insulating material such as down, wool, or shredded polyester. The shell may be a solid color or patterned.
Duvet: Duvets are similar to comforters but in two parts: a removable insulating insert and a washable duvet cover. Duvets are very common in Europe, where it's typical to skip the top sheet and sleep directly under the duvet.

Quilt: A quilt is made from two layers of stitched fabric with a thin layer of insulating filling, also known as batting, in between. Patchwork quilts can be colorful and decorative, while wholecloth quilts are simpler and use one type of fabric.
Coverlet: These blankets mimic the look of a quilt but are made with a single layer of fabric and no fill. Coverlets are often designed to be a decorative layer on top of other bedding. They can also be used as a primary blanket in warm weather.

Afghan: A style of blanket with origins in Afghanistan, afghans are typically made of knitted or crocheted wool yarns. They are often used on beds as a decorative throw, or for lounging on a couch or chair.
Waffle-weave blanket: Similar to a waffle-weave undershirt or towel, this style of blanket features a texture of thick cross hatches and thinner squares. While they feel lightweight, waffle-weave blankets tend to trap air for an insulating feel.
Weighted blanket: A weighted blanket is much heavier than an ordinary blanket and is typically filled with glass beads or another high-density material. It's designed to provide calm-inducing comfort with a pleasing amount of pressure.
Electric blanket: An electric blanket features a mesh of insulated thermal wires layered into the fabric for added warmth. They usually plug into an ordinary outlet and have adjustable heat levels.
Throw blanket: Throw blankets are generally smaller-sized blankets that are often decoratively placed at the end of a bed or on a chair or other furniture. They can provide an additional layer of warmth on cold nights or be used as a personal wrap when lounging.
Picking the Best Blanket for You
Because there are so many types and sizes of blankets, it's important to first consider how you plan to use your blanket. Then you can decide which blanket types and materials will best fit your needs.
Function and Design
If you plan to use your blanket for bedding, a larger bed covering like a duvet, comforter, or quilt might be a good option. Smaller blankets like afghans and throw blankets are best for lounging and decoration, though they can be used as an extra layer on a bed. A weighted blanket can be used in bed or while lounging, depending on your preference. Some synthetic materials are water-resistant or extra insulating for outdoor uses like picnics and camping.
Warmth, Comfort, and Feel
Different materials and thicknesses provide blankets with varying warmth, comfort levels, and feels. For warmer weather or people who sleep hot year-round, breathability and moisture-wicking properties are likely a priority. When it's cold, thick, insulating materials may be preferred.
Material type: Material type is a main differentiator among blankets. Options include all-natural and breathable materials like cotton and down and more insulating varieties, including flannel and wool. A wide range of synthetics can also mimic the feeling of natural materials, though some are less breathable.

Material weight: Material weight can influence how insulating a blanket is, with thick, heavy blankets often providing added warmth. However, some materials, like down or down alternative, can provide significant warmth while still feeling light. The added heft of weighted blankets offers comforting pressure, and these range from breathable to insulating.

Weave and texture: Blankets come in a variety of textures, from smooth and crisp to soft and fuzzy, depending on the type of weave or knit that's used.
Blanket Size
Many blankets are designed to pair with standard bed sizes, though some are intentionally oversized to drape over the bed. Afghans and throws tend to be smaller, often around 50 by 60 inches, to use as a personal wrap or for decoration.
Blankets can be organized into specific sizes, like mattresses. But unlike mattresses, blankets don't always adhere to standard measurements, and many manufacturers use simplified combined sizes like full/queen and king/California king.
Style
Blankets come in a wide array of styles. Many are offered in solid colors but can feature unique stitching or fuzzy, knit, or crocheted textures. Patterns are also available, and some blankets are made to be reversible with varying colors or patterns on each side.
Quality and Durability
Durability is partly a function of the quality of materials used, with higher-grade materials generally lasting longer. Some intricate weaves may be prone to snagging and should be kept away from hooks or zippers. The most durable blankets can last decades if well cared for.
Certifications
There are a variety of certifications available for blankets that are made with the environment and human health in mind. Textiles like cotton and linen may be certified as organically grown by the Global Organic Textile Standard (GOTS). The Responsible Down Standard (RDS) certifies down feathers harvested without cruelty to animals. OEKO-TEX Standard 100 certifies textiles to be free of hundreds of harmful substances.
Cleaning and Care
Cleaning and care instructions for blankets vary considerably depending on the materials used and the number of layers. It's important to check the label to avoid damaging certain materials including wool, certain types of rayon (such as viscose or lyocell), down, and weighted blanket fill. One of the simplest types of blankets to care for is a duvet, which has a separate duvet cover that can be machine-washed and dried.
Price, Warranty, and Return Policy
As with other types of bedding products, blankets come in a wide array of prices ranging from those designed for budget-conscious shoppers to luxury options. Warranty terms and return policies also vary, so check the manufacturer's website for details.
Blankets can be made from a wide variety of materials, including natural fabrics like cotton and wool and synthetic or semi-synthetic materials like lyocell and polyester. Depending on how it's made, a blanket's shell and fill might feature different materials.
Natural Materials
Since ancient times, craftspeople and manufacturers have turned to a number of natural materials for high-quality blankets that can balance insulating warmth, softness, and temperature-regulating breathability.
| Material Type | Description |
| --- | --- |
| | Wool is made from the natural fibers of animals like sheep, goats, alpacas, and llamas and has great insulating and moisture-wicking properties. Lambswool, baby alpaca, and cashmere wool are prized for their especially soft texture and often command higher price-points. Wool may not be suitable for some vegan consumers. |
| | Cotton is a natural plant-based fiber that is breathable and somewhat moisture-wicking. It's often used for lightweight woven summer blankets, as shell material in comforters and duvets, or it's processed into flannel for heavier insulating blankets. |
| | Down comes from the soft feathers found on the chest and underbelly of waterfowl like ducks and geese. It makes for plush and insulating blanket interiors. Like wool, down may not be an option for vegan consumers. |
| | Linen is a natural fiber derived from the flax plant. It is breathable and exceptionally moisture-wicking. Linen is often prized in hot climates, so blankets made with linen may be best for summer, though some comforters and duvet covers are made from linen. |
Synthetic and Semi-Synthetic Materials
Today, manufacturers have a wide array of synthetic and semi-synthetic materials available for manufacturing bedding. These materials tend to be chosen for their insulating properties, affordability, and ability to mimic the feel of certain natural materials.
| Material Type | Description |
| --- | --- |
| | Look for "100% viscose from bamboo" or similar wording on a label for this type of rayon made from bamboo. Viscose is a common type of rayon, which is a breathable and moisture-wicking fabric derived from wood pulp. |
| | Tencel lyocell is a soft and breathable high-end brand of rayon made from sustainably sourced eucalyptus wood fiber. Unlike other types of rayon, it avoids the use of harsh manufacturing chemicals. |
| | Polyester is a synthetic fiber typically derived from petroleum. It's generally inexpensive to make and is often blended with other fibers. It's sometimes used for blanket covers but also as an insulating filler material. |
| | Acrylic is a strong, synthetic fiber made from petroleum or coal. Acrylic fibers provide insulating warmth in blankets and other products. Acrylic can also be manufactured to mimic the feel of cashmere. |
| Nylon | Nylon is another variety of petroleum-derived synthetic fiber. Its strength, durability, and ability to be woven into a water-resistant fabric make it a popular choice for outdoor and extreme-cold environments, including camping blankets and sleeping bags. |
| Fleece | Fleece is a popular blanket material that's made from polyester. It's fluffy, soft, and has great insulating properties, so it's often used for cold-weather clothing and blankets. |
| Sherpa and Faux Fur | Named for its resemblance to the wool-lined sheepskin clothing worn by the Sherpa people of the Himalayas, sherpa or faux shearling fur is a fuzzy insulating material made from polyester. It costs much less than the animal fibers it mimics. |
| Glass and Plastic Beads | Many weighted blankets get their heft from glass beads or plastic pellets. Glass beads don't retain heat so blankets with this fill tend to be more temperature neutral, while weighted blankets filled with plastic pellets typically sleep warmer. |
Manufacturing Certifications
If you're curious about the environmental or health impact of the blanket you're considering, look for common textile certifications. Third-party evaluators provide certifications for products that follow eco-conscious practices when making blankets and other bed products.
Common Textile Certifications for Blankets
| Certification | Description |
| --- | --- |
| Global Organic Textile Standard (GOTS) | An international working group certifies that organic standards are used in the manufacturing of textiles — not just for the crops but also the dyes and manufacturing process. |
| | This certification means that product components have all been tested to be free of several hundred potentially harmful substances. |
| Responsible Wool Standard (RWS) | The RWS certification denotes wool that is gathered from animals that are treated humanely. |
| Responsible Down Standard (RDS) | This certification is a mark of down that is harvested with humane treatment toward waterfowl like ducks and geese. |
| USDA Organic | The U.S. Department of Agriculture certifies certain crops, like food, cotton, or linen, if they meet certain standards, like being grown without chemical pesticides. Manufactured products like blankets are separately certified by third-party registration with organizations like GOTS. |
Last Things to Know About Blankets
Get the most out of your blanket purchase with a few final considerations.
Where Should a Blanket Be Placed on the Bed?
Blanket placement is a matter of personal taste and blanket design. Afghans, throws, and small weighted blankets are often decoratively placed at the foot of the bed when not in use. Large-format blankets can serve as either a middle or top layer that drapes over the entire bed.
How Often Should You Wash a Blanket?
How often you should wash a blanket depends on the blanket type. If the blanket has both a cover and removable interior component, like a duvet, the cover should be washed regularly with the bed sheets, while the interior may be washed less frequently as part of seasonal cleaning.
How Long Should a Blanket Last?
Blankets can last a very long time. Some crocheted blankets, handmade quilts, or extremely durable materials like polyester fleece can last decades, while most other types will last several years. Take care around blankets with a loose weave or large-format knit, which can snag on sharp objects.
Which Blanket Types Are Better for Hot Sleepers?
For hot sleepers, bed items like sheets, pajamas, and blankets function best when made from breathable and moisture-wicking materials that help circulate air. For blankets, thin, lightweight designs serve hot sleepers better than thick, heavy, insulating materials.
Which Blanket Types Are the Warmest?
The warmest blankets are those that insulate well and retain body heat. This includes materials with tight weaves and knits or thick, fuzzy, and heavy materials, which can range from flannel and wool to polyester fleece or down with a high fill power.