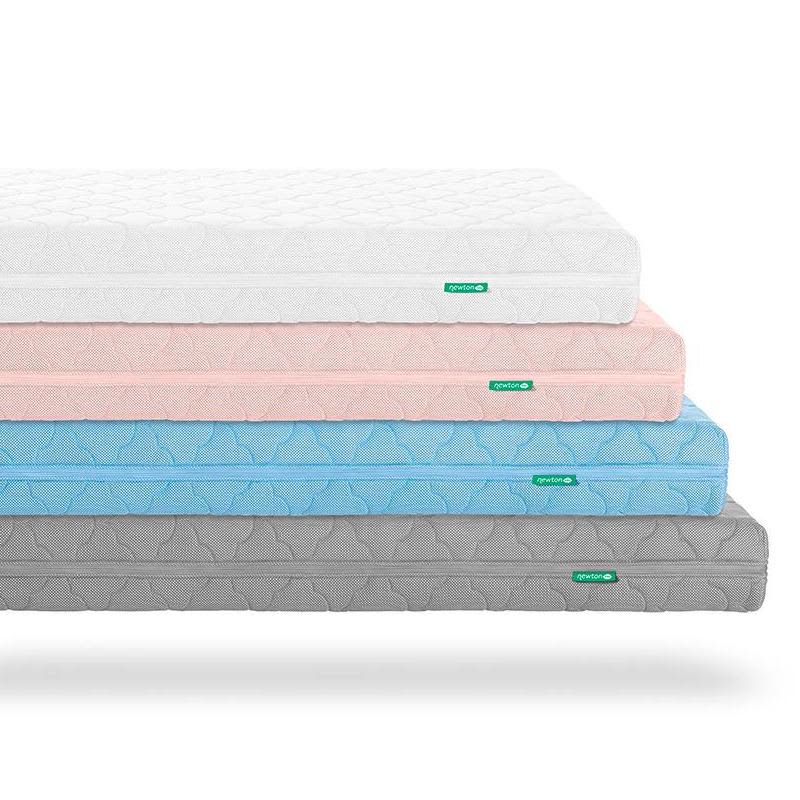 Type: Proprietary

Firmness: Firm (7)

Sizes: Essential, Original, Waterproof

Price Range: $199 – $350

Warranty: Lifetime, Limited (Core) 2 year, Limited (Cover)
Proprietary Wovenaire core offers firm support and ample airflow
Washable cover adds comfort while maintaining breathability
Independently certified to meet rigorous product safety and emissions standards
Original and Essential models aren't waterproof
Added fees for delivery to Alaska, Hawaii, and Canada
Sleep Doctor's take: Newton Crib Mattress
With a core made from an innovative, food-grade polymer called Wovenaire, the Newton Crib Mattress offers excellent breathability and support. Parents can rest easier knowing the mattress meets rigorous safety standards without sacrificing a baby's comfort.
Newton Crib Mattress: An introduction
Newton Baby focuses on mattresses and other products designed specifically for infants and toddlers. What sets this model apart from other crib mattresses is the brand's unique Wovenaire technology. Made from a food-grade polymer woven in a pool of water, the mattress' core is 90% air by volume, giving it exceptional breathability.
What you need to know about the Newton Crib Mattress
The Newton Crib Mattress is designed for safety and comfort. Newton eschews typical crib mattress materials in favor of its Wovenaire technology composed of interlaced polymer fibers. The result is a firm sleep surface that meets federal safety standards and is designed to deliver the support a baby needs for healthy development.
This mattress comes in three options. Parents can choose from a 4-inch profile and single-layered cover in the Essential, or a 5.5-inch height and double-layered cover in the Original. Newton also sells a 5.5-inch Waterproof option that makes cleaning easier and works well for both infants and toddlers.
Sleeping positions and firmness
While adults can choose between firmness levels when searching for the best mattress for their needs, infants need to sleep on a firm surface. Plush bedding or a too-soft surface can be dangerous for infants under 12 months old. As children graduate into their toddler years, softer mattresses or toppers can be introduced.
Newton Crib Mattress sleeper ratings
| | |
| --- | --- |
| Side Sleepers | 5/5 |
| Back Sleepers | 5/5 |
| Stomach Sleepers | 5/5 |
According to the American Academy of Pediatrics, babies under 1 year old should always be put to sleep on their back. As babies grow into toddlers and their sleep cycles begin to change, their firmness needs and sleep positions also evolve. This makes a versatile mattress that offers consistent support across sleep positions a particularly good choice.
The Newton Crib Mattress' Wovenaire core offers a firm foundation that creates a safe and comfortable surface for back-sleeping infants, but it has enough give to provide comfort for active toddlers regardless of the position they sleep in.
We rated the Newton Crib Mattress' performance in four key sleep categories using a five-point scale, with 1 being poor and 5 being excellent.
Temperature neutrality
Rating: 5/5
The mattress' Wovenaire core consists of 90% air and 10% food-grade polymer that's designed for breathability. Its open structure allows for plenty of airflow, keeping the sleep surface cool and preventing the buildup of heat. The polyester cover is light and airy, complementing the mattress' permeable construction.
Durability
Rating: 3/5
With its emphasis on breathability, the Newton Crib Mattress' design is lighter and a bit less sturdy than other materials. However, for those looking for a mattress that emphasizes breathability, its less durable design may be a nonissue since most children grow out of their crib mattress within a few years.
Ease of movement
Rating: 5/5
A firm sleep surface not only helps ensure back-sleeping infants remain safe and supported on the Newton Crib Mattress, it also makes it easier for children over 1 year old to shift and move. This benefits toddlers who are active sleepers.
Off-gassing
Rating: 4/5
The Newton Crib Mattress is certified by GREENGUARD Gold, meaning it meets rigorous standards for chemical emissions. This includes volatile organic compounds (VOCs), the tiny particles responsible for most off-gassing odors after unboxing a mattress. While there may still be some detectable smell associated with the mattress' new materials, this should dissipate within a few days.
What is the Newton Crib Mattress made of?
The Original version of the Newton Crib Mattress features a quilted dual-layer polyester cover. Just below, a viscose encasement creates a natural fire barrier. The Wovenaire core is made from food-grade polymer strands that create a breathable and supportive sleep surface.
The Waterproof model of the Newton Crib Mattress has an infant side and a toddler side. It includes a thermoplastic polyurethane barrier on the toddler side to accommodate children in the potty training phase.
The Essential is a pared-down model that uses a thinner Wovenaire core and a thinner, single-layer cover.
All components of all versions of the Newton Crib Mattress are washable and certified by GREENGUARD Gold for low chemical emissions.
Model
Mattress construction layers
Essential
Single-layer polyester eyelet cover with viscose lining
4″ Wovenaire core
Original
Dual-layer polyester cover with viscose encasement
5.5″ Wovenaire core
Waterproof
Dual-layer polyester cover with viscose encasement and waterproof TPU
5.5″ Wovenaire core
How much does the Newton Crib Mattress cost?
Compared with other crib mattresses on the market, we think the Newton Crib Mattress is reasonably priced considering its unique design and emphasis on breathability and child safety.
| Model | Price | Dimensions | Height | Weight |
| --- | --- | --- | --- | --- |
| Essential | $199 | 28″ x 52″ | 4″ | 11 lbs. |
| Original | $300 | 28″ x 52″ | 5.5″ | 14 lbs. |
| Waterproof | $350 | 28″ x 52″ | 5.5″ | 14 lbs. |
In addition to the three standard crib size options, Newton sells the Mini Crib Mattress, which has the same basic design as the Essential in a smaller package. Designed to fit mini cribs, it measures 23.75 inches wide, 37.75 inches long, and 3 inches thick.
Where can you buy the Newton Crib Mattress?
Shoppers can find the Newton Crib Mattress on the brand website and through online retailers such as Nordstrom, Amazon, and Babylist. Note that return policies may vary for purchases from third-party sites.
Buying information and customer policies
Availability
The Newton Crib Mattress is available in the United States and Canada. Availability may vary when purchasing through third-party retailers.
Shipping
When purchased directly through Newton Baby, shipping within the contiguous U.S. is free. Additional fees apply to mattresses shipped to Alaska, Hawaii, and Canada.
Sleep trial
Newton Baby offers a 100-night sleep trial on crib mattresses purchased through the brand website. Because many parents purchase a crib mattress prior to their baby's arrival, registering on the brand's website ensures that the sleep trial doesn't begin until after the due date.

Returns initiated during the sleep trial period are eligible for a full refund.
Warranty
The Newton Crib Mattress comes with a limited lifetime warranty on the Wovenaire core, as well as a two-year limited warranty for the cover.

The warranty does not apply to damage from normal wear and tear, stains, or misuse. Returned mattresses must include the original law tag and proof of purchase. Mattresses deemed defective are repaired or replaced at the company's discretion.
Is the Newton Crib Mattress safe?
Crib mattresses in the U.S. are required to meet safety standards developed by the Consumer Product Safety Commision, a federal agency tasked with ensuring the safety of consumer products. The Newton Crib Mattress meets all CPSC standards for infant safety.

The mattress is also certified by GREENGUARD Gold to be free of a range of harmful chemicals and low in off-gassing emissions.
Is the Newton Crib Mattress easy to clean?
All components of the Newton Crib Mattress are washable for ease of cleaning. The cover can be unzipped and machine-washed as needed. The core can be rinsed in a shower or outside with a hose.
Will the Newton Crib Mattress fit in any crib?
The Newton Crib Mattress is designed to comply with federal safety requirements, fitting snugly within standard-size cribs sold in the U.S. The Essential, Original, and Waterproof models measure 28 by 52 inches. The Mini Crib Mattress, which is specifically designed for mini cribs, measures 23.75 by 37.75 inches.