Buying a mattress online can offer significant savings over buying a mattress in a store. However, many shoppers find it easier to compare mattresses when various models are displayed side-by-side. Walmart offers an ample selection of mattresses at competitive price-points, aiming to combine the convenience of a brick-and-mortar store with the savings of an online retailer.
We'll share a list of the best mattresses from Walmart, along with advice on how to choose a mattress at Walmart and what to expect in terms of shipping, return, and in-store pickup policies.
Trial Length 90-day returns

Warranty 10 Year, Limited

Trial Length / Warranty

90-day returns / 10 Year, Limited

Firmness Extra Soft (1), Medium (5), Medium Firm (6)
Sleep Doctor's Take
The Linenspa Dreamer Hybrid comes in three profiles, each with a different firmness level ranging from extra soft (1) to medium firm (6). These soft to mid-range firmnesses suited most side sleepers on our team, as well as back and stomach sleepers who weigh up to 230 pounds.
Three profile options, each with a different firmness
Gel memory foam and coil base designed to dissipate heat
Available in a short queen size intended for RVs
The coils may generate noise when you or your partner change positions at night
Sleepers who weigh more than 230 pounds will likely need more support
The Linenspa Dreamer Hybrid Mattress is available in 8-inch, 10-inch, or 12-inch versions. The 8-inch model rates a medium firm (6), featuring layers of gel comfort foam and gel-infused memory foam. Falling at a medium (5) on the firmness scale, the 10-inch model has a layer of gel-infused memory foam. These two models were most suitable for the back and stomach sleepers under 230 pounds on our testing team.
The 12-inch model is extra soft (1), with comfort foam and gel-infused memory foam that isolate motion transfer and cushion pressure points for side sleepers. All three models have a quilted cover and a steel coil base.
Coils in the support core and gel infusions in the memory foam are designed to help regulate temperature, and hot sleepers should find the 8-inch and 10-inch models perform especially well in this regard. With its thinner comfort system, the 8-inch model also stands out for edge support and ease of movement.
In addition to the standard mattress sizes, the Linenspa Dreamer Hybrid is also sold in a short queen suitable for RVs. Walmart offers free shipping, a 90-day return window, and a 10-year limited warranty.
Trial Length 90-day return

Warranty 10 Year, Limited

Trial Length / Warranty

90-day return / 10 Year, Limited
Sleep Doctor's Take
The Lucid Bounder features an affordable sticker price as well as decently balanced performance. The thin foam comfort layer adds a bit of cushioning to the surface, while a robust coil system reinforces the surface. Our testing found the mattress best suited to back and stomach sleepers.
Strong edge support and temperature regulation
Thinner-than-average profile
Responsive surface that facilitates movement
Side sleepers may prefer a mattress with more cushioning for pressure points
Couples who prioritize motion isolation will likely find the coils transfer too much movement and noise
Measuring just 7 inches thick, the Lucid Bounder is a lightweight innerspring mattress that makes a convenient choice for a guest room, child's bed, or RV mattress. This model consists of an inch of quilted foam over a 6-inch base made of heavy-gauge coils.
The Lucid Bounder is medium firm (6), providing good support for back and stomach sleepers under 230 pounds. Innerspring mattresses have become less popular in recent years because they offer limited pressure relief, particularly when sleeping on the side. That said, our side-sleeping testers weighing more than 130 pounds received sufficient pressure relief during our evaluations.
Innerspring mattresses are known for their strong temperature regulation, and this model is no exception. The coils also provide a responsive surface that makes it relatively easy to switch positions. Sleepers who are sensitive to off-gassing smells should find the Lucid Bounder emits little to no odors upon unboxing, since there is only an inch of foam and plenty of room for any scent to dissipate through the coils.
The Lucid Bounder Mattress is shipped free and comes with a 90-day return period and a 10-year limited warranty.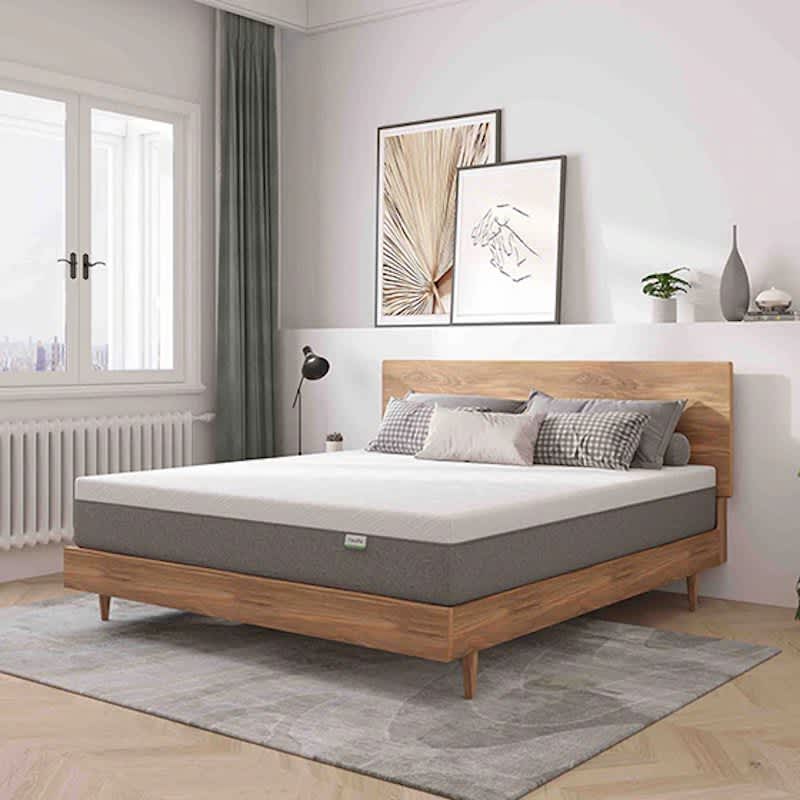 Warranty 10 Year, Limited

Trial Length / Warranty

30 nights / 10 Year, Limited
Sleep Doctor's Take
An all-foam construction and mid-range feel make the Novilla Bliss a comfortable option for many sleepers. Foam mattresses tend to trap heat, but cooling infusions, channeled foams, and a breathable cover boost airflow and keep the mattress' surface cool. These features made the mattress popular among our hot sleepers.
Two profile options: 10-inch or 12-inch
Gel memory foam and convoluted polyfoam help reduce heat retention
Above-average pressure relief
Couples who prefer responsiveness for sex may find the surface too plush
Sleepers who weigh more than 230 pounds will likely find the mattress unsupportive
The Novilla Bliss is sold in both 10-inch and 12-inch options. Both models feature layers of gel memory foam, polyfoam, and convoluted polyfoam atop a polyfoam support core. The washable, removable cover is made with rayon derived from bamboo.
With its thick comfort system and medium (5) feel, the Novilla Bliss Mattress provides conforming pressure relief for side and back sleepers under 230 pounds. Our testing found that the all-foam construction also helps prevent motion from transferring across the bed, which may be convenient for light sleepers who sleep with a partner.
Memory foam mattresses are generally not known for their temperature neutrality, as their dense construction allows little room for heat to escape. However, gel infusions and the grooves in the convoluted polyfoam boost airflow and help draw heat away from the surface of the bed. While the mattress may sleep warmer than a hybrid or innerspring model, it's a strong choice for hot sleepers who prefer the feel of a foam mattress.
Walmart offers this mattress in twin, full, queen, and king sizes. The Novilla Bliss ships free to the contiguous U.S. and qualifies for Walmart's 90-day return policy and 10-year limited warranty.
Trial Length 120 nights (30-night request)

Warranty 30 Year, Limited

Trial Length / Warranty

120 nights (30-night request) / 30 Year, Limited
Sleep Doctor's Take
The Dynasty CoolBreeze Plush boasts a luxurious high profile, thick comfort system, and cooling technology at a competitive price-point. Our testers found they could comfortably sink into the adaptive foam comfort system and find relief for pressure points while the mattress retained minimal heat.
Thick memory foam layer keeps motion transfer to a minimum
Better temperature regulation than similarly built models
Higher-than-average profile may be useful when getting in and out of bed
Back and stomach sleepers who weigh at least 130 pounds will likely find the surface too soft
People who have trouble getting in and out of bed will likely prefer a model with a more supportive perimeter.
With a firmness rating of medium soft (4), the Dynasty CoolBreeze PLUSH is targeted toward people who like to sink into their mattress for deep pressure relief. In particular, this firmness is well-suited to side sleepers under 230 pounds. Our back and stomach sleepers under 130 pounds also experienced the right level of support during our tests.
This 14.5-inch model features a comfort system made with 4 inches of gel-infused memory foam, which conforms to the sleeper and helps alleviate aches and pains. A 2-inch transitional layer of convoluted polyfoam enhances airflow through the mattress, and a firmer 8.5-inch polyfoam base helps ensure proper spinal support.
The Dynasty CoolBreeze PLUSH stands out for its exceptional motion isolation and quiet build, ensuring minimal disruptions when sleeping with a partner. Due to the convoluted polyfoam layer, the mattress also performs better than many foam models when it comes to temperature neutrality. This layer also prevents sleepers from sinking too far into the mattress and enables easier movement when switching sleep positions.
Dynasty Mattress offers a 30-year limited warranty and free shipping in the contiguous U.S. The mattress qualifies for Walmart's 30-day return policy.
Zinus Green Tea Memory Foam Mattress
Warranty 10 Year, Limited

Trial Length / Warranty

100 nights / 10 Year, Limited
Sleep Doctor's Take
Our testers with sharp pressure points thoroughly enjoyed the Zinus Green Tea Memory Foam Mattress' adaptive feel. Green tea- and charcoal-infused memory foam closely contours to the body to alleviate pressure buildup in sore joints and lower backs, while a high-density polyfoam core prevents excessive sinkage.
Green tea and charcoal infusions designed to keep the mattress fresh
Strong motion isolation reduces nighttime disruptions
Close-conforming memory foam helps alleviate pressure points
Some sleepers may find the foams retain too much heat
Sleepers who carry extra weight in their midsections may find they sink too deeply
Shoppers can elect from multiple profile options with the Zinus Green Tea Mattress, including 8-inch, 10-inch, 12-inch, or 13-inch models. The 8-inch model may be convenient for those working with limited space, such as in an RV or a bunk bed. The 12-inch and 13-inch models provide slightly more depth to prevent sleepers from bottoming out.
Each model features a polyester cover and a top layer of memory foam infused with green tea and charcoal, which are designed to fight odor buildup. A second layer of open-cell polyfoam helps sleepers transition to the firmer polyfoam support core. As opposed to traditional closed-cell designs, open-cell polyfoam is engineered to promote airflow through the cells so the mattress doesn't retain as much heat.
Similar to other foam models, the Zinus Green Tea Memory Foam Mattress provides above-average motion isolation and pressure relief. These traits are important when sleeping with a partner, especially if one or both people are sensitive to movements.
The mattress ships free in the contiguous U.S., and it comes with a 100-night sleep trial and 10-year limited warranty.
Why You Should Trust Us
The Sleep Doctor team has trialed hundreds of mattresses, including many of the models found at Walmart. Our list of the best Walmart mattresses is based on an extensive testing process that uses measures such as pressure mapping and motion sensors to form an idea of how each mattress stacks up.

The testing team also incorporates individuals of varying body types and sleep position preferences, allowing us to gain a more comprehensive understanding of how each mattress performs for different sleeper types.
What Kinds of Mattresses Can You Find at Walmart?
Walmart stocks mattresses in a variety of styles from a number of different manufacturers. Most shoppers should be able to find a mattress that suits their needs and preferences.
Different Mattress Types
Walmart sells most of the main mattress types, including foam, hybrid, and even innerspring models, which are less commonly found online.
Foam mattresses tend to offer strong pressure relief and motion isolation. Innerspring models offer limited pressure relief, but they may be appropriate for those who prefer a firmer, bouncier surface. Hybrids combine the advantages of foam and innerspring mattresses for a balanced, all-rounded feel.
Other considerations when buying a mattress include firmness and mattress profile. Firmer mattresses generally offer more support, while softer models offer deeper pressure relief. Walmart has options across the entire firmness scale, from extra soft (1) to extra firm (10).
The store also stocks mattresses as thin as 6 inches or as thick as 14 inches. Thinner mattresses are more portable and can be used for an RV or a child's bed. Thicker mattresses have space for more layers, allowing them to offer specific features such as enhanced lumbar support or better motion isolation.
Various Brands
In addition to Walmart-owned brands like Allswell, the box store also stocks well-known mattress brands such as Beautyrest, Lucid, and Zinus. When buying a mattress owned by another brand, be sure to check the return policy and warranty to see if these adhere to Walmart's policies or if they are set by the manufacturer.
All Price Levels
Walmart is best known for its affordable products, but the store also carries some high-end mattresses. Whether you want a basic innerspring mattress or a luxury hybrid, you should be able to find a model in your budget. Bear in mind that mattresses sold at very competitive prices may not be as durable as more expensive models.
How Much Do Walmart Mattresses Cost?
Prices for Walmart mattresses range from around $100 to more than $1,000, with most mattresses hovering around the $300 to $500 range. Because Walmart stocks mattresses from a variety of manufacturers, the selection is often updated with new models, and other models or less-popular sizes may be discontinued. However, in general shoppers can expect to see mattresses at most price-points.
Buying a Mattress From Walmart vs. a Manufacturer
Most Walmart-owned brands aim to keep prices low. In terms of third-party brands sold through Walmart, prices may be higher, lower, or identical when bought through Walmart versus directly from the manufacturer. Walmart may run sales at different times than mattress manufacturers, so it's worth checking both websites to compare prices.
Browsing the Walmart website is a convenient way to compare multiple mattresses at once, as the retailer offers a fairly broad selection. Walmart also sells bed frames and other accessories, making it easy to outfit the whole bedroom. For customers in Hawaii and Alaska, Walmart may occasionally offer free shipping or pickup options where other sellers do not.
Purchasing a Mattress From Walmart
We'll discuss how to find a mattress at Walmart and what to expect in terms of shipping, return, and warranty policies.
Browsing the Selection
The mattresses and accessories section at Walmart.com has an easy-to-use interface where users can browse mattresses by size, type, firmness, and brand. In the next step, you can also sort results according to more criteria such as price, customer ratings, shipping options, and whether the model is available for pickup in-store. In-store mattress models are generally packaged in a box, so it's not possible to try them before completing the purchase.
Shoppers who need a specific firmness level or mattress type might want to start with these filters, whereas those working on a strict budget might find it more helpful to use the price filter. For customers with a qualifying credit score, Walmart also offers the option to finance your mattress purchase with a monthly payment plan.
Shipping and Delivery
Like most online mattress retailers, Walmart offers free shipping for most models. Some mattresses can be picked up in-store. You can confirm availability by entering your zip code on the individual mattress product page.
Mattresses are generally shrink-wrapped, compressed, and placed in a box for shipping. They may be shipped directly from Walmart or from a third-party company. Select models may offer the option for White Glove delivery and old mattress removal, in which a delivery team sets up the mattress for you and takes away the old one for an extra fee.
Unopened mattresses can usually be returned for a refund within the first 90 days for Walmart brands, or the first 30 days for some third-party sellers. Customers can coordinate with Walmart to return the mattress by mail or to a physical store.
Unlike with direct-to-consumer mattress manufacturers, this return policy is not intended to function as a sleep trial. Walmart may not accept returned mattresses if they have been taken out of the original packaging, unless these are defective.
Sleep Trials and Warranties
Purchasing a third-party manufacturer's mattress through Walmart means that you are accepting the terms of sale as outlined by Walmart. In some cases, this may mean your purchase is subject to Walmart's return policy instead of the sleep trial offered by the manufacturer. If you want to test out the mattress at home before committing to the purchase, be sure to read the fine print before purchasing and contact the mattress manufacturer if you are not sure.
On the other hand, since warranties are usually covered by the manufacturer, most mattresses purchased through Walmart do qualify for the manufacturer's warranty. As with the sleep trial, be sure to read the fine print and contact the manufacturer if needed before making the purchase.