A mattress in a box is compressed for shipping and arrives at your home in compact packaging, making it easy to deliver through FedEx, UPS, or other carriers. With a mattress in a box, there's no need to visit a store in person, have a bed delivered by professionals, or borrow or rent a truck for mattress transportation.
We'll discuss our top picks and provide the details you need to choose the best mattress in a box for you. We'll also provide in-depth information about the mattress-in-a-box delivery method and answer frequently asked questions about how the process works and why most shoppers choose this type of mattress.
With the sheer amount of direct-to-consumer mattresses on the market nowadays, I know it can be hard to find an option that meets your needs. Your ideal mattress will be one that feels both comfortable and supportive, which your body weight and preferred sleeping position often determine.
Dr. Michael Breus,
Clinical Psychologist, Sleep Medicine Expert and Combination Sleeper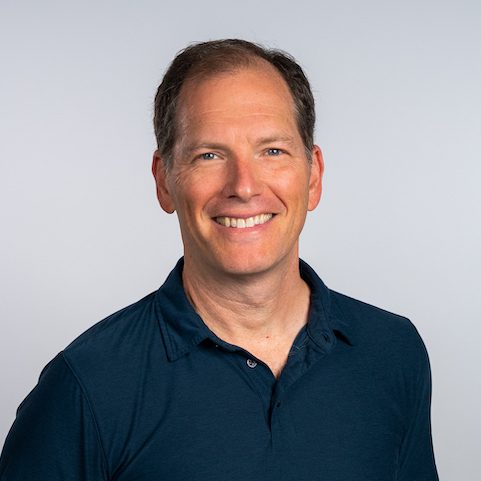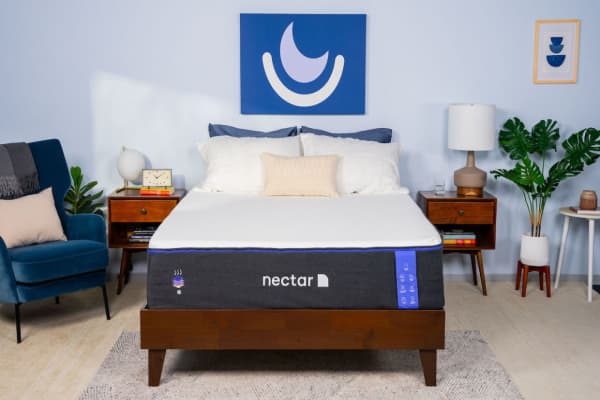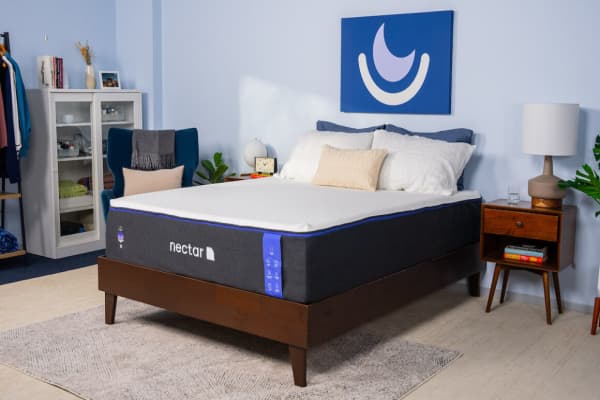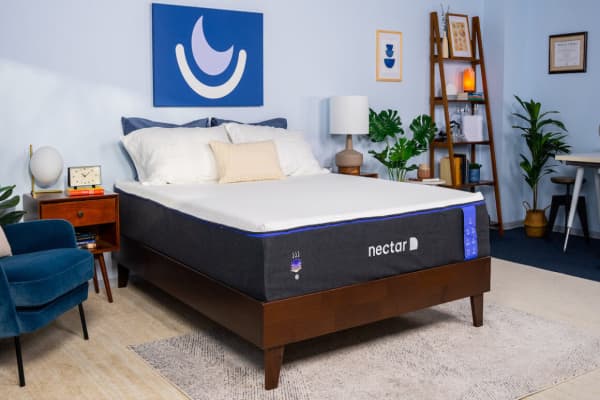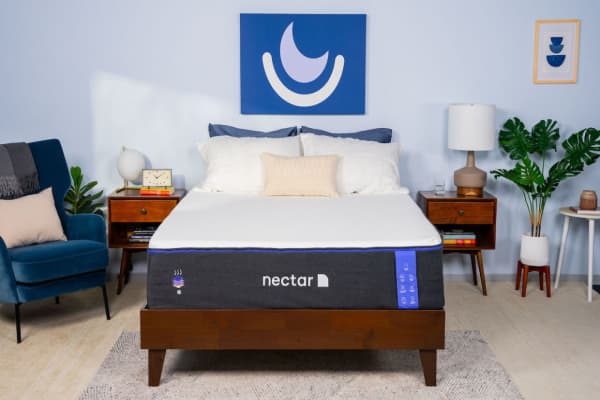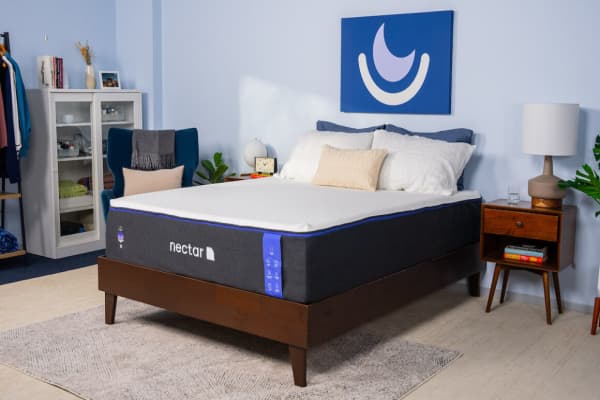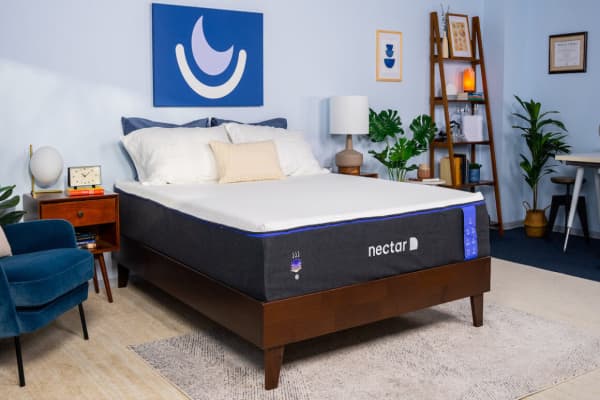 Warranty Lifetime, Limited

Trial Length / Warranty

365 nights / Lifetime, Limited
Sleep Doctor's Take
The Nectar Premier is a standout mattress in a box thanks to its balanced medium firm (6) feel and excellent performance in areas like pressure relief and motion isolation. The mattress also carries an approachable price-point and comes with a year-long trial period.
Adaptive comfort system helps reduce pressure buildup
Foams absorb most movement transfer and noise
Year-long sleep trial
May not provide enough support for people weighing more than 230 pounds
Foam layers can absorb and trap heat to an uncomfortable degree
The Nectar Premier is an all-foam mattress that accommodates a wide range of sleepers across body types and sleep positions. Our tests also indicate the mattress is a good option for couples, people with back pain, and those who generally  enjoy the feel of an all-foam bed.
How Does It Feel?
The supportive but conforming Premier cushioned the hips and shoulders of our side sleepers, while the versatile medium firm (6) feel helped our stomach and back sleepers achieve proper alignment. The gel-infused foam includes phase change material designed for temperature regulation, and we found that its quilted cover made with a polyethylene, polyester, and nylon blend promoted breathability.
Why We Like It
The Nectar Premier provides excellent pressure relief and comfort to side sleepers weighing more than 130 pounds. Our testers in this weight category appreciated the gel-infused memory foam and polyfoam comfort layers, which responded to their bodies and contoured to high-pressure areas. Back and stomach sleepers between 130 and 230 pounds also gave the mattress favorable ratings.
While the lack of perimeter support was a negative for our testers who usually sleep along the edge of their mattress, we noticed the 13-inch profile made getting in and out of bed easy. We found the mattress met the overall needs of a range of sleep and body types, and its above-average motion isolation made it a good option for couples.
The mattress ships free within the contiguous U.S. Nectar also offers White Glove delivery service for an extra charge. Each Nectar Premier purchase includes a 365-night sleep trial and a limited lifetime warranty.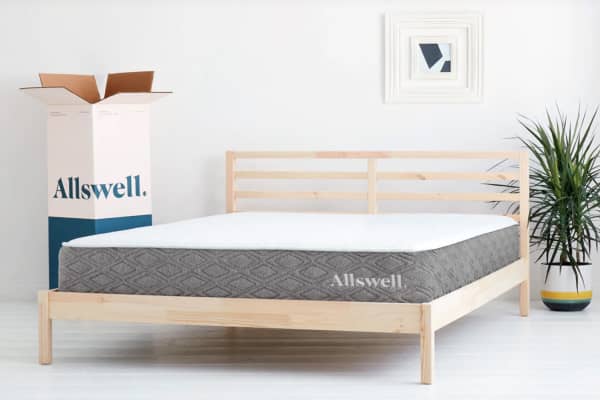 Warranty 10 Year, Limited

Trial Length / Warranty

100 nights / 10 Year, Limited
Sleep Doctor's Take
The Allswell Luxe Hybrid's copper-infused memory foam and sturdy pocketed coils create a comfortable balance of cushioning and support. The mattress is also affordably priced compared to the average hybrid model, making it a great choice for budget-conscious shoppers.
Adaptive foam layers over robust coils create a balanced, medium firm feel
Perimeter reinforcement reduces sinkage when you get in and out of bed
Steady airflow and a breathable cover help the mattress sleep cool
May be too firm for some side sleepers
Responsive design results in minimal motion isolation
Hybrids are among the most expensive mattress types, but the Allswell Luxe Hybrid is a notable exception. While its price-point is well below average, our testers found the mattress offers a balance of pressure relief and support comparable to many more expensive hybrid models on the market today.
How Does It Feel?
The Luxe Hybrid is constructed with a layer of gel-infused polyfoam quilted into the cover, followed by memory foam and polyfoam layers. Though the mattress has a medium firm (6) feel, our testers noticed these layers provided deep cushioning and even weight distribution. The support core contains sturdy pocketed coils. We found that the extra reinforcement along the perimeter reduced sinkage when we slept near the edges of the mattress or got in and out of bed.
Why We Like It
Our testing shows the Luxe Hybrid is most comfortable for side sleepers weighing at least 130 pounds and back sleepers between 130 and 230 pounds. The foam layers provided adequate cushioning for our testers' shoulders and hips — two areas where side sleepers tend to experience pressure points. The coils were supportive enough to keep our team's back sleepers on an even plane.
The mattress also performed well during our temperature control tests. Thanks to a breathable cover and steady airflow through the coil layer, we detected very little heat buildup on the surface. The responsive surface also made the mattress easy for our testers to move across, and it should suit couples who prefer a bouncy mattress for sex.
In addition to its affordable price tag, the Allswell Luxe Hybrid qualifies for free ground shipping to most locations in the contiguous U.S. Each order includes a sleep trial that runs 100 nights, and those who keep their mattress also receive a 10-year manufacturer's warranty.
BedStory Memory Foam Hybrid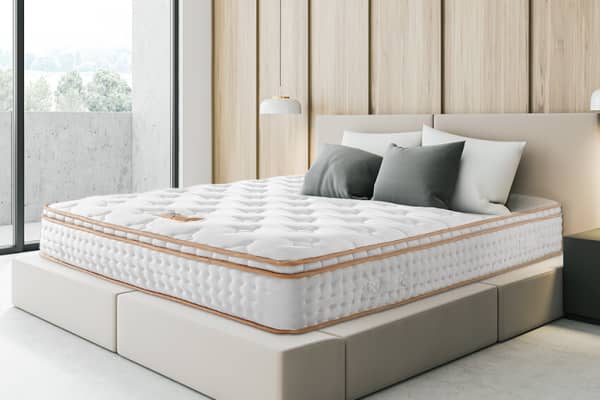 Trial Length / Warranty

30 nights / N/A
Sleep Doctor's Take
The BedStory Memory Foam Hybrid is designed with your comfort in mind. You can choose from three profiles, all featuring adaptive foam surfaces infused with cooling materials to help reduce heat buildup.
Breathable cover, coils, and convoluted foam facilitate airflow
Adaptive foam layers contour to the body to relieve pressure
Charcoal infusion in foams meant to reduce heat buildup
Stomach sleepers weighing at least 130 pounds will likely need a firmer model
Couples may find the surface lacks responsiveness for sex
BedStory's Memory Foam Hybrid is a quintessential hybrid mattress with a plush surface. You can purchase the bed in three height options, all of which exhibit an excellent balance of cushioning and support. The balanced feel and mid-range firmness level should make the mattress comfortable for many sleeper types. 
How Does It Feel?
A layer of convoluted polyfoam begins the comfort system. This layer offers targeted pressure relief to the hips and shoulders while facilitating airflow through the foam comfort layers. Layers of high-density polyfoam and memory foam further enhance pressure relief and prevent your body from sinking into the coils. The memory foam is also infused with charcoal meant for cooling. 
The support core contains pocketed coils, which move independently to provide targeted support for the hips and shoulders. Thicker coils are zoned along the perimeter to bolster the edges. A stretch knit fabric cover encases the mattress. 
Why We Like It
The Memory Foam Hybrid falls at a 6 on our 10-point firmness scale, which makes it appealing for many sleeper types. Side and back sleepers weighing up to 230 pounds awarded the mattress its highest ratings. These sleepers enjoyed the mattress' cushioning for sore spots in the hips and lower back while the coils kept their spines aligned. Stomach sleepers weighing less than 130 pounds may also feel supported, but those in higher weight categories will likely prefer a firmer mattress. 
Temperature control was one of the mattress' major strengths. The convoluted polyfoam cuts down on the foam's tendency to trap heat, which keeps it cooler than many comparable models in our lab. This design, along with the breathable cover and coils, resulted in a cool surface and minimal heat buildup during our tests. The foam layers also absorbed most motion transfer and noise when we moved across the mattress, which should appeal to those sharing a bed with an active sleep partner. 
BedStory ships free to customers living in the contiguous U.S. The Memory Foam Hybrid is not backed by a warranty, but you do receive a 30-night sleep trial to test the mattress.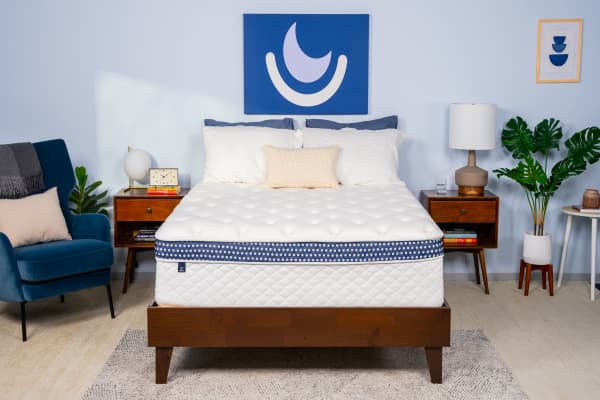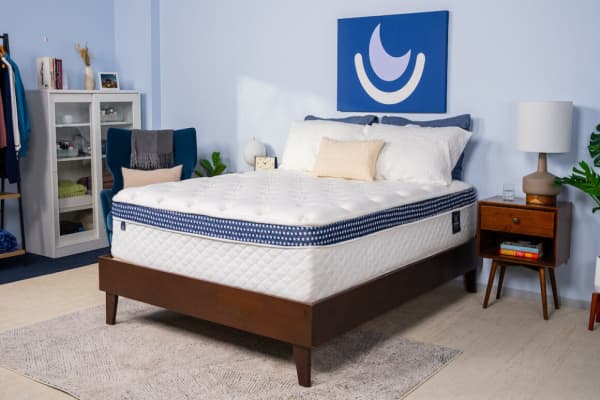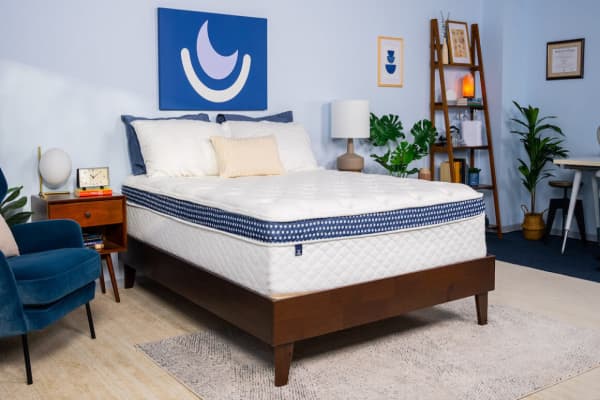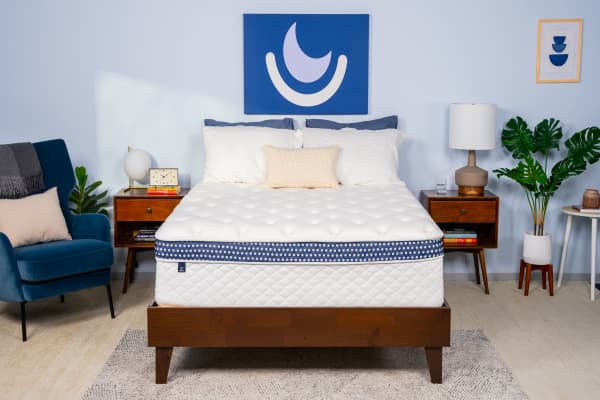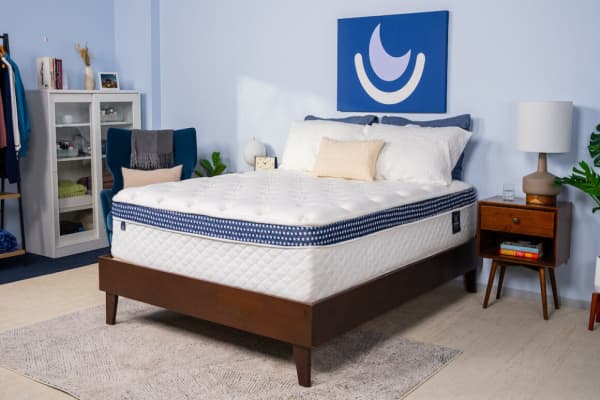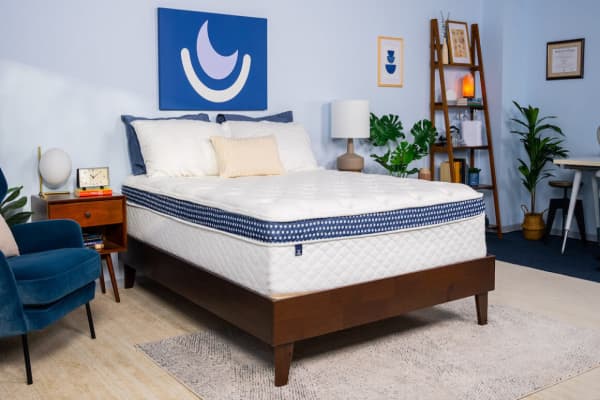 Trial Length 120 nights (30 night requirement)

Warranty Lifetime, Limited

Trial Length / Warranty

120 nights (30 night requirement) / Lifetime, Limited

Firmness Medium Soft (4), Medium Firm (6), Firm (7), Firm (8)
Sleep Doctor's Take
The WinkBed's luxurious hybrid design pairs adaptive comfort layers with a support system of zoned pocketed coils. The mattress is available in four firmness levels, and WinkBeds offers free exchanges within the first 120 nights if your initial choice doesn't work out.
Available in four designs, each with a distinct firmness level
Zoned coils reinforce the midsection and protect the perimeter from excessive sinkage
Excellent cooling thanks to moisture-wicking cover and steady internal airflow
Memory foam fans may not receive enough contouring
Limited motion isolation due to responsive coils
The WinkBed is categorized as a luxury innerspring. That said, the mattress features a fairly typical hybrid design and carries a mid-range price-point. You can also choose from four firmness levels, making this one of the most versatile mattresses available online.
How Does It Feel?
The WinkBed is sold in four firmness levels to accommodate different types of sleepers. Standard WinkBed models — which feature comfort layers consisting of adaptive polyfoam — are available with medium soft (4), medium firm (6), and firm (7) feels. The WinkBed Plus is a fourth option specifically designed for people who weigh more than 250 pounds. It features a firm (8) feel and includes a latex comfort layer for extra support and responsiveness.
All versions of the WinkBed feature pocketed coil support cores. Thicker coils resting beneath the midsection provide more pushback to areas of the body where people tend to carry a disproportionate amount of weight. The perimeter is also reinforced with lower-gauge coils, which we noticed minimized sinkage when we slept near the edges of the mattress or got in and out of bed.
Why We Like It
Our testers found that the steady air circulation through the coil layer helped the mattress maintain a comfortable temperature. Another cooling component is the cover made of Tencel. This breathable, eucalyptus-derived fabric has moisture-wicking properties to keep you dry while you sleep.
Our team tested all four of the WinkBed's firmness levels. The medium soft model received its best ratings from side and back sleepers weighing less than 130 pounds. The most popular model was the medium firm. Side sleepers weighing 130 to 230 pounds and back and stomach sleepers weighing less than 230 pounds all found this design exceptionally comfortable. Testers over 230 pounds enjoyed the enhanced support of the firm and Plus designs.
WinkBeds offers a 120-night sleep trial. If you are not satisfied with your initial firmness selection, you can exchange the mattress for a new model with a different design at no extra cost. The replacement mattress comes with a 60-night trial period. Shipping is free within the contiguous U.S., and all WinkBed mattresses are backed by limited lifetime warranties.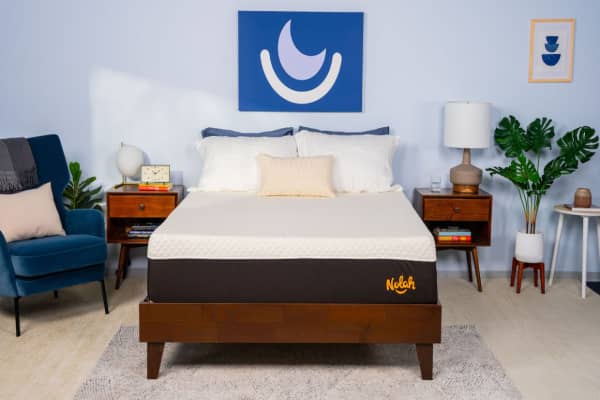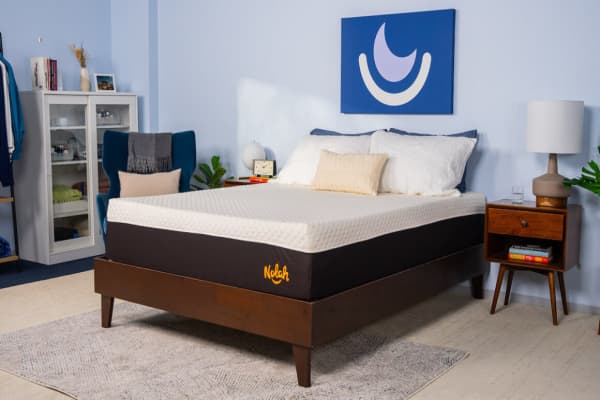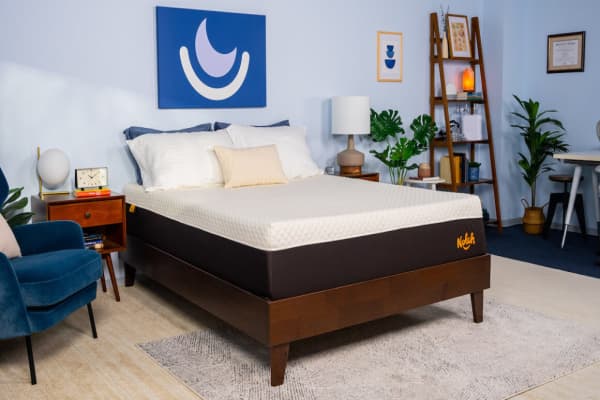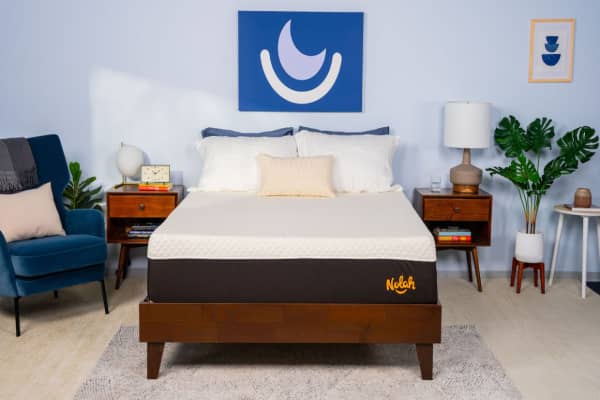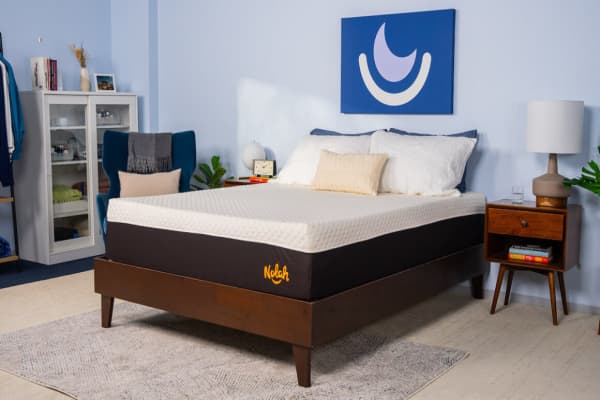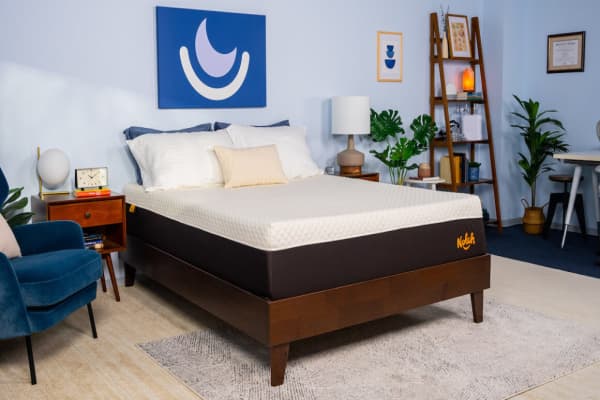 Trial Length 120 nights (30-night requirement)

Warranty Lifetime, Limited

Trial Length / Warranty

120 nights (30-night requirement) / Lifetime, Limited
Sleep Doctor's Take
The Nolah Signature 12 checks a lot of boxes for side sleepers due to an adaptive, all-foam design that ensures ample cushioning for the shoulders and hips. Proprietary open-cell foams also resist heat retention, allowing most people to sleep cool.
All-foam construction offers very good motion isolation
Open-cell foams resist heat retention
Breathable organic cotton cover
Limited edge support due to the softer feel
Foams may hinder movement across the surface
Our testing team found the Nolah Signature 12 suits most side sleepers across different weight groups. We also recommend the bed for active sleepers looking for good motion isolation, ease of movement, and a cool sleep.
How Does It Feel?
The Nolah Signature 12 features an organic cotton cover, an adaptive polyfoam comfort system, and a dense foam base. A medium (5) feel makes the mattress adaptive, so you'll notice deep cradling and cushioning, but the polyfoam is more responsive than traditional memory foam.
Nolah mattresses feature open-cell foam engineered to resist heat buildup. As a result, the Signature 12 should sleep fairly cool compared to all-foam models with denser, less breathable layers.
Why We Like It
While our side sleepers in all weight groups found the mattress comfortable and supportive, the mattress received the highest overall grades from those weighing up to 230 pounds. Back and stomach sleepers on our team under 130 pounds also found the mattress fairly comfortable, if not a bit soft.
The Signature 12 also performed well during our temperature control tests compared to other all-foam models we've tested. Thermal sensors detected minimal heat buildup, and none of our testers felt uncomfortably warm. Motion isolation is another strong point. Couples should be able to sleep soundly on the mattress without waking each other up with nighttime movements.
The Nolah Signature 12 ships free within the contiguous U.S. The bed includes a limited lifetime warranty and a 120-night sleep trial. Shoppers can choose to remove the trial period to receive extra savings on the bed. New mattress setup and old mattress removal is available for an additional fee.
Molecule 2 AirTEC Mattress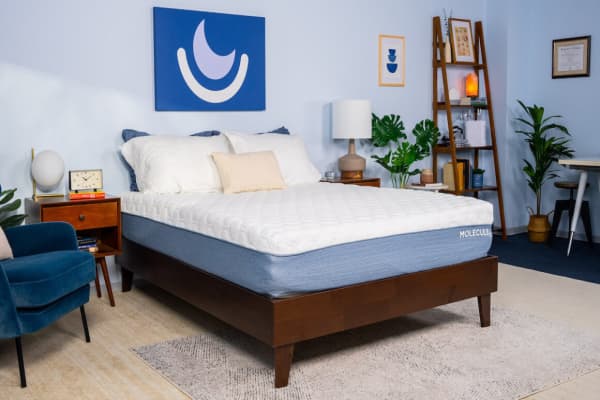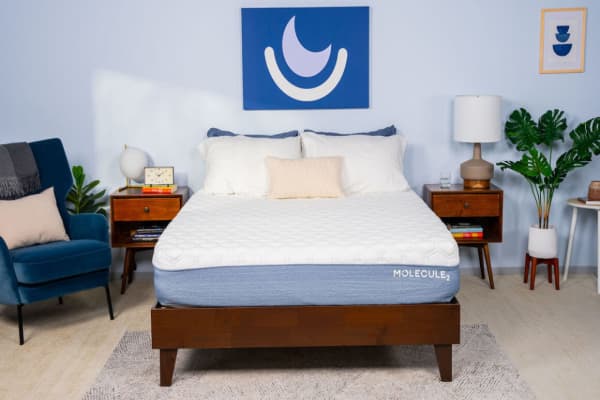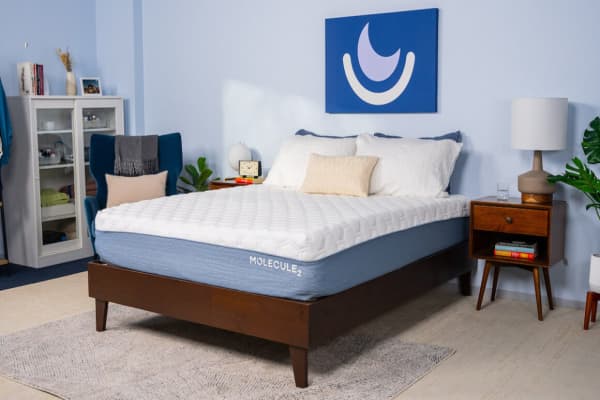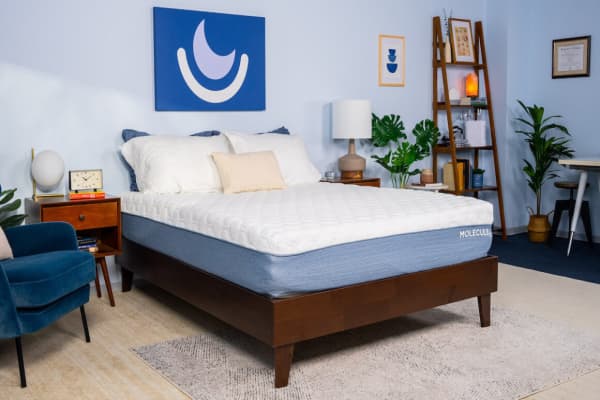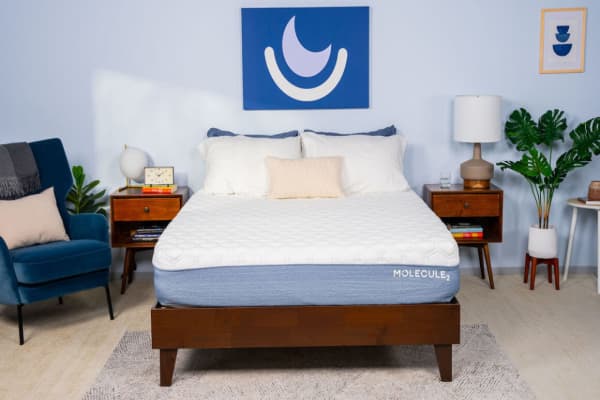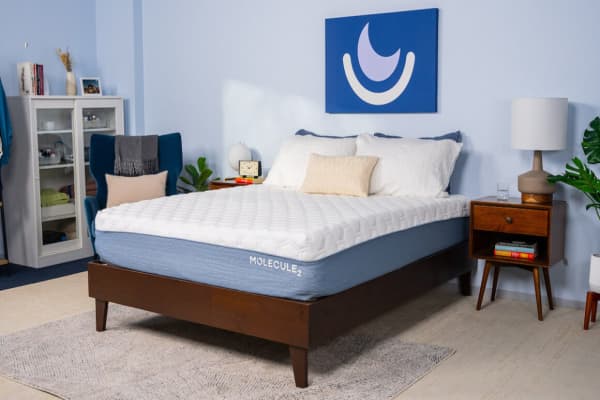 Trial Length 100 nights (30-night requirement)

Warranty Lifetime, Limited

Trial Length / Warranty

100 nights (30-night requirement) / Lifetime, Limited
Sleep Doctor's Take
Excellent motion isolation, above-average breathability, and zoned transitional support make the Molecule 2 AirTEC a great option for couples and co-sleepers. The mattress is competitively priced, and your order includes a sleep trial that spans an entire year.
Breathable surface foams limit heat retention and promote cooling
Zoned transitional layer feels firmer and more supportive around the midsection
Excellent motion isolation for co-sleepers
Design is too soft for most stomach sleepers
Somewhat weak and prone to sinkage along the perimeter
The Molecule 2 AirTEC is an all-foam mattress designed with balance in mind. Strong motion isolation, a noise-free design, and above-average cooling all make the mattress a solid pick for couples — especially if one or both of them also live with frequent back pain.
How Does It Feel?
The Molecule 2 AirTEC has a medium firm (6) feel, so you'll notice moderate yet even contouring. The comfort system consists of three foam layers that are progressively denser from top to bottom, allowing your body to settle comfortably into the mattress without too much sink.
The third foam layer is zoned for a firmer feel beneath the torso and hips, where people tend to carry a disproportionate amount of weight, and gentler cradling for lighter areas of the body. A base layer of high-density polyfoam provides good overall stability.
Why We Like It
Our hands-on mattress tests show the mattress is most comfortable for side and back sleepers weighing up to 230 pounds. Side sleepers receive the cushioning they need around the shoulders and hips, two areas where people who use this position tend to feel pressure buildup. The zoned foam allows back sleepers to lie comfortably without sinking too much around the midsection.
The mattress excelled at motion isolation during our tests, so you and your partner shouldn't experience sleep disruptions when the other person changes positions or gets up in the middle of the night. The top two foam layers are also treated with cooling components to prevent you from feeling excessively hot.
Competitive pricing and free shipping throughout the contiguous U.S. make the mattress a good option for shoppers with mid-range budgets. If you reside in California, Molecule will also arrange for your old mattress to be removed at no extra cost. All orders come with 100-night trial periods. If you decide to keep the Molecule 2 AirTEC, you'll also receive a lifetime warranty.
Why You Should Trust Us
Our team has years of experience in the sleep product industry. We've reviewed a wide range of products, including mattresses, and we personally research and test each product before offering a fair and unbiased review.

To provide you with the best information, each mattress is tested by several sleep experts. Our team members have a variety of body types and preferred sleeping positions to help us give the most accurate feedback possible.
Benefits of a Mattress in a Box – Video
If you're trying to decide whether to buy a mattress in a box or purchase one from a brick-and-mortar store, watch our video to explore the advantages of shopping online. We'll offer some hands-on explanations of why mattresses in a box might be a better option for you.
What Do You Really Need to Know Before Buying a Mattress in a Box?
We'll discuss everything you need to know to choose the best online mattress to suit your needs, covering a range of factors that could influence your buying decision.
What We Mean by a Mattress in a Box
A mattress in a box is compressed and folded or rolled for shipping. Once the shopper removes it from the packaging, it will decompress and return to its original shape. Most mattresses decompress within a few hours, though some may take up to 48 hours to fully expand.
Foam mattresses adapt best to this shipping method, and hybrid beds also work well. However, we don't recommend purchasing a latex mattress, airbed, or traditional innerspring model in a box due to difficulties with shipping.
Why Would You Want to Buy a Mattress in a Box?
When shopping online, you have access to all types of mattresses at a wide range of prices, giving you almost limitless options. You can also take your time browsing online to find the best mattress in a box without sales staff hovering nearby, which makes for a more relaxing shopping experience.
However, if you need any help while shopping or have questions about a specific mattress or policy, customer service and chat support are typically readily available with online mattress companies. Additionally, most companies offer longer sleep trials for mattresses purchased online compared to in-store.
How Do You Shop for a Mattress in a Box?
Before purchasing a mattress in a box, research what mattress types are best for you and consider your price range.
Once you have a type of bed in mind, read mattress reviews to find out how specific models perform. Be sure to check each mattress' warranty and sleep trial period, and read the fine print to ensure you know exactly what is included with your purchase.
Finally, look for sales and promotions, especially during the holidays, to get the best online deal.
Tips Before Buying a Mattress in a Box
Most mattresses — especially all-foam beds — produce off-gassing, which is a chemical-like smell that typically fades after several hours or days. While this odor isn't generally harmful, it can cause headaches or allergy-like symptoms for those with sensitivities.
To prevent an abundance of off-gassing, remove the mattress from the box promptly after delivery and allow it to air out in a room with good ventilation.
Bear in mind that most mattresses require a break-in period before they achieve their full comfort and support, which is why most companies won't accept a mattress for return unless it's been in use for at least a few weeks.
What Is a Mattress in a Box?
A mattress in a box refers to a package and delivery method in which the mattress is compressed, then rolled or folded and packed into a box. The company then ships the box directly to the customer, who removes and decompresses the mattress.
The following mattress types work well for this shipping method because they are easily compressed.
Foam Mattresses
Foam beds — and particularly memory foam beds — are an ideal option if you wish to purchase a mattress in a box. The memory foam compresses easily without compromising the integrity of the mattress and resumes its shape quickly when decompressed.
Hybrid Mattresses
Hybrid mattresses typically contain both foam and coils. While this construction isn't as ideal for the mattress-in-a-box delivery method as an all-foam mattress, it's still possible to compress and ship a hybrid mattress in a box and have it return to its original shape in a short amount of time.
What About Innerspring Beds?
While hybrid beds generally include both coils and foam, most innerspring mattresses have a coil-only design, making compression difficult, if not impossible.
While traditional innerspring mattresses used to be popular, they aren't as common now and are often associated with cheaper models that aren't ideal for the mattress-in-a-box shipping method.
Latex Mattresses
While it's possible to ship a latex mattress in a box, it's not the most convenient method. Latex mattresses are often very heavy, which sometimes means they must be shipped in multiple boxes. The customer then assembles the mattress from multiple parts once they've unboxed it.
Airbed Mattresses
Airbed mattresses require similar assembly to latex models. An airbed mattress often ships in multiple pieces and the buyer must assemble the bed themselves once they receive all the boxes, making the process inconvenient for many shoppers.
Advantages to Buying a Mattress in a Box
While online shopping doesn't let you personally test the feel of a mattress before making a purchase, there are definite advantages to the process.
You can look at mattresses online from virtually anywhere: Whether you live in a city or rural area, as long as you have access to the internet you can easily shop for a mattress online, which the company will ship directly to you.
Online prices are often lower than in-store: Since the online price may be lower than the in-store price for a mattress, shopping online often saves money, making the mattress more budget-friendly.
Longer sleep trials: When you purchase a mattress online, companies often offer a longer sleep trial than they would if you bought it in person, giving you longer to decide if it's the right mattress for you.
No sales staff hovering over you: When shopping online, you have plenty of time to browse. And you can avoid the added pressure from sales staff, who may encourage you to make a purchase before you're ready.
Customer service and chat support at the ready: With customer service and chat support only a click away in most cases, sales staff is still available when needed during your online shopping experience, allowing you to ask questions and clarify information.
How to Shop for a Mattress in a Box
While browsing for a mattress from your home offers greater convenience than driving to a brick-and-mortar location, it's important to have a shopping strategy before diving into the myriad online options.
Do Your Research Online and Make a List of Top Picks
Before purchasing a mattress in a box, we recommend that you take time to research your options online and browse through popular models to get an idea of what's available. Once you've done some research, make a list of your top mattress picks.
Read Customer Reviews of Your Top Picks to Get Firsthand Feedback
Once you have your list of top picks, you can use customer reviews to get personal feedback and details about the performance of the bed.
It's also a good idea to search for reviews relevant to your specific needs. For example, if you're concerned about durability, search for reviews from customers who have had the bed for a long time and are pleased with its performance.
Compare Sleep Trials and Warranties
When buying a bed online, it's important to know if it includes a sleep trial and, if so, what its terms and duration are. Since you can't test the bed in person, the sleep trial ensures that you get a chance to try it out before fully committing to the purchase.
Knowing the bed's warranty information can also provide peace of mind. We urge you to read the fine print of the sleep trial and warranty before making your purchase.
Look for Holiday Sales and Other Promotions
It may seem like generic shopping advice, but we always advise that you look for holiday sales and other promotions when purchasing a mattress. Shoppers who find a mattress on sale can save significant sums of money.
What Are Some Last Things You Should Know Before Buying a Mattress in a Box?
Before you click the purchase button on a new mattress in a box, there are a few final considerations.
Off-Gassing and Other Boxed Mattress Smells
Many mattresses emit a chemical-like odor when removed from their packaging for the first time, with foam mattresses often producing the most off-gassing. However, the aroma should fade within a few hours or days and generally isn't harmful.
If off-gassing bothers you, place the mattress in a well-ventilated room, with the window or door open if needed, until the smell fades.
Break-in Periods
While we all want a new bed to perform at its best the first night we use it, most mattresses have some sort of adjustment period. If you have trouble sleeping at first, know that it is normal and give it time.
Many online mattress companies have a break-in period and won't allow customers to initiate a return for a bed that's been in use for less than three or four weeks. This is to ensure that you've had time to get used to the bed and know for certain that it's not working for you.
Don't Wait Too Long to Unbox
While a mattress in a box ships conveniently, it shouldn't be left in the box for a prolonged period of time after you receive it. Leaving a compressed mattress in a box for too long could damage it or reduce its lifespan.