Mattress pads are a type of bedding accessory designed to keep your mattress clean while enhancing comfort. They come in a range of styles and materials to suit different needs. Common features you'll find in mattress pads are waterproof construction, cooling designs, and eco-friendly materials. Some mattress pads offer minor cushioning while others have a plusher feel. Cotton, Tencel, and bamboo-derived fabrics are popular materials.
Mattress pads vary widely in cost, ranging from inexpensive to well over $200. We've researched and tested a number of mattress pads to determine our top picks. We'll discuss the pros and cons of each pick to help you find the right fit. We'll also cover pricing, sizing tips, and care guidelines.
The Company Store Legends Hotel Waterproof Mattress Pad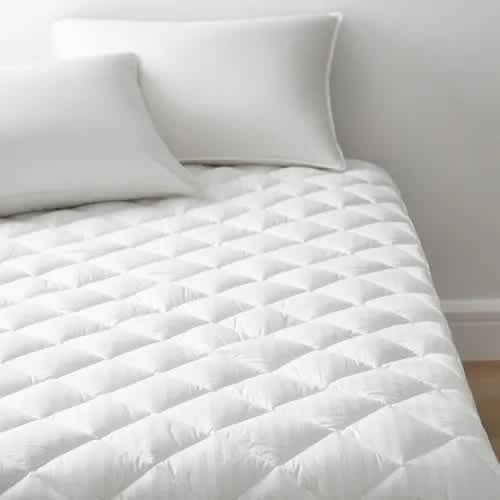 Cover Material: Cotton Damask

Fill Material: Down Alternative Fiber Fill

Price: $179
Breathable quilted cotton cover
Plush down alternative fiber fill
Polyurethane waterproof barrier shields against moisture damage
Won't add significant cushioning to a bed
Ironing is not recommended
No warranty
Sleep Doctor's Take
The Legends Hotel Waterproof Mattress Pad adds subtle padding to your bed without retaining much heat. Its waterproof barrier protects mattresses from accidents and spills. It comes in six sizes and two pocket depths to fit most mattresses.
---
The Legends Hotel Waterproof Mattress Pad by The Company Store offers a versatile design at a reasonable price. The 400 thread count cotton shell is soft yet durable. The polyester fiber fill mimics natural down and is quilted into diamond-shaped panels to prevent clumping.
A thin layer of thermoplastic polyurethane is placed between two layers of breathable cotton jersey. The polyurethane shields the mattress from spills and other moisture.
The mattress pad comes in two pocket depths: 11 or 18 inches. Both options are available in all standard mattress sizes.
How Does It Feel?
Our testers enjoyed the mattress pad's moderate cushioning, which relieved pressure on the hips, shoulders, and spine. The padding felt evenly distributed thanks to the diamond quilting. Some waterproof designs can make rustling noises, but this model is very quiet.
Why We Like It
The waterproof membrane successfully blocked out moisture during our spill test. This barrier protects beds from all sorts of liquids and stains, but it's particularly helpful for kids going through a bed-wetting phase.
The mattress pad is not designed with heat-trapping materials so it should feel comfortable year-round. We also like that the stretchy jersey skirt ensures a snug fit.
The Company Store ships the mattress pad for free to the contiguous U.S. You may return the pad within 30 days of purchase.
Quince Essential Mattress Pad
Cover Material: Cotton Cambric Shell

Fill Material: Microfiber Polyester Fill

Price: $90
Breathable cotton cambric shell
An 18-inch skirt fits most mattresses
Soft and fluffy microfiber fill
No waterproofing
Only one pocket depth
May not fit snugly on low-profile mattresses
Sleep Doctor's Take
The Quince Essential Mattress Pad is affordable with a low-maintenance design. You can wash and dry the pad in your household machine, and the 18-inch skirt is compatible with most mattresses. The microfiber fill acts as a protective barrier while softening your bed's surface.
---
The Quince Essential Mattress Pad offers protection and light cushioning. Its soft cotton shell is breathable with a 230 thread count. The microfiber polyester fill is 400 grams per square meter (GSM), producing a medium loft and weight. The fill is quilted into 8-inch boxes to prevent clumping.
The mattress pad is available in all six standard sizes. The stretchy cotton skirt has an 18-inch pocket depth that can accommodate most mattress heights.
How Does It Feel?
The microfiber fill has a medium weight and adds a moderate amount of fluffiness to a bed surface. Our testers noticed the extra padding eased pressure points without dramatically changing the feel of the mattress. The fill didn't clump, and we didn't observe much heat retention.
Why We Like It
The Quince Essential Mattress Pad is an affordable way to add cushioning and protection to your bed. The baffle box design minimizes clumping, so you get more even support.
Along with solid performance, the mattress pad includes free shipping and a 365-day return policy.
Saatva Organic Mattress Pad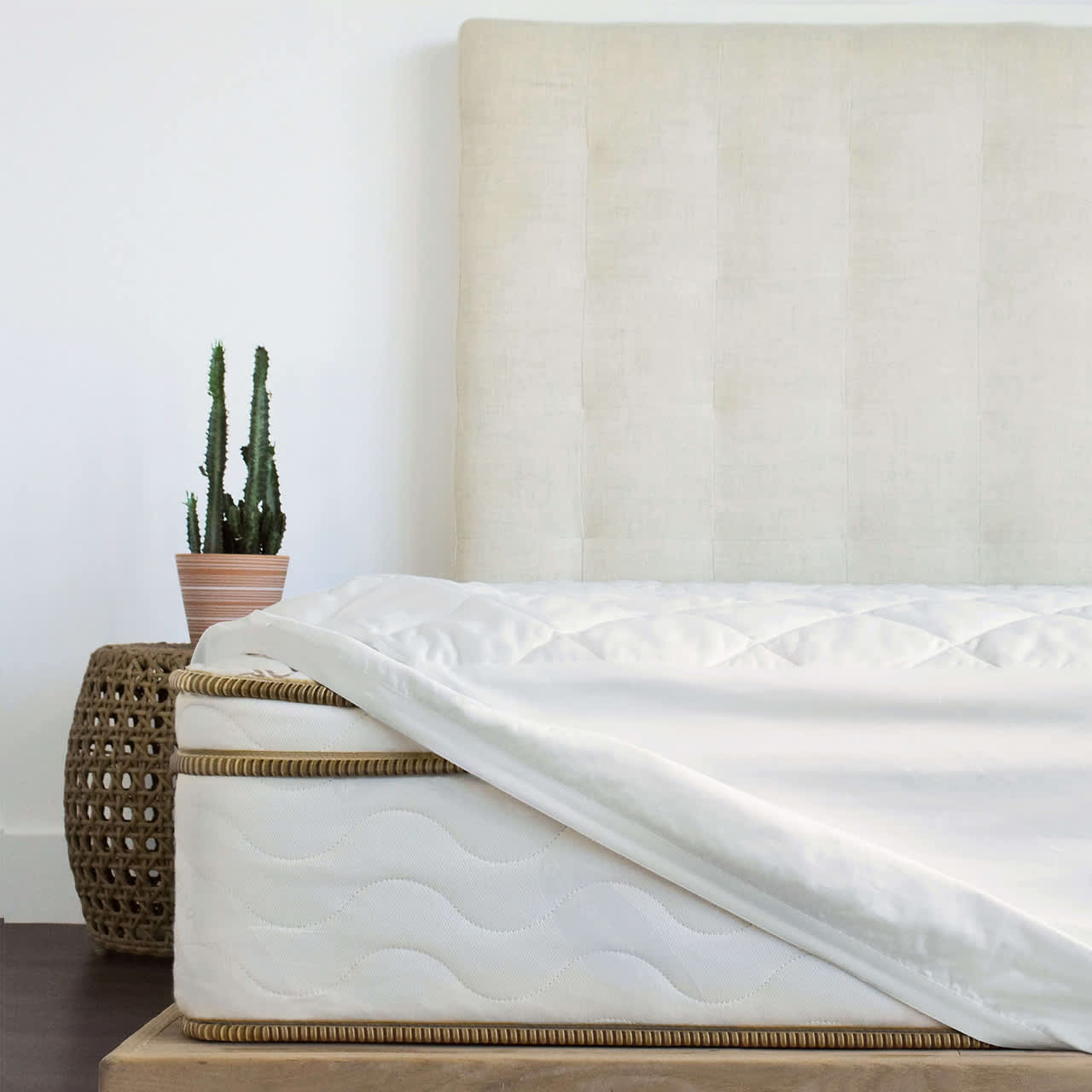 Cover Material: Top Panel: GOTS-Certified Organic Cotton Side Panel: GOTS-Certified Organic Cotton, Spandex

Fill Material: Organic Cotton

Price: $265
GOTS-certified organic cotton shell and fill
Wide elastic bands minimize shifting
Fits mattresses up to 16 inches tall
Lacks waterproofing
Luxury pricing
Doesn't protect beds from major accidents or spills
Sleep Doctor's Take
Made entirely from organic cotton, Saatva's Organic Mattress Pad is a top choice for eco-conscious shoppers. It protects beds from moisture and contaminants without using any chemicals. Our testers appreciated the generous cotton skirt and secure elastic band.
---
The Saatva Organic Mattress Pad features a 100% cotton design that repels heat and moisture. The cotton is certified organic by the Global Organic Textile Standard (GOTS). The quilted surface adds subtle cushioning while protecting mattresses from allergens and minor accidents.
How Does It Feel?
The quilted surface moderately softens your mattress without adding much loft. We found the mattress pad to be exceptionally breathable since it's made entirely from cotton. It also stays put, thanks to a wide elastic band and slightly stretchy material along the sides.
Why We Like It
The Saatva Organic Mattress Pad has a breathable design with a luxurious feel. It protects mattresses from moisture and contaminants without chemical coatings or plastics. It's also very quiet since it doesn't contain crinkly synthetic materials.
The mattress pad may be pricier than other options, but Saatva has a reputation for quality and durability.
Shoppers can choose from all standard mattress sizes and a split king option. There are also sizes to fit adjustable beds. Each option should accommodate most mattresses up to 16 inches tall.
The mattress pad can be machine-washed on a gentle cycle and tumble dried. Saatva backs the pad with a 45-night sleep trial and a one-year warranty.
Cozy Earth Bamboo Mattress Pad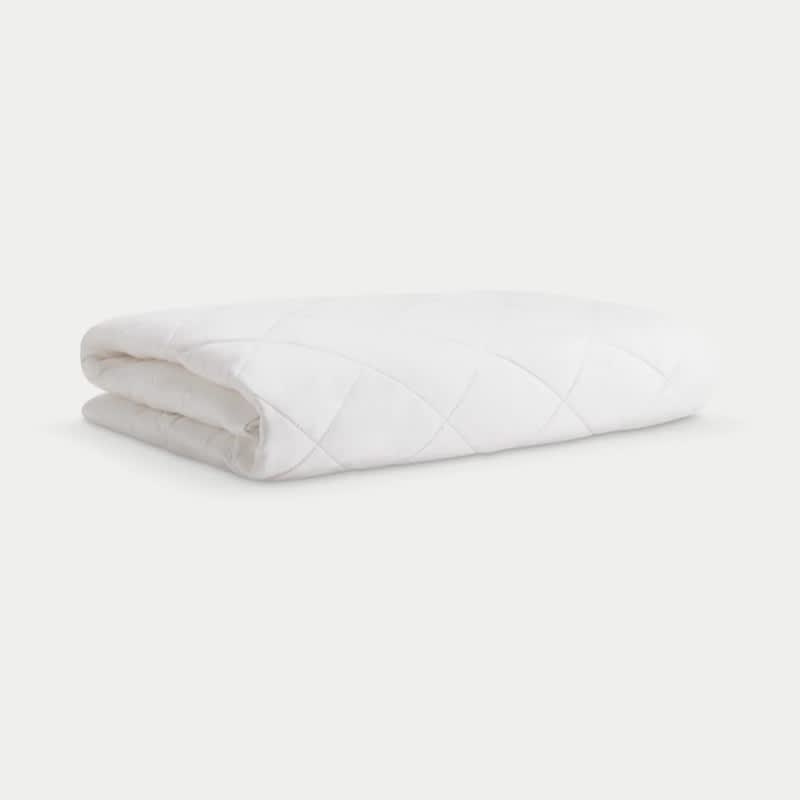 Cover Material: Viscose Derived from Bamboo

Fill Material: Fiber Fill Derived from Bamboo

Price: $229
Silky bamboo-derived viscose shell
Generous 20-inch pocket depth
Secure elastic band
Won't add significant plushness to your bed
No twin XL option
Washing on a spin cycle isn't recommended
Sleep Doctor's Take
The Cozy Earth Bamboo Mattress Pad is composed of bamboo-derived viscose, making it great for hot sleepers and warm seasons. It's also ideal for very tall beds since it has a 20-inch pocket depth.
---
Slim and lightweight, the Cozy Earth Bamboo Mattress Pad protects beds without drastically changing the feel of your mattress surface. Both the shell and fill are made from bamboo-derived fibers that naturally minimize heat buildup. The mattress pad is machine-washable, and its weave is designed to resist pilling.
The extra-deep pocket fits most mattresses up to 20 inches thick. The pad comes in five standard mattress sizes.
How Does It Feel?
The mattress pad provides a breathable barrier that helps keep you cool. Since it offers minimal cushioning, the pad is best for those who mainly want to protect their mattress but otherwise enjoy how their bed surface feels.
Why We Like It
Lightweight and breathable, this mattress pad is one of our favorites for warmer seasons. It's also great if you have night sweats or hot flashes, since bamboo-derived fibers are moisture-wicking.
Cozy Earth backs the mattress pad with a 100-night sleep trial and a 10-year warranty. Both are longer than average for a mattress pad. Shipping is also free to all 50 states.
ViscoSoft Copper Pillow Top Mattress Pad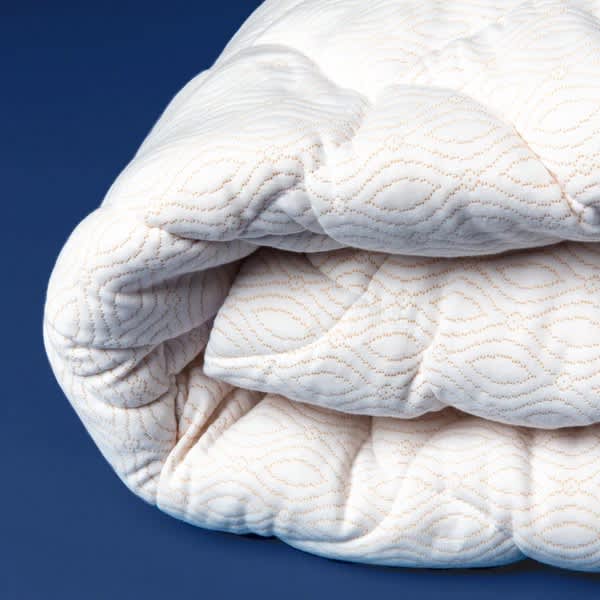 Cover Material: Copper-Infused Fabric

Fill Material: Down Alternative Fibers

Price: $225
Breathable cover with copper technology
Soft and durable down alternative fill
5-year warranty
May add too much loft for some sleepers
No waterproof barrier
Cost-prohibitive for some shoppers
Sleep Doctor's Take
ViscoSoft's Copper Pillow Top Mattress Pad balances cushioning with temperature control. Its down alternative fill adds plushness without trapping much heat. Copper threads in the cover are designed to reduce heat and microbial growth.
---
The ViscoSoft Copper Pillow Top Mattress Pad features a quilted pillow-top with a down alternative fiber fill. The fill power is 750 GSM, which is fairly heavyweight. This makes the mattress pad plush yet sturdy.
The fabric cover includes copper threads designed to repel heat and odors. The mattress pad is machine-washable, and the deep-pocket skirt fits most mattresses up to 18 inches tall.
How Does It Feel?
The ViscoSoft Copper Pillow Top Mattress Pad is one of the plusher models we've tested. The padded pillow-top is helpful for sleepers who seek extra cushioning for a mattress that feels a touch too firm. Our testers didn't notice much heat buildup despite the plusher fill.
Why We Like It
The mattress pad offers protection from stains, but the pillow-top design is what really stands out from other models. Hot sleepers felt comfortable on this pad, and the down alternative fill is suitable for vegans or those with allergies to natural down.
ViscoSoft backs the mattress pad with a 90-night sleep trial and a 5-year warranty. It also offers free shipping and returns.
Why You Should Trust Us
We researched and tested dozens of mattress pads to help readers find a suitable fit. We performed in-house testing to assess performance features like waterproofing, temperature control, and quietness of the material. Our test team is comprised of sleepers across a range of body types and sleep needs. This helps ensure our findings reflect a wide array of preferences.
A mattress pad is primarily used to protect a mattress and, in some cases, adjust its comfort level. A pad goes on top of your mattress but underneath bedding.
People purchase mattress pads for a variety of different reasons. Some sleepers need a pad to add a touch of softness to a very firm mattress. Others invest in pads to protect their mattress from spills, stains, dust, and allergens. Knowing your priorities can help you choose a compatible style.
Why Should You Use a Mattress Pad?
A mattress pad can extend your mattress' lifespan by protecting against moisture, dirt, and other contaminants. Pads can also help reduce allergies by shielding your bed against dust mites and other common allergens.
Mattress pads can moderately enhance the comfort level of your bed by adding a layer of cushioning. Pads can sometimes prolong the life of an old mattress by making a worn surface more comfortable, but this should only be seen as a temporary solution rather than an alternative to purchasing a new mattress.
Enhanced comfort: A plush mattress pad can make an overly firm bed feel more comfortable. If you're buying a pad to enhance comfort or pressure relief, look for a design with a quilted surface or plusher design.
Increased mattress longevity: Old mattresses with worn surfaces and deep impressions may benefit from a mattress pad with a thick and plush design. The additional padding can briefly extend the life of a mattress that would otherwise feel too worn-out to sleep on. That said, this should only be considered a temporary solution while you search for a replacement mattress.

Cooling properties: The right mattress pad can help cool the surface of a mattress that feels too hot. If you're a hot sleeper or live in a humid climate, look for mattress pads made from breathable materials like cotton, silk, and bamboo-derived fibers.
Temporary mattress adjustments: Your support needs may change following an injury, pregnancy, and certain health conditions. Firmness preferences can also change with time. In lieu of buying a brand new mattress, you can use a mattress pad to adjust your bed's comfort level for short periods of time.
Budget-friendly mattress solution: If your mattress isn't entirely compatible with your sleep position or comfort preferences, a mattress pad can be a more affordable alternative to buying a new bed. A mattress pad won't drastically change the feel of your mattress. It also won't restore an old or bad mattress. That said, a mattress pad can provide additional comfort until replacing your mattress is possible. 
Improved support: Most mattress pads are designed to add cushioning, but some mattress pads can help boost support and promote strong spinal alignment. This may reduce joint and muscle pain related to poor sleep posture. Not every mattress pad is built with support in mind, especially if it's a thin or soft design. If support is a priority for you, look for more substantial materials like foam or latex.
Are Mattress Pads and Mattress Toppers the Same?
Mattress pads and toppers are often thought to be one and the same, as both are placed on top of your bed. Despite their similarities, they do have distinct functions. 
Mattress toppers are thicker, so they have a greater impact on comfort and support. They safeguard your mattress from wear and tear, but they're typically not waterproof.
You can combine a mattress pad with a topper if you want both of their advantages. A topper always goes underneath a mattress pad.
What About Mattress Protectors?
Mattress protectors are mainly used to keep a mattress clean. Some designs encase the entire mattress, while others just cover the top. Many use waterproof materials or coatings. 
Unlike mattress pads and toppers, mattress protectors are not intended to adjust a bed's comfort level.
A mattress pad's performance varies depending on its construction. Some materials enhance pressure relief, while others regulate temperature. Knowing how you want to change the feel of your bed can help you choose the most suitable materials.
Cotton
Cotton mattress pads are popular because of their breathability and ease of care. Most cotton bedding is considered hypoallergenic.
Cotton mattress pads aren't the sturdiest option, but they typically hold up well to washing.

Wool
Like cotton, wool is a natural fiber that regulates temperature well. It insulates during colder months and dissipates heat in warmer seasons. Wool is also a natural flame retardant.
Wool mattress pads are less common and more expensive than other material options.
Polyester
Polyester mattress pads tend to be soft and affordable. Polyester microfiber is a popular fill because it mimics the feel of natural down but is less expensive.
Polyester doesn't absorb heat as efficiently as cotton, but it's more breathable than many foams. Polyester mattress pads aren't the best choice if you're looking to add support to your bed. They also tend to flatten with time, so they're not the most durable option.
Down and Feather
Down and feather mattress pads have a distinctive plushness. Similar to wool, down and feather mattress pads are great at regulating temperature, making them comfortable through all seasons.
Natural down and feather mattress pads aren't suitable for vegans since they're sourced from ducks and geese. Some people are allergic to down and feathers.
Other potential drawbacks include a higher price-point, clumping, and a rustling sound.

Down Alternative
Down alternative mattress pads have a fluffy feel similar to natural down. While not quite as durable as natural down, they're usually more affordable and easier to clean. Down alternative is commonly made from polyester, cotton, and rayon.
Picking the Right Mattress Pad for You
People turn to mattress pads for various reasons, and not all models are created equal. A mattress pad with excellent temperature control, for example, may not be supportive.
Your body weight, sleep position, and personal preferences all play a role in finding a compatible mattress pad.
Choosing a Mattress Pad That Meets Your Needs
Mattress pads have two main functions: adjusting a bed's comfort level and keeping a mattress clean. Some models are designed to perform both, while others may excel at one but not the other. Knowing your priorities can help you choose a compatible design.
Firmness: If you're unhappy with the firmness level of your bed, a mattress pad can make subtle adjustments to its feel. Dense materials like memory foam and latex can make a soft or indented mattress feel sturdier or firmer. Polyester, cotton, and wool can soften an overly firm surface.
Cushioning: If you need to enhance plushness in your mattress' comfort system, a thick mattress pad can provide additional cushioning. Materials like memory foam, latex, and down can relieve pressure buildup. If adding height is your primary goal, look for thicker models with minimal compression.
Protection: If your main concern is to protect your mattress from damage, look for mattress pads with waterproof materials or coatings. These designs are helpful if you drink or eat in bed, or have a child going through a bed-wetting phase.
Materials like wool, cotton, and bamboo-derived fabrics naturally repel moisture. They not only protect your mattress from damaging contaminants, but they may alleviate allergy symptoms in susceptible people.
Factors to Consider in a Mattress Pad
The range of mattress pads on the market can be overwhelming, but we'll explore some of the top factors to consider when comparing models.
Material type: A mattress pad's feel and performance largely depends on its materials. Cotton and wool, for example, are heat-dissipating. Memory foam retains more heat, but it excels at pressure relief. Materials also impact a mattress pad's durability and ease of care.
Thickness and density: A thin mattress pad won't change the feel or height of your bed, but a thick one can add notable loft. This is desirable if you want to add pressure relief or support. If you do choose a thicker model, you may need sheets with deeper pockets to accommodate the extra height. 
Waterproofing: Mattress pads with waterproof materials like vinyl and polyurethane can safeguard your bed from moisture damage. They're helpful if you experience night sweats or have a child prone to bed-wetting.
Temperature regulation: The right mattress pad can help regulate the overall temperature of your bed. If you tend to sleep hot or live in a warm climate, look for mattress pads with breathable fabrics. Some models incorporate cooling technologies like phase change material, copper fibers, and gel infusions. These features are designed to draw heat away from sleepers.
Noise: If you're a light sleeper, you may want to avoid certain materials. Waterproof pads made with vinyl and other plastics can make crinkly noises as you move during the night. On the other hand, memory foam or quilted pillow-tops can help muffle a noisy mattress.
Quality and durability: As with most products, higher quality materials and craftsmanship usually means better durability. Polyester mattress pads are often affordable, but they may not last as long as cotton or foam designs. A mattress pad's warranty is sometimes a good indicator of its durability.
Cleaning and care: Every mattress pad comes with recommended cleaning guidelines. Some are machine-washable, while others should only be spot-treated. You can avoid premature wear by following the manufacturer's care instructions.
Cost: Mattress pads come in a range of price-points to suit nearly every budget. Shoppers can pay as little as $30 or upwards of $200 for a mattress pad. While price sometimes indicates quality, the most expensive mattress pad isn't necessarily the best one for your needs.
Last Things to Know About Mattress Pads
Whether this is your first mattress pad or you're replacing an old one, we will cover some of the most frequently asked questions to help you pick the right model.
How Do You Keep a Mattress Pad From Sliding?
A shifting mattress pad can disrupt sleep, so most designs have elastic borders or loops to ensure a snug fit. It's also important to choose a model that fits your mattress height. A mattress pad that's too small or too loose is more likely to slide off your mattress.
Can You Use a Mattress Protector With a Mattress Pad?
You can combine a mattress protector with a mattress pad for extra security. The mattress protector goes on top of the mattress pad since it's designed to block out liquid and contaminants. Depending on the thickness of each product, you may need to use sheets with deeper pockets to accommodate the additional height.
Do You Need a Mattress Pad or a New Mattress?
The lifespan of a mattress depends on many factors, including materials, craftsmanship, and amount of use. Most mattresses should be replaced every 6 to 8 years. Since a mattress pad only adds a modest amount of cushioning or support, it will not salvage a worn-out mattress. If you purchase a mattress pad in lieu of replacing a bad mattress, you may impact proper spinal alignment, leading to aches and pains.
A firm mattress pad can help revitalize a mattress that's begun showing signs of wear, but it should only be a temporary fix. If your mattress is very old, it's better to invest your money in a replacement rather than a mattress pad.