Medical Disclaimer: The following content should not be used as medical advice or as a recommendation for any specific supplement or medication. It is important to consult your health care provider prior to starting a new medication or altering your current treatment.
If you've ever woken up with lower back pain, you're not alone. Nearly 1 in 4 adults worldwide have regular back pain, which becomes more likely with age. While a good mattress can't resolve all causes of back pain, by providing the right amount of support, it may offer notable relief.
Buying a new mattress can be expensive, but addressing pain can be a major boost to your quality of life. If you have back issues but are working with a limited budget, we offer our list of the best low-cost mattress options for back pain. We'll help you better understand the interplay between sleep, back pain, and your mattress and explain how to find the right bed for your needs at an affordable price.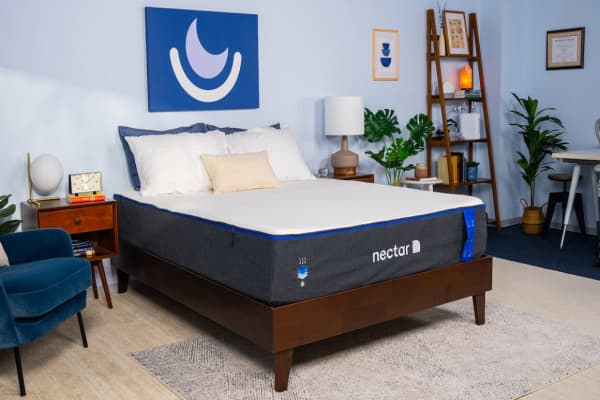 Warranty Lifetime, Limited

Trial Length / Warranty

365 nights / Lifetime, Limited
Sleep Doctor's Take 
Our testers were consistently impressed with the Nectar Mattress' contouring yet supportive memory foam design. The mattress excels at relieving pressure to support spinal alignment while also isolating motion and staying cool. Best for side and back sleepers under 230 pounds, this high-value mattress comes with a very reasonable price tag.
Memory foam layer provides substantial pressure relief for pain points
Generous 365-night sleep trial and lifetime warranty
Gel-infused foam designed to reduce heat buildup
Stomach sleepers over 230 pounds may need more support
Contouring memory foam can stifle movement on the mattress
Only offered in one firmness level
The Nectar Mattress is a 12-inch, medium firm (6) all-foam bed. A 2-inch layer of gel-infused memory foam cradles the curves and pressure points of the body, which can facilitate spinal alignment and ease tension around the lower back.
How Does It Feel?
Our testers found that the Nectar's memory foam layer worked well to relieve tension around the hips and shoulders for side sleepers. Our back sleeping testers also enjoyed the Nectar Mattress' excellent balance between pressure relief and support for the lumbar area.
In addition to ample pressure relief, the Nectar Mattress' memory foam construction has excellent motion isolation, which makes this a great fit for couples. The bed's conforming surface also manages to sleep cool relative to most mattresses with memory foam. However, the contouring of the foam caused some of our testers to feel like their movement was restricted when lying on the mattress.
Why We Like It 
The Nectar Mattress is a competitively priced bed made with quality materials. The bed's contouring and supportive design offers an ideal feel for most sleepers experiencing back pain, and the medium firm (6) firmness level works for a broad range of sleepers. Nectar also provides perks that are often not available with lower-cost mattresses such as free shipping in the contiguous U.S., a 365-night sleep trial, and a lifetime warranty.
Minocasa Mino Hybrid Mattress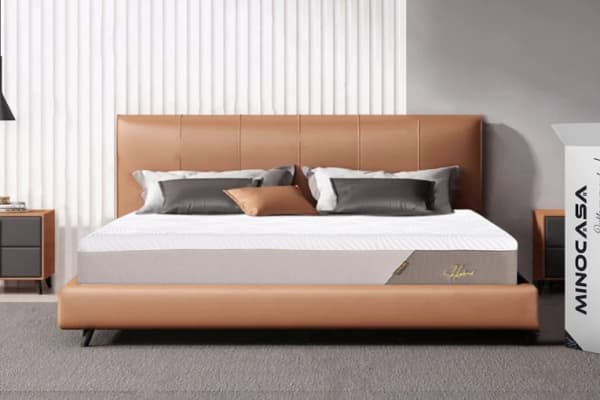 Warranty 10 year, limited

Trial Length / Warranty

180 nights / 10 year, limited
Sleep Doctor's Take 
The Minocasa Mino Hybrid is one of most reasonably priced and comfortable hybrid mattresses on the market. This bed's design offers significant pressure relief to alleviate tension, and its zoned design is tailored to support the lower back and keep the spine aligned while you sleep.
Combination of cushioning and hybrid construction suits most side sleepers
Zoned support core targets support to the lower back back and other key pressure points
Above-average motion isolation for a hybrid mattress
May lack support for back and stomach sleepers over 230 pounds
Conforming comfort layers offer limited bounce
The 12-inch Minocasa Mino Hybrid features three layers of foam in its comfort system, including gel-infused memory foam. The foams provide pressure relief while zoned coils in the support core give extra stability under the midsection and shoulders to further promote spinal alignment.
How Does It Feel?
The Minocasa Mino Hybrid has a medium firm (6) firmness level that most sleepers find to be comfortable. In our tests, side sleepers especially enjoyed the Minocasa Mino Hybrid's moderate body-hugging comfort layers. The zoned lumbar support core is a nice feature for sleepers with back pain as well as most back sleepers. However, our stomach sleeping testers who weigh over 130 pounds found that the mattress felt a bit too soft.
The Minocasa Mino Hybrid's layers of memory foam and pressure-relieving polyfoam are able to ease tension around key pressure points like the shoulders, hips, and lower back. Even though the mattress has a coil-based support core, its top layers give it better motion isolation than many other hybrid mattresses.
Why We Like It 
The Minocasa Mino Hybrid offers several features that are well-suited for sleepers with back pain but are usually associated with luxury beds. This includes gel-infused memory foam, zoned support, reinforced edges, CertiPUR-US-certified foam, and OEKO-TEX Standard 100 fabric. However, this high-quality hybrid is also budget-friendly, making it an intriguing option for value shoppers.
Best for Spinal Alignment
Level Sleep Mattress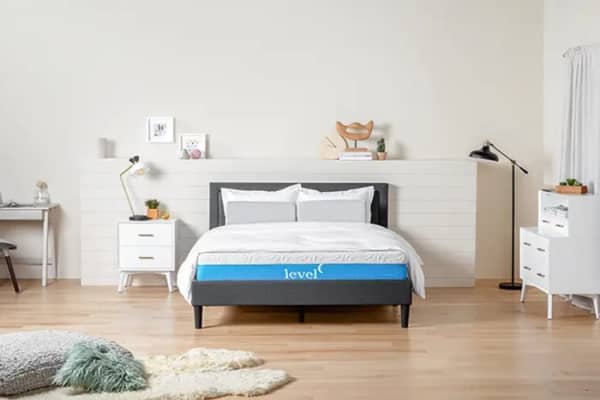 Warranty Lifetime, Limited

Trial Length / Warranty

365 nights / Lifetime, Limited

Firmness Soft (3), Medium (5), Firm (7)
Sleep Doctor's Take 
The Level Sleep Mattress' innovative three-zoned comfort system provides a fresh approach to encouraging proper spinal alignment for sleepers experiencing back pain. While this bed offers a unique solution for an achy back, it won't exhaust your finances and comes with a generous sleep trial and warranty.
Comfort layers with distinct firmness zones promote tailored spinal support
Delivers extra cushioning to pressure points of side sleepers
Protected by a limited lifetime warranty and one-year sleep trial
Too soft in certain areas for some back and stomach sleepers over 130 pounds
Other all-foam beds provide better motion isolation
The Level Sleep Mattress is an 11-inch, all-foam bed with a unique design. Two layers of polyfoam are formulated to provide three different firmness zones: soft (3) at the head and shoulders, firm (7) around the torso and back, and medium (5) around the hips and legs.
How Does It Feel?
The Level Sleep Mattress feels noticeably different than most mattresses. It provides targeted support with a soft (3) feel to cushion the shoulders along with medium (5) and firm (7) sections to support the lower body and back. Our testers found that this design prevented common pressure points and contributed to better spinal alignment that could help mitigate back pain.
Overall, the bed's all-foam design truly shines when it comes to relieving pressure where it matters most. However, our team found that motion isolation was only about average and that bounce was limited. In addition, the bed must be set up properly in order for the zones to match up correctly with the body.
Why We Like It 
The Level Sleep Mattress uses innovative construction to address spinal alignment, which is a key issue for sleepers with back pain. By recognizing that different parts of the body have different support needs, the mattress design delivers a fresh approach to pressure relief. On top of being affordable, the mattress also comes with free shipping, a full one-year sleep trial, and a lifetime warranty from Level Sleep.
Why You Should Trust Us
Our testing team has many years of experience researching and evaluating the latest mattress models. We aim to take an unbiased and balanced approach with every bed we test. This includes a wide range of quantitative testing designed to give you the most accurate information about mattress performance.

For back pain, we tested dozens of models, focusing on mattresses with the best mix of features for back support and pressure relief. Our diverse team of testers includes people with varying sleep position preferences and body types, so our reviews are relevant for all types of sleepers.
Relieving Back Pain on a Budget: What You Need to Know
We cover everything you need to know to find the best budget mattress for your needs as a sleeper with back pain. From understanding key mattress features to considering budget-friendly options, we'll help you make an informed decision to enable more restful and pain-free sleep.
How Does Your Mattress Affect Back Pain?
Your mattress can significantly impact back pain because it affects the alignment of your spine. A mattress that lacks support or is too soft or firm can lead to a poor sleeping posture and exacerbate back pain.
Can a Budget-Friendly Mattress Help With Back Pain?
A budget-friendly mattress can help with back pain if it provides adequate support and cushioning. While expensive mattresses may offer advanced features, there are affordable options available that prioritize pressure relief and proper spinal alignment, making them compelling for budget-conscious shoppers who have back problems.
Which Mattress Qualities Are Best for Back Pain Relief?
Mattress qualities that are best for back pain relief include appropriate firmness, proper support to maintain spinal alignment, and enough pressure relief to cushion key pain points. With these qualities, a mattress can enable a better spinal posture during the night.
Back Pain During Sleep: Can It Be Avoided?
We spend up to one-third of our lives sleeping, and during those hours, we rely on a mattress for back support. If you commonly experience aches in your back muscles and joints, it's important to consider the relationship between your sleep, your mattress, and back pain.
Your bed should support your back while you lay flat. Proper support means that your bed evenly distributes your body weight on its surface and keeps your spine aligned while you sleep. A bed that lacks support can exacerbate existing back issues or may even cause back pain.
Keep in mind that there's no single mattress style that's best for back pain, especially since back pain can sometimes be linked to other health issues. The best mattress for your back depends on your unique situation, including your sleep position, body type, weight, and comfort and firmness preferences.
How Can a Mattress Cause Back Pain?
Misalignment of the spine: A good mattress maintains the spine's natural curvature, especially in the lower back. However, if a mattress allows too much sink, it can pull the spine out of position and overextend muscles in a way that can cause back pain.
Lack of support: Support includes how well a mattress promotes a neutral spine. This requires providing enough cushioning to hold the body in a comfortable position while avoiding sagging that can put stress on the back.
Inadequate pressure relief: Without ample pressure relief, excess impact with the mattress can cause pain, especially in areas like the shoulders, lower back, and hips. Too much impact can also cause compensatory changes in sleeping position that may interfere with spinal alignment.
Buying a Mattress for Back Pain Without Breaking the Bank
If you're experiencing frequent back pain, it may be time for a new bed, but buying a new mattress is a major purchase that can stretch your household budget. If you're looking to save, it's important to seek out less expensive mattress types that can deliver back support.
While this may require making trade-offs related to other features like durability, temperature regulation, or motion isolation, there are a number of solid options for a high-quality yet inexpensive mattress for your back.
| Mattress Type | Average Lifespan | Average Cost (Queen) |
| --- | --- | --- |
| Foam | 6 to 8 years | $1,100 |
| Hybrid | 6 to 8 years | $2,000 |
| Innerspring | 5 to 7 years | $1,100 |
| Latex | 6 to 10 years | $2,000 |
Budget-Friendly Mattress Types for Back Pain
People with back pain need a mattress that supports their spine while providing enough pressure relief to keep their lower back, hips, and other pressure points comfortably cushioned. Different types of mattresses can work for back pain, and each type has advantages and disadvantages.
Foam: Foam mattresses, including those made with memory foam and polyfoam, offer a budget-friendly option for people with back pain. Foam contours to the body, relieving pressure points and promoting spinal alignment. While memory foam provides a softer, sinking-in feel for extra pressure relief and motion isolation, polyfoam tends to be firmer with more moderate contouring. Price ranges for foam mattresses can vary from around $250 for the most basic options to over $1,600 for higher-end models.

Innerspring: Once the industry standard, innerspring mattresses are no longer as common but represent a competitively priced option for people experiencing back problems. These mattresses involve a simple coil support system that provides a bouncy and responsive feel, but innersprings have thin comfort layers, reducing their pressure relief. Prices generally range from $500 to $1,200.

Hybrid: Hybrid mattresses combine coils and foam or latex layers and can offer a great value for sleepers with back pain. They provide a balance of support, contouring, and bounce that can be good for the back and spine. Hybrids tend to carry a higher price tag due to their more complex construction and range from around $1,000 to over $2,500. Budget shoppers with back pain should consider the overall construction and materials in a hybrid and focus on finding a model with adequate cushioning from foam or latex layers.

Latex: These beds are made solely from latex, a foam-like material most often derived from natural sources. Many latex models are luxury mattresses with prices ranging from $1,000 to more than $2,500. However, it's possible to find good sales and discounts. Latex offers some unique advantages for people with back pain. This material is durable, resists excess sagging, and comes with the bouncy feel of a hybrid along with solid support and moderate contouring.
Do You Need an Expensive Mattress to Deal With Back Pain?
You don't need an expensive mattress to address back pain. High-quality mattresses for back pain relief can be found at budget price-points, especially when purchasing online. With the wide range of options available, it's easier than ever to find a budget-friendly mattress that offers the necessary support and comfort for back pain relief.
Some features, qualities, or materials may be exclusive to higher-priced models. Remember to consider your specific needs and whether the added cost of premium features is worth it to you.
| Premium Feature | Description |
| --- | --- |
| High-Density Memory Foam | This material, sometimes found in higher-end mattresses, offers exceptional contouring, motion isolation, and durability. Its ability to distribute weight evenly can provide relief for sleepers with back pain by reducing pressure points and promoting proper spinal alignment. |
| Zoned Coils | Zoned coils offer targeted support to different areas of the body. This can be beneficial for sleepers with back pain as it can promote a neutral spine position and reduce strain on the lower back. |
| Cooling Properties | Cooling properties, such as gel-infused memory foam and phase change materials, are designed to help regulate body temperature during sleep. This can be relevant for sleepers with back pain who also tend to sleep hot. |
| Organic/Natural Materials | Luxury mattresses often incorporate natural and organic materials, such as organic cotton, latex, or wool. These materials provide breathable and eco-friendly options that appeal to many shoppers who have back pain. |
Tips for Staying on Budget
If you're worried about staying within your budget, keep certain tips in mind while shopping for a mattress to ease your back pain.
Buy a mattress online: Online mattress companies usually have lower pricing because they sell directly to consumers and have fewer overhead expenses compared to brick-and-mortar stores.
Take advantage of sales and coupons: Try waiting for a mattress sale or searching for coupons to save on the price of a new mattress. Most mattress companies have big sales around holiday weekends.

Look for mattress and bedding bundles: A new mattress often needs new accessories like pillows and bedding. Look for companies that offer discounts or free items when you bundle your purchase, reducing the total cost of outfitting your bedroom.

Ask for a price match: If you see a better price somewhere else but still want to buy directly from a specific mattress brand, ask if they can match the lower price.

Don't forget the extra costs: Remember to factor in other costs to your budget. Double check for charges for shipping, old mattress disposal, and return fees before making your final purchase.
Choosing a Mattress That Keeps Your Spine Aligned
Once you understand how an affordable mattress can give your back the support it needs, the next step is to find a mattress with the right design and construction. Knowing what features to consider when comparing mattress options can enable you to shop smarter and more efficiently.
Key Features to Look for in a Budget Mattress for Back Pain
Our testing team uses many different metrics to evaluate mattress performance. These metrics play a key role in overall mattress performance, impact on back pain, and pricing.
| Mattress Feature | Description |
| --- | --- |
| Firmness | Firmness describes how hard or soft a bed feels. Softer beds have more sink and cushioning while firmer beds will generate more impact and pushback against the body. |
| Support | Support refers to how well a mattress promotes proper spinal alignment. Different sleepers have different support needs based on their body weight and sleep position. |
| Pressure Relief | A mattress with excellent pressure relief can cradle and cushion sharp pressure points like the low back, shoulders, and hips. This helps to reduce painful impact while also evenly distributing body weight on the surface of the bed to promote better spinal alignment. |
| Ease of Movement | This refers to how much effort you need to move around on your bed. A mattress with greater ease of movement can make changing sleep positions and getting in and out of bed easier and more comfortable for people with back pain. |
| Temperature Regulation | Temperature regulation describes how well a bed resists excess heat retention. Mattresses with good temperature regulation help prevent you from overheating at night, which can keep you sleeping soundly. |
| Edge Support | This describes how well a bed can support your body weight around the perimeter of the mattress. Firm beds tend to have better edge support. Some models include reinforced edges, but this may come with a higher price tag. |
| Quality Materials | High-quality materials can influence the overall feel as well as the durability of your bed. While more expensive beds tend to feature high-end materials, it's possible to find less expensive models with adequate, quality materials that meet your needs and help keep your back feeling healthy for the long term. |
Are Soft or Firm Mattresses Better for Back Pain?
Both soft and firm mattresses can work well for people with back pain. We score firmness on a 1 to 10 scale, with one being the softest and 10 being the most firm.
The ideal mattress for someone experiencing pain in their back depends on their sleep position, body weight, and individual comfort preferences. Sleepers who weigh under 130 pounds may prefer softer mattresses so that they experience more contouring and pressure relief. People over 230 pounds generally need the support and stability provided by a firmer mattress. As a result, there's no definitive answer as to whether soft or firm mattresses are universally better for back pain.
Ideal Mattress Firmness
| | Under 130 lbs. | 130-230 lbs. | Over 230 lbs. |
| --- | --- | --- | --- |
| Side Sleepers | Soft (3) to Medium (5) | Medium Soft (4) to Medium (5) | Medium Firm (6) to Firm (7) |
| Back Sleepers | Soft (3) to Medium (5) | Medium (5) to Firm (7) | Firm (7, 8) to Extra Firm (9) |
| Stomach Sleepers | Medium Soft (4) to Medium Firm (6) | Medium (5) to Firm (7) | Firm (7) to Extra Firm, (9) |
Understanding the Needs of Your Sleep Position
Your sleep position also plays a crucial role in determining the best mattress to keep your spine aligned. Each type of sleeper has different needs when it comes to mattress firmness, support, and pressure relief in order to evenly distribute their body weight and promote healthy spinal alignment.
Side sleepers
People who sleep on their side generally need a slightly softer mattress with ample pressure relief to prevent aches and pains around their hips and shoulders. Adequate support is also important for preventing too much sinkage, poor spinal alignment, and potential back pain. Memory foam mattresses tend to provide excellent pressure relief, while hybrid and latex mattresses usually offer more moderate contouring.
Back sleepers
Back sleeping can put pressure on the lumbar spine. Without the right combination of support and pressure relief, back sleepers may experience lower back pain. Many back sleepers prefer a slightly firmer sleep surface to help prevent their lower back from sinking too deeply into their mattress. However, a mattress that is too firm will fail to cradle the curve of the lower back. Depending on their firmness, an all-foam, latex, or hybrid mattress can work well for back sleepers.
Stomach sleepers
Stomach sleepers need a bed that prevents the stomach and midsection from sinking into the sleep surface and pulling the spine into a pain-inducing "U" shape. The best option for most stomach sleepers is a firmer bed with only minimal cushioning, which may be a hybrid, latex, or innerspring model.
Last Tips for Keeping Your Back Straight on a Budget
There are a few other low-cost accessories and strategies that can help keep your spine aligned and pain-free as you sleep.
Consider using a mattress topper: If a new mattress simply won't fit in your budget, think about getting a mattress topper for your current mattress. A new mattress topper has a much lower price-point, but it can immediately change the firmness and pressure relief of your sleep surface to generate more support and comfort for your back.
Choose the right pillow: Choosing the best pillow for your sleeping position and body type is crucial for preventing neck pain and getting the most out of your mattress. It's important to consider both pillow height and firmness. Side sleepers tend to need a higher and firmer pillow, while back and stomach sleepers often prefer lower and softer options for better alignment and comfort.
Try a new mattress on a sleep trial: A sleep trial allows you to test a new mattress without having to be stuck with it if you don't like it. This feature provides peace of mind by offering a trial period, typically 30 nights or more, during which you can evaluate the bed's performance. If you're not satisfied, you can return the mattress for a refund and avoid wasting money on a product that doesn't meet your needs.
Check for financing options: Popular mattress brands typically offer financing and payment plans to make their products more accessible. These options may include installment plans, zero- or low-interest financing, or partnerships with third-party financing providers. You can analyze your options and choose the plan that best suits your budget and financial needs.