Medical Disclaimer: The following content should not be used as medical advice or as a recommendation for any specific supplement or medication. It is important to consult your health care provider prior to starting a new medication or altering your current treatment.
Back pain caused by arthritis can disrupt sleep, making it difficult for your body to heal. Disturbed sleep is also linked to increased pain sensitivity, creating a cycle of discomfort and poor sleep.
The right mattress may help alleviate back pain symptoms by properly supporting the body, promoting spinal alignment, and improving overall sleep quality.
We'll discuss our picks for the best mattresses for back pain caused by arthritis. We'll also examine the relationship between arthritic back pain and sleep and outline what to look for in a mattress to improve spinal alignment and sleep quality.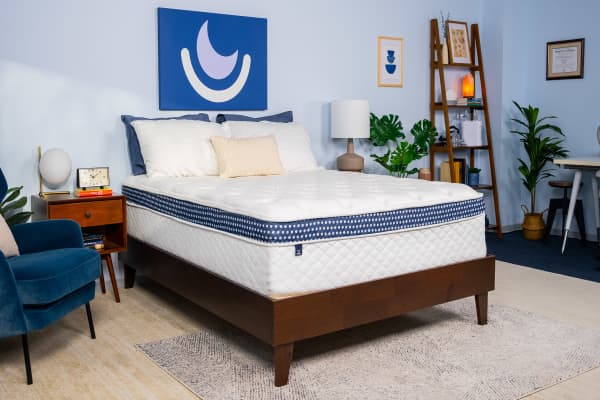 Trial Length 120 nights (30 night requirement)

Warranty Lifetime, Limited

Trial Length / Warranty

120 nights (30 night requirement) / Lifetime, Limited

Firmness Medium Soft (4), Medium Firm (6), Firm (7), Firm (8)
Sleep Doctor's Take 
The WinkBed comes in four firmness levels that support a range of sleepers. Sturdy polyfoam and a pocketed coil support core reinforce good sleep posture. We found the mattress regulates temperature well, thanks to gel infusions in its top polyfoam layer and a breathable Tencel cover.
Euro-top provides gentle pressure relief
Zoned pocketed coils deliver targeted lumbar support
Available in four firmness levels
Fairly heavy to move
Lacks the significant pressure relief of more conforming models
Co-sleepers may feel their partner's movements on the firmer options
The WinkBed is a durable mattress with a breathable Tencel cover. A plush Euro-top cushions joints, while the zoned pocketed coil core limits deep sinkage. The mattress has a reinforced perimeter for enhanced edge support. It comes in four firmness levels, which the company calls Softer, Luxury Firm, Firmer, and Plus. These correspond to medium soft (4), medium firm (6), firm (7), and firm (8) on our 10-point firmness scale.
How Does It Feel?
While each of the WinkBed models balances the contouring of foam with the supportive bounce of innersprings, the overall feel varies considerably depending on which firmness option you choose.
Our side and back sleepers under 130 pounds liked the deeper contouring of the Softer model. The balanced feel of the Luxury Firm mattress earned the highest praise from testers weighing between 130 and 230 pounds, regardless of preferred sleep position.
Stomach sleepers over 130 pounds liked the stronger support of the Firmer option, as did side and back sleepers over 230 pounds. The Plus model, which is designed for heavier individuals, earned similar marks from our testing team.
Why We Like It 
The WinkBed's combination of a foam-based comfort system and a zoned pocketed coil support core may alleviate back pain by supporting spinal alignment. The responsive coils promote ease of movement, and the reinforced edges can make getting in and out of bed easier for people with limited mobility.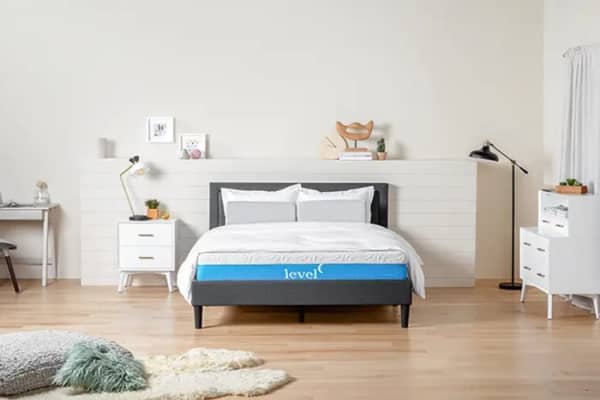 Warranty Lifetime, Limited

Trial Length / Warranty

365 nights / Lifetime, Limited

Firmness Soft (3), Medium (5), Firm (7)
Sleep Doctor's Take 
The Level Sleep Mattress balances pressure relief with support, all at an affordable price. The tri-zoned comfort system prevents pressure buildup by balancing body weight. A top layer of plush polyfoam cradles the body without trapping too much heat.
Tri-zoned polyfoam engineered to align the spine
High-density polyfoam base resists sagging
365-night sleep trial and limited lifetime warranty
May not support stomach and back sleepers over 130 pounds
Lacks customizable firmness options
Less responsive than most hybrid models
The Level Sleep Mattress features a vertically zoned design for variable support. Each of the three zones has a different firmness level to evenly distribute body weight. The upper section is soft (3) to cushion the shoulders, the center is firm (7) to provide reinforcement to the back, and the bottom is medium (5) to cradle the hips and legs. Our testers reported that they could move easily on the mattress due to its responsive polyfoam.
How Does It Feel?
The polyfoam comfort system evenly hugged our side sleepers, allowing their hips and shoulders to comfortably sink. The mattress was sturdy enough to support back and stomach sleepers under 130 pounds during our tests, but those weighing more experienced excess sinkage below the torso.
Why We Like It 
We're fond of the Level Sleep Mattress' thoughtful zoning and polyfoam construction that cradles areas prone to pressure points. It may ease stiff joints for people with arthritis, and  notable pressure relief and an attractive price-point make this mattress a great value option.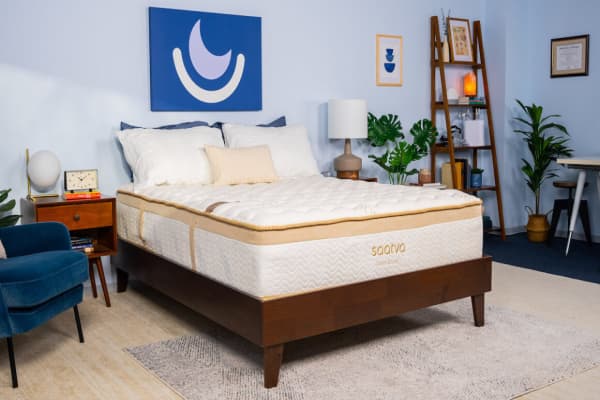 Trial Length 365 Nights ($99 Return Fee)

Warranty Lifetime, Limited

Trial Length / Warranty

365 Nights ($99 Return Fee) / Lifetime, Limited

Firmness Medium Firm (6), Firm (8)
Sleep Doctor's Take 
The Loom & Leaf is an all-foam mattress made with natural and organic materials. The memory foam comfort system cushions sleepers without permitting deep sinkage. A high-density polyfoam base boosts responsiveness and durability. The mattress comes in eight sizes and two firmness levels to satisfy a range of sleepers.
Gel-infused memory foam engineered to dissipate heat
Choice of two firmness options
Free White Glove delivery in the contiguous U.S.
Off-gassing is fairly prominent when the mattress is new
Edge support isn't as robust on the less firm option
Fairly pricey
The Loom & Leaf is a luxury all-foam mattress available in two firmness levels: Relaxed Firm and Firm. These rate as medium firm (6) and firm (8) on our 10-point firmness scale. The organic cotton cover helps wick away moisture and disperse heat, while two types of memory foam blend pressure relief with spinal support.
How Does It Feel?
The mattress cradled our testers while still permitting comfortable movement. Plush memory foam eased pressure in the hips and shoulders for our side sleepers. The dense polyfoam base minimized deep sinkage for most of our stomach and back sleepers. Stomach sleepers over 130 pounds felt the most supported on the firm model.
The all-foam design absorbs motion well, so couples shouldn't notice many vibrations when their partner moves.
Why We Like It 
The Loom & Leaf is notable for its breathable, eco-friendly materials. Zoned comfort layers reinforce spinal alignment by spreading body weight evenly across the mattress. The polyfoam support core minimizes sagging and increases the mattress' durability.
Why You Should Trust Us
All of our mattress picks have been tested in our advanced sleep lab. We carefully assess features like pressure relief, edge support, and temperature control. Testers vary in body type and sleep position so we can determine how a mattress performs for different sleepers. We also consult with medical professionals who are knowledgeable about sleep-related health issues, including arthritis-related back pain.
Getting Better Sleep With Arthritis-Related Back Pain
Quality, restorative sleep is essential if you have back pain caused by arthritis. Pain and sleep have a bidirectional relationship — pain often disrupts sleep, and poor sleep increases pain sensitivity. Thus, a mattress that improves sleep quality may help manage pain.
How Does Back Pain Caused by Arthritis Impact Sleep Quality?
Pain can make falling asleep and staying asleep challenging. People with arthritis often struggle to maintain a comfortable sleep position because of stiffness and swelling. Inflammation has been shown to disturb sleep by altering the sleep cycle and resulting in less time spent in deep sleep. Poor sleep in turn can worsen inflammation and chronic pain.
Can a Better Mattress Alleviate Arthritis-Related Back Pain?
A quality mattress may mitigate back pain symptoms by improving overall sleep quality. Restorative sleep promotes physical recovery, reduces inflammation, and increases pain tolerance.
What Should Sleepers Consider in a Mattress for Pain Relief?
People with back pain generally need a mattress that aligns the spine and cushions the joints. A responsive surface permits easier movement for people with joint pain and restricted motion.
Understanding Arthritis and Back Pain's Effect on Sleep
Approximately 80% of people in the U.S. experience lower back pain at some point in their lives.
Back pain has many potential causes and can be either acute (short term) or chronic (long term). Sports injuries and other accidents are often responsible for acute back pain, which may turn chronic if left untreated. Likewise, sleeping on an unsupportive mattress can cause pain that persists over the long term.
Spinal osteoarthritis is one of the leading causes of chronic lower back pain. It can affect any part of the spine, including the neck.
It can be difficult to maintain a comfortable sleep position if you have arthritis. The pain associated with arthritis can interfere with sleep quantity and quality, and poor sleep can heighten pain sensitivity.
How a Mattress Affects Sleep Quality and Back Pain
A mattress compatible with your weight and sleep position facilitates good sleep posture by evenly distributing body weight. This in turn can minimize back strain and other pressure points on the body, thus aiding in physical recovery and pain issues. For people with stiff and swollen joints, a responsive mattress with a little bounce can make changing positions more comfortable.
What Do Sleepers With Arthritic Back Pain Need for Restful Sleep?
While a mattress won't cure arthritic back pain, it can make sleeping much more comfortable. The ideal mattress aligns the spine while cushioning joints and muscles. Pressure relief, support, and responsiveness are crucial mattress features if you have pain and limited mobility.
Proper support and spinal alignment: A sagging, unsupportive mattress can exacerbate back pain by throwing off spinal alignment. A properly supportive mattress should have a comfort system that provides even contouring and a support core that reinforces the torso. A sturdy pocketed coil core or a high-density polyfoam base can prevent excess sagging.
Cushioning and pressure relief for the joints: A comfort system should evenly hug the body while cushioning joints. Pressure-relieving materials like memory foam and latex can reduce back pain symptoms, but look for adaptive comfort layers that don't overly conform to the body.
Easy movement: Arthritis and back pain can restrict motion, so a mattress with some bounce helps facilitate movement. Sturdy edge support can also make getting in and out of bed easier.
Best Mattress Types for Back Pain Caused by Arthritis
Any type of mattress can help alleviate back pain symptoms as long as it balances pressure relief and support. That said, some mattress types are better suited to certain sleepers.
| Mattress Type | Why It's Good for Back Pain Caused by Arthritis |
| --- | --- |
| Foam | Foam mattresses alleviate tension by cushioning pressure points and joints. Memory foam excels at pressure relief since it softens with body heat and weight. |
| Latex | Latex mattresses contour the body without permitting deep sinkage. They typically have a responsive feel that makes movement easier. Latex is also quite durable, so it resists premature sagging. |
| Hybrid | Hybrids generally have thick comfort systems that cushion joints, while their sturdy pocketed coil support cores reinforce the lumbar region. People with mobility issues often appreciate their bounce. |
| Innerspring | Innerspring mattresses usually offer sturdy support and minimal contouring. Like hybrids, their bouncy support core makes changing positions easier. |
| Airbeds | An airbed has adjustable air chambers so sleepers can fine-tune the feel and support of their mattress. This can help people with back pain find a suitable comfort level. |
Foam Mattresses
Foam mattresses have comfort systems and support cores made entirely from foam. They often combine different types of foam to blend pressure relief with support. Foam mattresses tend to offer deep contouring that can alleviate pain and tension. They're especially well suited for side sleepers with back pain who need extra cushioning under the hips and shoulders.
Latex Mattresses
Latex mattresses have interior layers made exclusively from latex. Natural latex is derived from rubber trees, while synthetic latex is petroleum-based. Latex mattresses generally offer even contouring and sturdy support. They tend to regulate temperature better than memory foam mattresses.
Hybrid Mattresses
A hybrid mattress combines thick comfort layers with a strong pocketed coil support core. They typically conform to sleepers without allowing deep sinkage and usually have stronger edge support than all-foam models. Sleepers who don't like a deep body hug often prefer hybrids over memory foam mattresses.
Innerspring Mattresses
Traditional innerspring mattresses have a coil-based support system with a thin layer of padding on top. They have notable bounce but don't provide as much cushioning as hybrid and foam models. Some mattresses that are marketed as luxury innersprings have thicker comfort systems and perform similarly to high-end hybrids.
Adjustable Airbeds
Adjustable airbeds have inflatable chambers in the support core. Sleepers can adjust the mattress' firmness level by adding or removing air. Since back pain severity often fluctuates for people with arthritis, being able to fine-tune your comfort level can be a big advantage.
Choosing the Right Mattress for Arthritis-Related Back Pain
People with arthritic back pain should focus on a mattress' firmness level, pressure relief, and support. These factors influence spinal alignment and overall comfort.
It's also important to consider your sleep style when choosing a mattress, as each sleep position has different support needs. Features like temperature control and motion isolation may not reduce back pain directly, but they can improve overall sleep quality.
Key Mattress Features for Pain Relief and Spinal Alignment
A mattress' firmness has a considerable bearing on sleep posture and comfort. An ideal mix of support and pressure relief is needed to align the spine and cushion joints.
Mattress Feature
Description
Firmness
Most people with back pain need at least a moderately firm mattress to support the lumbar region. On the other hand, a mattress that is too firm might not cushion the joints enough.

Sleep position and body weight also determine firmness needs. Side sleepers tend to prefer softer mattresses, while stomach and back sleepers generally require firmer support. A person over 230 pounds typically needs a firmer mattress than someone under 130 pounds.
Support
A mattress' support is directly related to its firmness level. Firmer mattresses compress less under heavier areas like the back.

Mattress support also depends on its construction type and material quality. Hybrids tend to have better edge support than foam models. High-density foams are more supportive than softer varieties.
Pressure Relief
Pressure relief refers to how well a mattress reduces impact and alleviates tension. A mattress that promotes even weight distribution reduces pressure buildup. Memory foam and latex typically excel at pressure relief.
Understanding the Needs of Your Sleep Position
Each sleep position is prone to certain pressure points as a result of weight distribution. Neutral spine alignment depends on the right amount of contouring and firmness for your sleep style.
Side sleepers: Side sleepers tend to develop pressure points on the hips and shoulders, so they need extra cradling on these areas. A medium soft to medium firm mattress provides even contouring for most side sleepers. Any type of mattress can work for side sleepers as long as the comfort system provides ample cushioning.
Back sleepers: Back sleepers need just a modest amount of contouring to maintain the spine's natural curvature. A medium to firm mattress keeps the hips and shoulders level for most back sleepers. Hybrids are usually a good fit since their pocketed coil cores limit deep sinkage. All-foam mattresses can also be supportive if the base uses high-density polyfoam.
Stomach sleepers: Lower back pain can be a problem for stomach sleepers if their midsection sinks deeply. They should avoid softer foams that overly conform to the body. Depending on body weight, a medium to extra firm mattress usually keeps the spine level for stomach sleepers.
Selecting the Right Firmness Level
We use a 10-point scale to rate mattress firmness, with 10 being the firmest. Sleepers over 230 pounds sink more than those who weigh less, so they usually need a firmer mattress with minimal contouring. Sleepers under 130 pounds typically prefer a softer design that cradles areas prone to pressure buildup.
Ideal Mattress Firmness
| | Under 130 lbs. | 130-230 lbs. | Over 230 lbs. |
| --- | --- | --- | --- |
| Side Sleepers | Soft (3) to Medium Soft (4) | Medium Soft (4) to Medium (5) | Medium Firm (6) to Firm (7) |
| Back Sleepers | Soft (3) to Medium (5) | Medium (5) to Firm (7) | Firm (7, 8) to Extra Firm (9) |
| Stomach Sleepers | Medium Soft (4) to Medium Firm (6) | Medium (5) to Firm (7) | Firm (7, 8) to Extra Firm (9) |
Other Mattress Qualities to Keep You Comfortable
There are additional mattress features that can improve sleep quality for people with arthritis-related back pain. They might not reduce back pain directly, but they can make falling asleep and staying asleep easier.
Responsiveness and ease of movement: A bouncy mattress can make moving in bed more comfortable for those with joint pain. Latex and hybrid mattresses tend to be exceptionally responsive. Foam mattresses can also facilitate movement if they use resilient foams.
Contouring: Even contouring reduces back strain by promoting good sleep posture. The degree of contouring you need depends on your sleep position and body type. Side sleepers generally need extra cradling on the shoulders and hips, while back and stomach sleepers typically require only modest contouring to level the spine.
Temperature regulation: Being uncomfortably warm can disrupt sleep. Temperature neutral mattresses use breathable materials like cotton, wool, latex, and pocketed coils. While foam can retain heat, many manufacturers add gel infusions or perforations designed for cooling.
Edge support: A robust mattress perimeter tends to make getting in and out of bed easier for people with joint pain. It also increases spinal support if you sleep closer to the edges of a bed, which often occurs with co-sleepers.
Motion isolation: A mattress with strong motion isolation prevents movement from traveling across the surface, which helps minimize sleep disturbances for couples and light sleepers. It's an especially important feature for people with arthritis since pain can make it difficult to fall back asleep.
Quality materials: Mattresses made with high-quality materials resist sagging and last longer. A more supportive mattress is important for those with back pain since it promotes better sleep posture.
Last Tips for Sleeping With Back Pain From Arthritis

Speak with your doctor: Always speak with your doctor if you suspect your back pain is related to arthritis. If your doctor determines that you have arthritis, they can prescribe a treatment plan and recommend preventative measures to help manage your symptoms.

Consider other lifestyle changes: Along with good sleep hygiene, exercise and healthy eating habits can reduce inflammation and improve your overall health.

Try a mattress with adjustable firmness: Firmness needs can vary depending on arthritic flare-ups. An adjustable or flippable mattress with different support levels can accommodate fluctuating pain symptoms.

Use an adjustable base: An adjustable bed base lets sleepers calibrate their sleep posture by adjusting the angle of the upper body, lower body, or both. This is especially helpful if you have limited mobility due to stiffness or inflammation.