A continuous positive airway pressure (CPAP) machine is a common sleep apnea treatment method that delivers pressurized air to prevent the upper airway from narrowing or closing during sleep. CPAP therapy requires a mask that directs airflow into either just the nose or the nose and mouth.
It's common to breathe through your mouth if you have obstructive sleep apnea, but this can make it difficult to find an effective CPAP mask. We'll share our recommendations for the best CPAP masks for mouth breathing and discuss what to look for when choosing a CPAP mask, from device compatibility to comfort, special features, and personal preference.
Sleep Doctor's picks
Shop Now
Shop Now
Shop Now
ResMed AirFit F20 Full Face CPAP Mask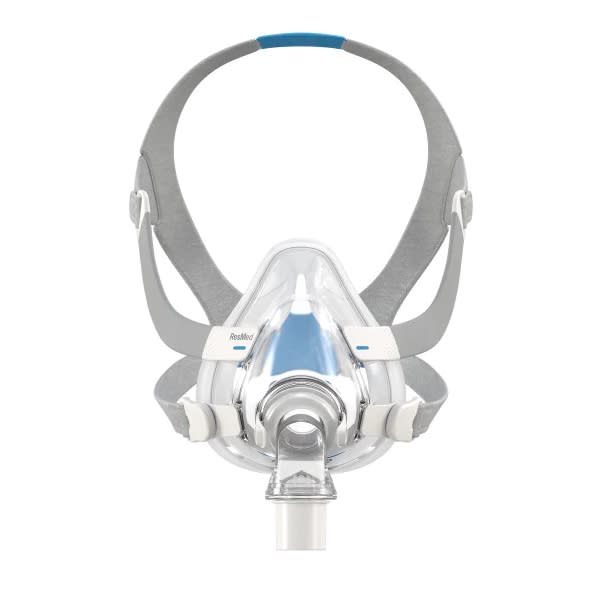 Price: $155

Cushion material: Silicone

Size: Small, medium, large, small for her, medium for her
InfinitySeal cushions engineered to provide a better seal around the nose
Quiet airflow
Ergonomic design with space for glasses and a ponytail
For Her version only available in small or medium sizes
Magnets may cause unsafe interactions with pacemakers and implanted medical devices
Sleep Doctor's take
The ResMed AirFit F20 Full Face CPAP Mask is designed to fit a wide variety of face sizes and shapes. The standard version comes in small, medium, and large sizes, while the "For Her" line has lavender-colored accents instead of blue and is available in small or medium sizes.
---
The AirFit F20 is a full-face mask with sturdy headgear that's designed to keep the mask securely in place. It also features ResMed's QuietAir vent technology that's engineered to reduce noise from exhaled air.
Why we like it
Added touches in the AirFit F20 improve usability. For example, the padded frame rests below the eyeline so it doesn't interfere with vision, and it's made to be flexible to accommodate different profiles. The air vent is constructed to temper airflow and noise.
The frame system includes a cushion, soft sleeves, and a quick-release elbow attachment. The accompanying headgear is well suited to those with longer hair, as it leaves a gap in the back for a ponytail. The silicone cushions are designed for a snug seal, and the system incorporates magnetic clips to help attach the frame to the headgear.
Fisher & Paykel Vitera Full Face CPAP Mask with Headgear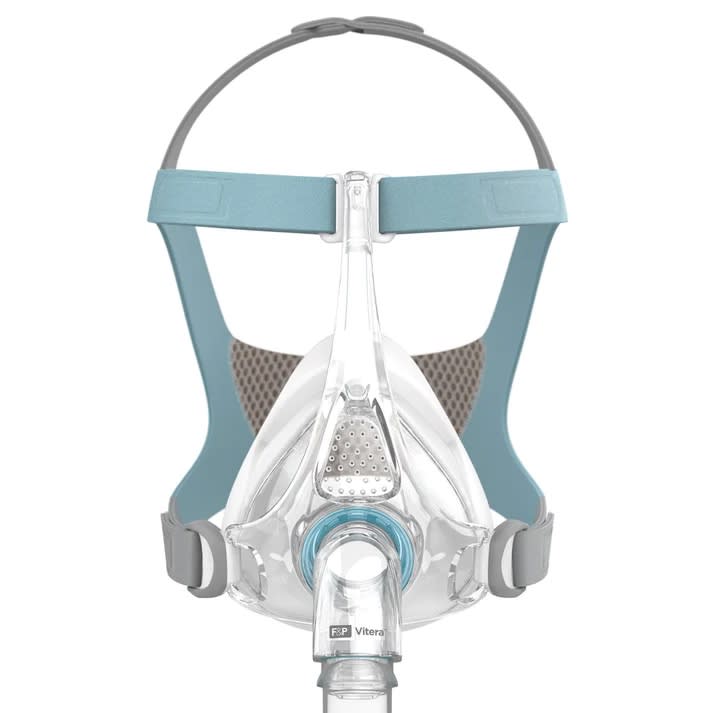 Price: $149

Cushion material: Silicone

Size: Small, medium, large
Stability bar and adaptable nasal bridge designed to reduce air leaks
Breathable mesh headgear cover
F&P myMask App helps guide mask setup and cleaning
Stability bar may feel restrictive
Elbow cannot be removed from frame
Sleep Doctor's take
The Fisher & Paykel Vitera Full Face Mask includes a stability bar that runs from the forehead to the mouth, adding extra contact points to prevent unintentional mask leaks. Along with the adaptable nasal bridge, this design helps maintain a secure seal over the mouth and nose even when switching sleeping positions.
---
The Fisher & Paykel Vitera Full Face Mask is suitable for use with operating pressures between 4 and 30 centimeters of water pressure (cm H2O). The mask has a companion smartphone app to help you set up your mask and provide cleaning and maintenance directions.
Why we like it
The shape of the seal is engineered to reduce uncomfortable air leakage toward the eyes. The Vitera is also magnet-free, making it suitable for people with pacemakers or other implanted devices.
A breathable mesh material covers the headgear, reducing heat and perspiration buildup for a more comfortable sleep. The headgear can be adjusted for your face shape and features a removable forehead clip and blue color cues for ease of use.
ResMed AirTouch F20 Full Face CPAP Mask with Headgear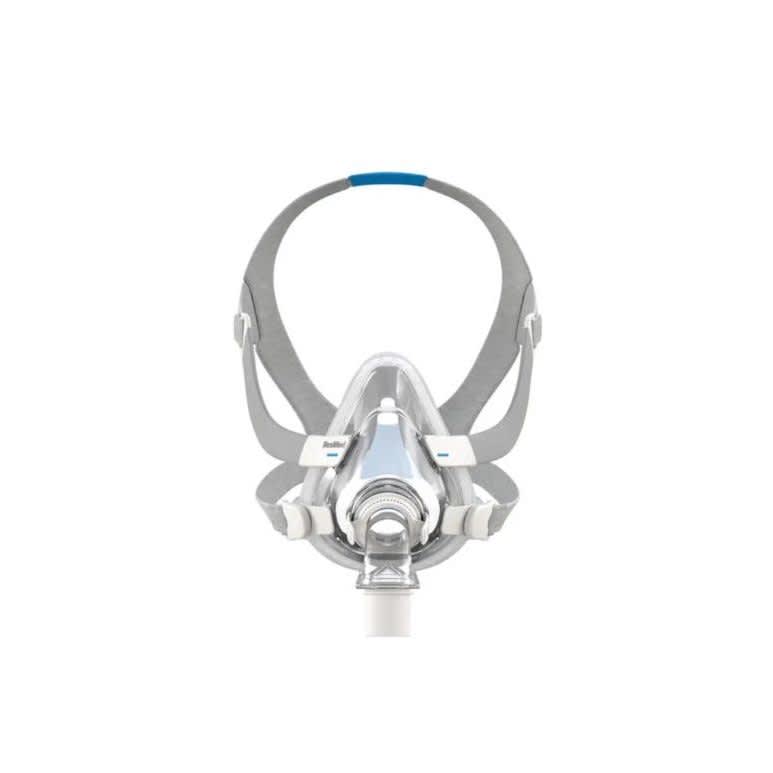 Price: $154

Cushion Material: Memory foam

Size: Small, medium, large, small for her, medium for her
Sleek and unobtrusive profile covers the mouth and nose
Quick-release elbow allows mobility without taking off the mask
Memory foam adapts its shape to individual users
Mask cushions can't get wet and need replacing monthly
Lavender option not available in large size
Mask contains magnets, which may not be compatible with implanted devices such as pacemakers
Sleep Doctor's take
Made with contouring memory foam and featuring a quick-release elbow as well as magnetic clips, the ResMed AirTouch F20 Full Face CPAP Mask is designed for comfort and ease of use.
---
The AirTouch F20 Full Face Mask can be used with a variety of therapy pressures. In addition to leaving ample clearance for the eyes and forehead, the frame is modular, so you can tweak the cushions to optimize comfort.
The magnetic clips lock easily into place, and thanks to the quick-release elbow you can quickly disconnect from your CPAP tubing without needing to take off the mask itself during nighttime bathroom trips.
Why we like it
Memory foam is known for its moldability, and it's included in this mask with the aim of making it more comfortable, improving the seal, and reducing mask marks. People with facial hair or sensitive skin may find memory foam more comfortable than silicone, and it doesn't need washing and only needs to be wiped clean in the morning.
ResMed offers this mask in two colors: blue or lavender. The blue mask is available in small, medium, or large sizes, while the lavender mask comes in small or medium sizes.
How we make our picks
When evaluating products in the CPAP space, we look closely at product features, ease of use, brand reputation and reliability, and user reviews. For the best CPAP masks for mouth breathers, we focused on full-face models that mitigate CPAP air leak by delivering airflow to both the mouth and nose.
What is the best type of CPAP mask for mouth breathing?
If you breathe through your mouth while sleeping, you'll probably find that a full-face CPAP mask works best. With a nasal mask, the air delivered by the CPAP machine can escape through your mouth instead of working to keep your airway open. A full-face mask is typically better at preventing leaks when mouth breathing.
Experts do recommend giving nasal masks a try, as research shows they're generally more effective and many people naturally transition to nose breathing after starting CPAP therapy.
A chin strap can reduce air leaks from mouth breathing while using a nasal mask. If nasal congestion makes it difficult to breathe through your nose, ask your doctor about nasal sprays, nasal strips and dilators, antihistamines, or a humidifier.
Mask type
Description
Benefits
Drawbacks
Full-face mask
A full-face mask covers the mouth and nose. This design minimizes air leaks from the mouth and ensures that the CPAP airflow reaches the airway.

Reduces the chance of air leaks from the mouth
Can be used by people with nasal congestion

More restrictive
May not seal properly over facial hair
May need a higher pressure or be less effective

Nasal mask
Most nasal masks run from the bridge of the nose to just above the mouth, though some nasal cradle models rest beneath the nose and seal against the nostrils.

Often more comfortable for side sleepers
Considered by experts to be the most effective design for CPAP therapy

May be less effective if you breathe through your mouth, unless you add a chin strap
Not as streamlined as a nasal pillow mask

Nasal pillow mask
Nasal pillow masks are more minimalist than nasal masks, with soft inserts that seal just inside the nostrils.

More streamlined and better suited for people with facial hair
Less likely to become dislodged when switching positions

May require a chin strap if you breathe through your mouth
Direct airflow into the nostrils may feel uncomfortable, especially at higher pressures
Where can you buy a CPAP mask for mouth breathing?
CPAP masks are sold online and in physical stores. You may also be able to purchase a mask through your doctor or sleep specialist. Regardless of where you buy the mask, you'll need a prescription.
Sleep specialists and brick-and-mortar medical supply stores have trained staff who can offer advice on purchases. These sellers are also more likely to accept insurance. By contrast, online retailers may offer a larger selection and better prices, but they are less likely to work with insurance companies.
How to choose a CPAP mask if you breathe through your mouth
When choosing a CPAP mask for mouth breathing, look for one that fits comfortably and is compatible with your CPAP machine. You should also consider personal factors like sleeping position, budget, and whether you feel comfortable wearing a chin strap.
| | |
| --- | --- |
| Size and fit | A comfortable, well-fitting CPAP mask reduces unintentional air leaks and helps ensure you're getting the most effective CPAP treatment. Each model has a slightly different design, so finding the right fit may involve some trial and error. |
| Chin strap | A CPAP chin strap can help keep your mouth closed and prevent unwanted mouth leaks. You may need to switch to a full-face mask if you have significant nasal congestion, if air leaks continue after adding a chin strap, or if you find the chin strap uncomfortable. |
| Sleeping position | Full-face masks work best for mouth breathing. However, these masks may cause unintentional mask leak for side and stomach sleepers. Some companies offer lower-profile full-face masks that are less restrictive. If you can't sleep on your back, another alternative is to buy a nasal mask and add a chin strap. |
| Device compatibility | CPAP mask manufacturers generally provide information about device compatibility. Depending on the manufacturer, you may need to purchase a mask from the same company that makes your CPAP machine. Check the specifications to confirm the mask works with your required pressure settings. |
| Price | Masks are a separate purchase on top of the cost of a CPAP machine, although they're often covered by insurance. Full-face CPAP masks generally cost between $60 and $200, nasal masks between $50 and $175, and nasal pillow masks between $70 and $120. Replacement mask cushions typically run between $20 and $60. |
Is a prescription required for a CPAP mask?
Although CPAP masks are purchased separately from the CPAP machine, you need a prescription to purchase the mask as well. Retailers usually ask for a copy of the prescription before selling the mask. Mask replacement parts, including cushions and headgear, are available without a prescription.
Does health insurance cover the cost of a CPAP mask?
As part of CPAP therapy, the cost of purchasing a CPAP mask is at least partially covered by Medicare, Medicaid, and many private insurance plans. Note that many insurers have specific CPAP compliance requirements. For example, to remain eligible for Medicare coverage, you must demonstrate that the CPAP machine is helping you and that you use the device at least four hours per night on 70% of nights.
Frequently asked questions
Can you use a nasal CPAP mask if you breathe through your mouth?
While it's possible to use a nasal CPAP mask if you breathe through your mouth, most people find full-face models to be the best CPAP mask type for mouth breathing. Nasal masks may be more susceptible to air leaks in this situation, particularly if you have a blocked or stuffy nose.
How do you keep your mouth closed when using a CPAP mask?
A chin strap can help anchor your mouth shut when using a nasal CPAP mask. Nasal strips or sprays can also clear up congestion, making the nose easier to breathe through. Taping your mouth shut is another option, but talk to your doctor first. If you're using a full-face mask, it's not necessary to keep your mouth closed.