Cotton sheets are popular for a number of reasons, including their exceptional softness, natural breathability, and wide availability. You can choose from several varieties of cotton, as well as different weaves. Some people prefer the crispness of cotton bedding with a percale weave, while others feel more comfortable with silky-smooth cotton sateen.
We'll cover all the factors to take into account when choosing your new bedding, including the type of cotton, weave, staple length, and thread count. We'll also discuss the best cotton sheets our team has tested, as well as other factors to consider, such as pocket depth, design, and price.
Saatva Organic Sateen Sheet Set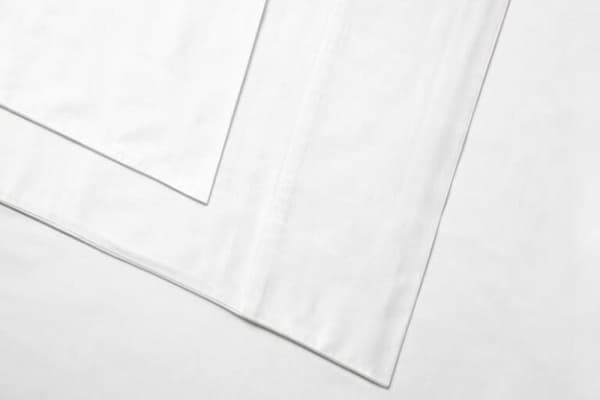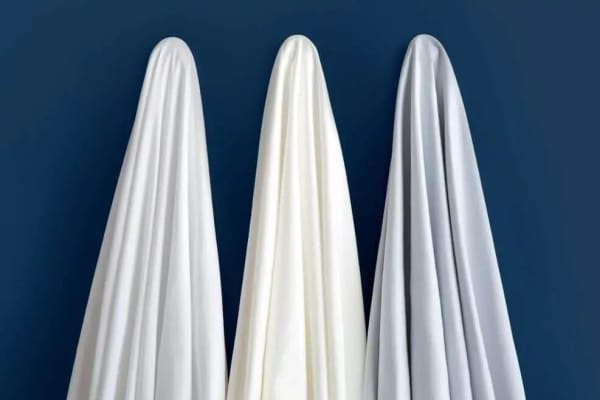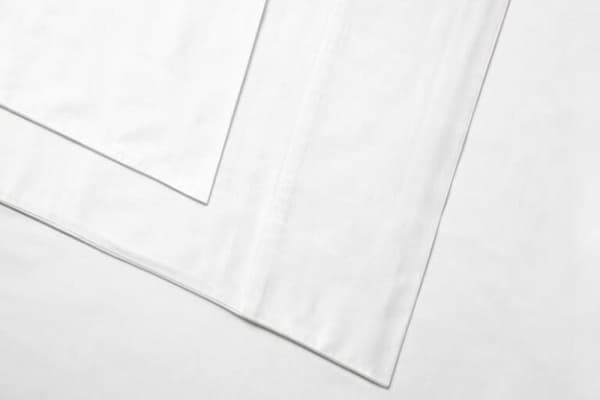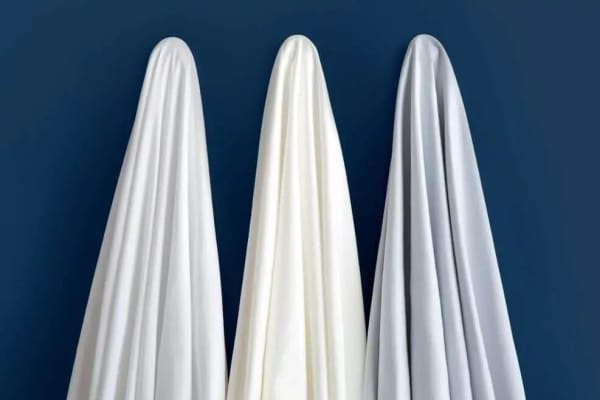 Material: 100% GOTS-certified organic cotton

Weave: Sateen

Price: $245
Organic cotton with a sateen weave offers a luxurious, silky-smooth feel
GOTS certification ensures each item is sustainably produced
Available in three colors and nine sizes
People who prefer bedding that drapes closely to the body
Hot sleepers
Eco-conscious shoppers
The Saatva Organic Sateen Sheet Set checks most boxes for people who enjoy cotton bedding. Each item in this collection has a 300 thread count, ensuring lightweight construction and consistent breathability, while the sateen weave creates a silky-soft hand-feel for close body draping.
This set should also appeal to consumers who prefer to buy and use sustainably made products. A GOTS certification indicates the cotton has been grown and processed without pesticides, chemical dyes, and other substances associated with a negative environmental impact. Saatva is also a Fair Trade Certified company recognized for ethical worker treatment and compensation.
You can choose from three neutral color schemes to accent your bedroom decor. The set is also available in nine sizes. These include the six standard mattress dimensions ranging from twin to California king, a split king for couples with adjustable bases, or two upper-flex sizes designed exclusively for Saatva's adjustable beds. All sets include a fitted sheet with a 16-inch pocket depth.
Every component of the Organic Sateen Sheet Set is fully machine-washable. The collection carries a competitive price-point, and Saatva offers free ground shipping throughout the contiguous U.S. Your order comes with a 45-night sleep trial and a one-year manufacturer's warranty.
For sleepers who appreciate organic and sustainably made sheets, the Organic Sateen Sheet Set offers a silky-smooth feel and multiple color options, making it a good option for a wide range of eco-conscious shoppers.
Quince Organic Cotton Percale Sheet Set
Material: 100% organic extra-long staple cotton

Weave: Percale

Price: $100
Each item constructed using durable, extra-long staple organic cotton
Percale weave ensures excellent breathability
Customers receive a year-long trial period
Those who prefer bedding with a crisp feel
People who own mattresses up to 16 inches thick
Shoppers who want to invest in long-lasting sheets
Quince has earned a reputation for high-quality bedding at affordable price-points, and the company's Organic Cotton Percale Sheet Set is a prime example. The sheets and pillowcases in this collection are composed of extra-long staple cotton, one of the most durable bedding materials in use today. A percale weave gives each item an initially crisp feel, but this will gradually soften over time for closer body draping and extra insulation.
The collection is available in five sizes. Twin sets consist of a flat sheet, fitted sheet, and one pillowcase. The full, queen, king, and California king sizes include all of these elements as well as an additional pillowcase. The fitted sheet has a pocket depth of 16 inches, making it compatible with most mattresses on the market. You can also choose from three neutral colors. All components of the set are fully machine-washable for quick, convenient care.
In addition to its below-average pricing, the set ships free of charge for all U.S. customers. Quince's sleep trial is one of the longest in the online bedding industry, giving you up to 365 nights to test out the sheets and decide if they're a good match. You can return the set for a full refund during this time frame, even if you've used and washed the sheets and pillowcases.
With extra-long staple organic cotton and a percale weave, Quince's Organic Cotton Percale Sheet Set provides durable sheets at an affordable price-point. Additionally, shoppers can test out the sheets for up to a year.
Avocado Organic Superfine Suvin Cotton Sheets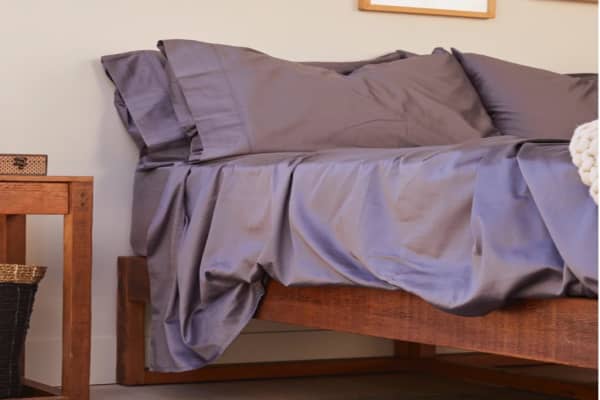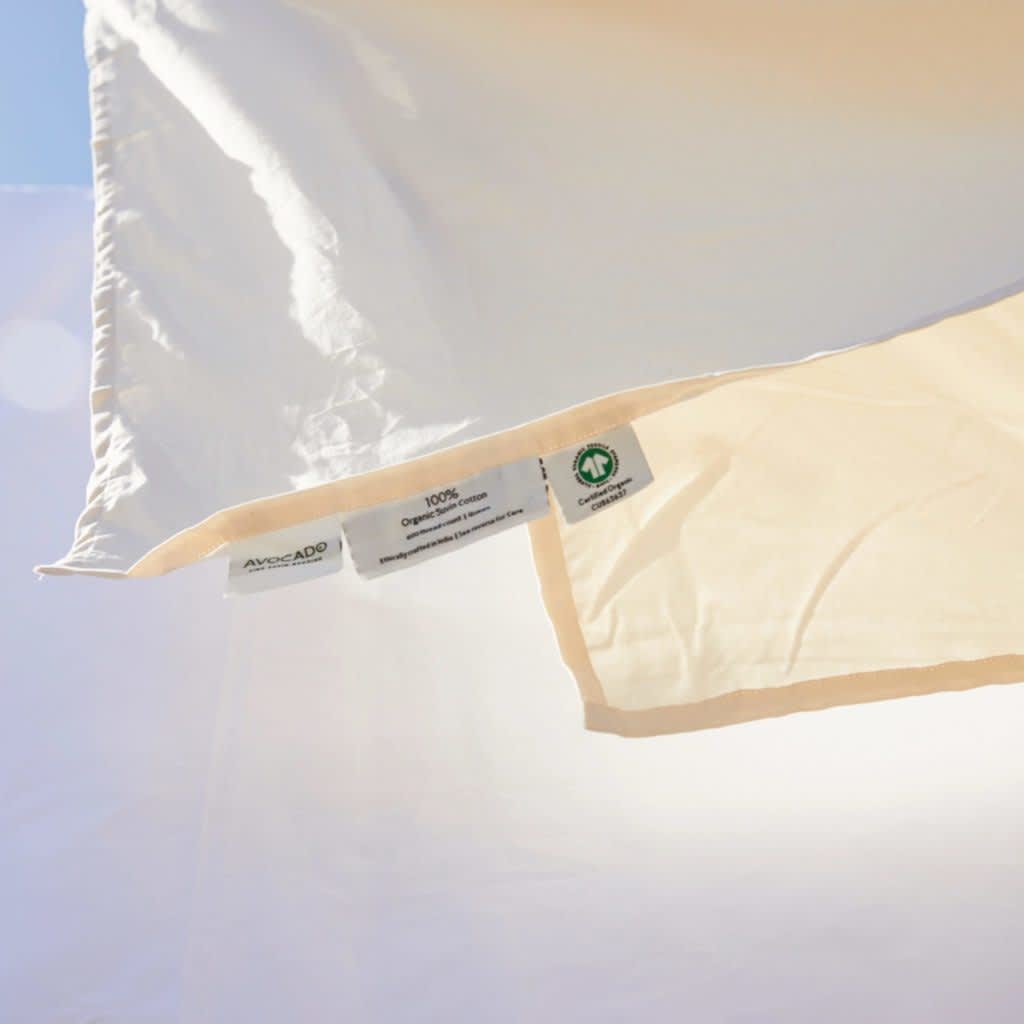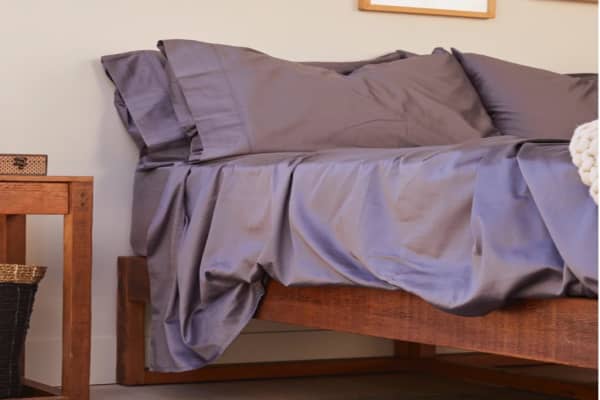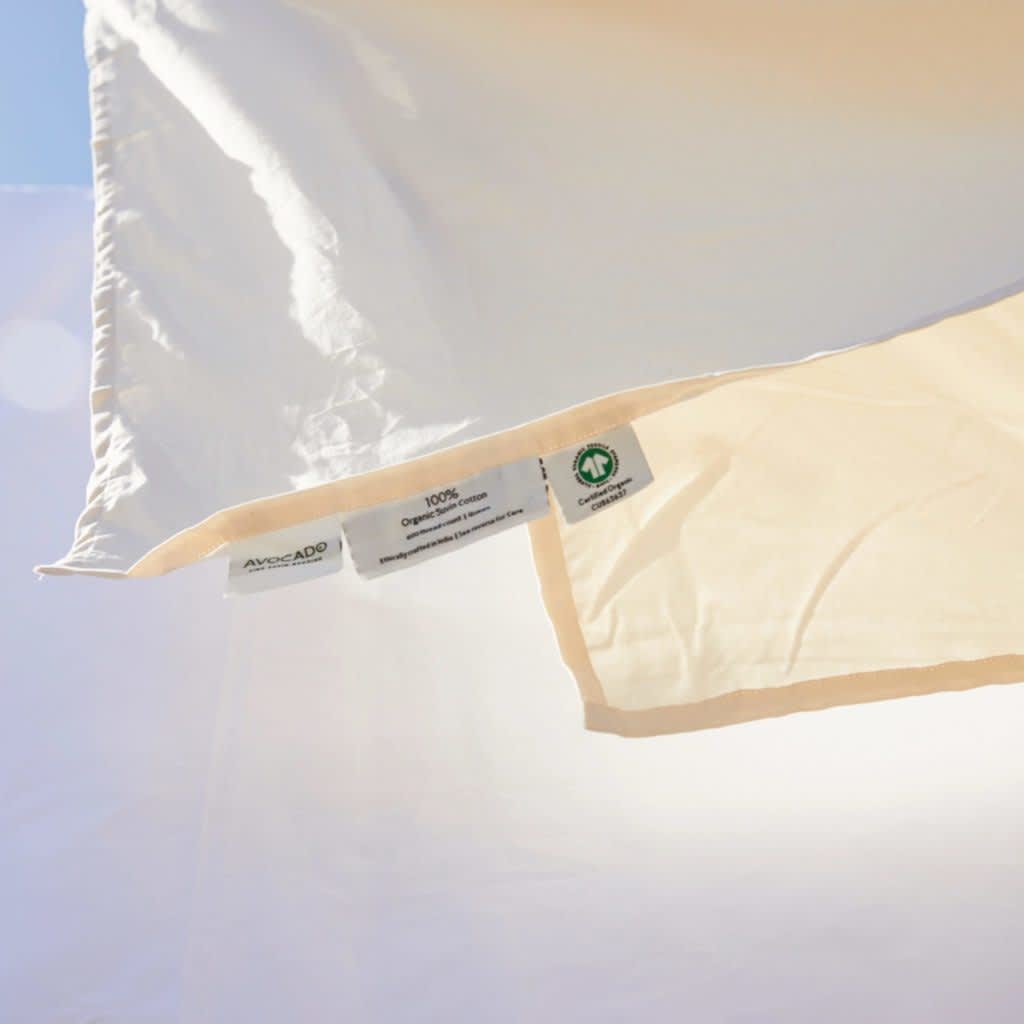 Material: Organic Indian Suvin cotton

Weave: Sateen

Price: $429
Extra-long staple Suvin cotton is durable and breathable
Sateen weave enhances the cotton's naturally soft feel
Available in standard and deep pocket designs
High-end bedding shoppers
Hot sleepers
Consumers who prefer to buy and use sustainably made products
Avocado is a brand best known for eco-friendly, luxurious sleep products. The Organic Superfine Suvin Cotton Sheets demonstrate the brand's dual commitment to quality and sustainability. Suvin cotton originates in India and is noted for its extra-long staple length. The sheets and pillowcases in this set carry a single-ply thread count of 600, making each item supremely soft, and the sateen weave accentuates this quality nicely. This collection is well suited to anyone who prefers bedding that drapes closely to their body.
Temperature control is another strong point. Most sateen sets with high thread counts we've tested have a tendency to bottle in heat, but Suvin cotton's natural breathability allows the sheets to sleep exceptionally cool. A GOTS certification ensures the cotton used for this collection is grown and harvested without harmful chemicals. Furthermore, Avocado holds carbon neutral status, meaning the company offsets more than 100% of its emissions through certain manufacturing and shipping practices.
The set is available in two designs based on pocket depth. If your mattress is on the thinner side, then the 16-inch fitted sheet should feel secure. Those with exceptionally thick mattresses can pay extra for a fitted sheet with a 22-inch pocket depth.
Avocado offers free shipping throughout the contiguous U.S. Each purchase is backed by a 100-night trial period and a one-year warranty against material defects.
With a durable and breathable sateen weave made from extra-long staple Suvin cotton, the Organic Superfine Suvin Cotton Sheets offer a soft feel for shoppers looking for a luxurious sheet set.
Boll & Branch Signature Hemmed Sheets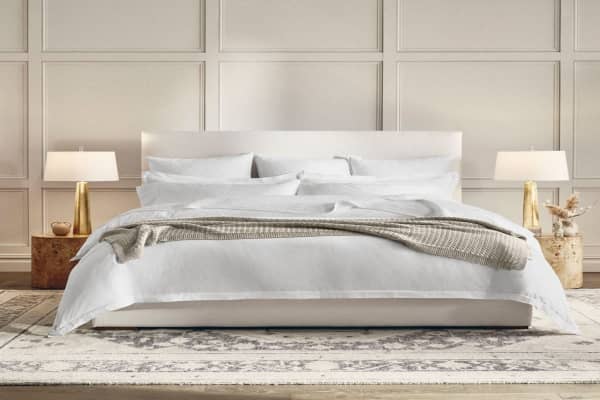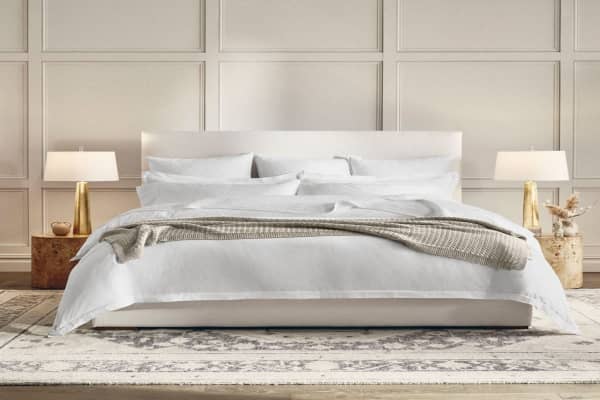 Material: 100% organic long-staple cotton

Weave: Sateen

Price: $279
Each item made of sustainably sourced organic cotton
Long-staple construction helps ensure above-average durability
Available in eight sizes
Sleepers who prefer bedding with a silky-soft feel
Anyone who owns a mattress up to 15 inches thick
Shoppers who wish to purchase products from Fair Trade Certified companies
While comfort is a subjective quality that varies from person to person, our team was impressed with the balanced composition of Boll & Branch's Signature Hemmed Sheets. The set uses long-staple cotton, which is known for exceptional softness. A silky-smooth sateen weave enhances this quality. That said, the sheets and pillowcases in this collection are also highly breathable and shouldn't trap excessive heat — a common issue with sateen bedding.
The cotton holds an organic certification and is grown without chemical pesticides, GMOs, or toxins. You can choose from a wide array of neutral colors, each of which is rendered using natural dyes. The set is also available in eight sizes. These include standard mattress dimensions as well as a king size with standard pillowcases and a split king. Customers can add an extra pair of pillowcases for a small upcharge. A pocket depth of 15 inches makes the fitted sheet compatible with many mattresses sold today.
The Signature Hemmed Sheets are produced in a factory that's Fair Trade Certified, indicating ethical treatment and safe conditions for workers. Customers in the contiguous U.S. qualify for free ground shipping. Boll & Branch allows returns within 30 days of delivery as long as each item in the set is in pristine condition and shipped back to the company in its original packaging with tags intact.
Our testing team found the Signature Hemmed Sheets to be durable and extremely soft. We also liked that the sheets are sustainably sourced, hold organic certifications, and come in a range of sizes and colors to suit most sleeper types.
Brooklinen Luxe Core Sheet Set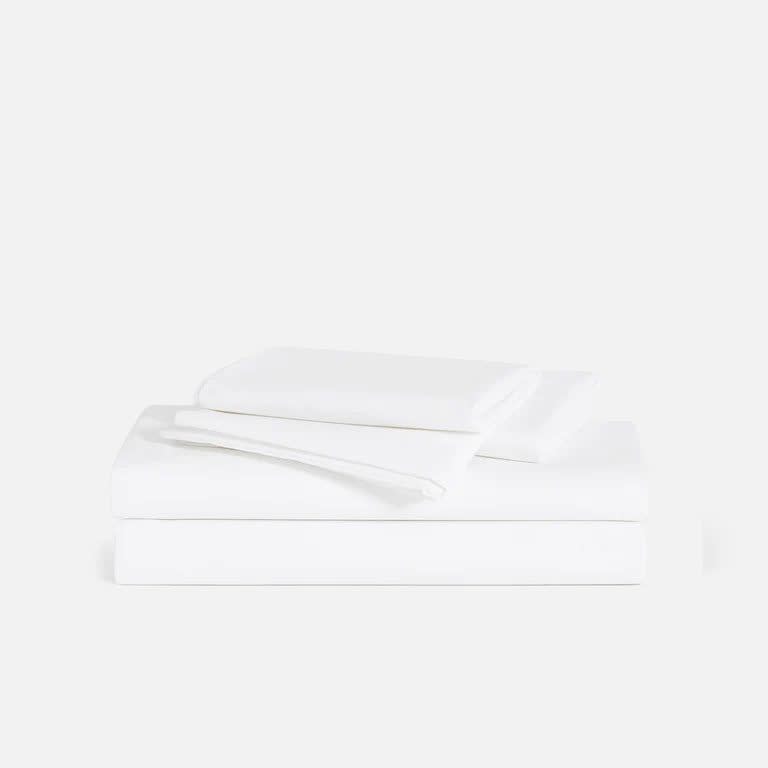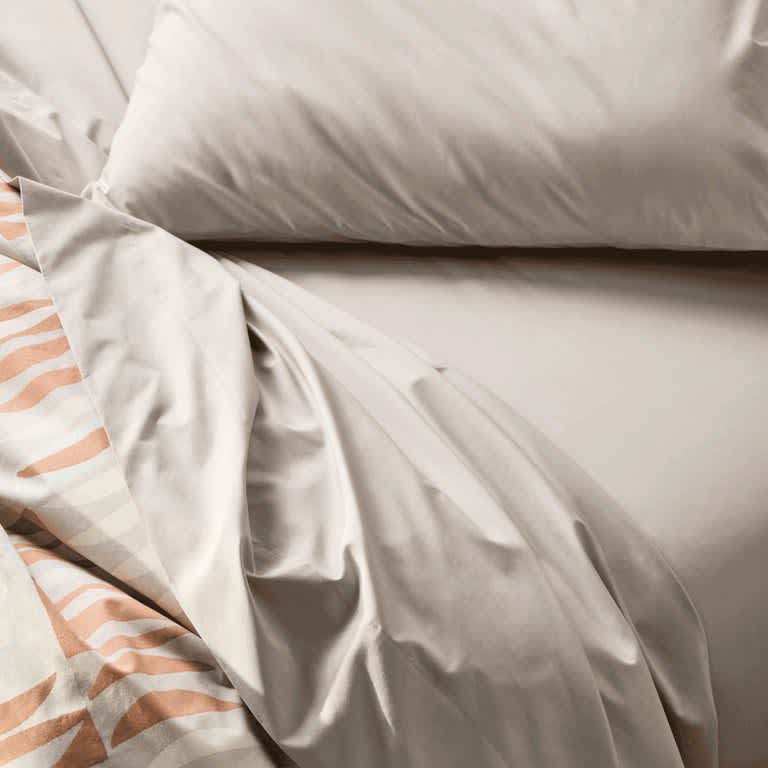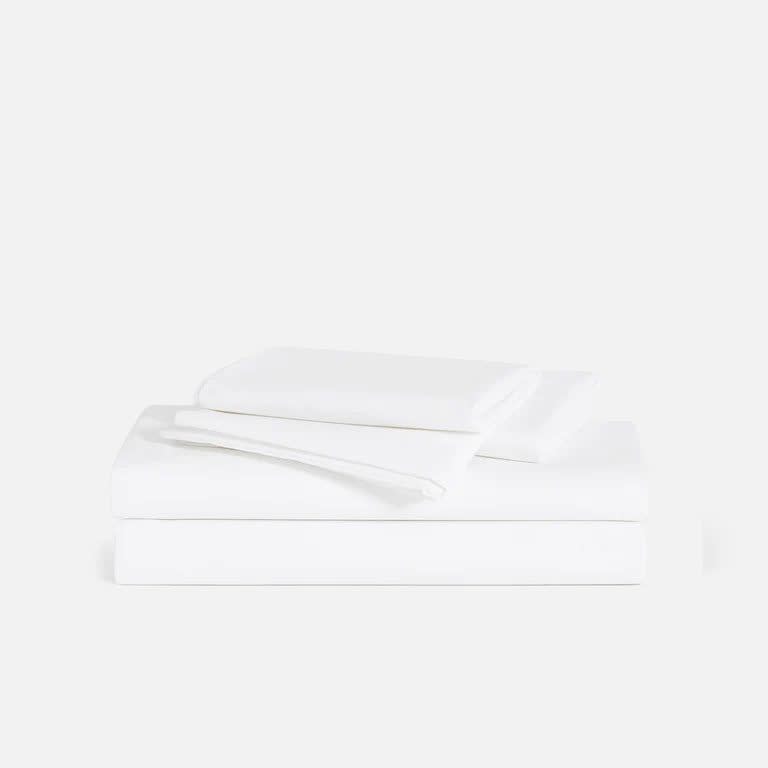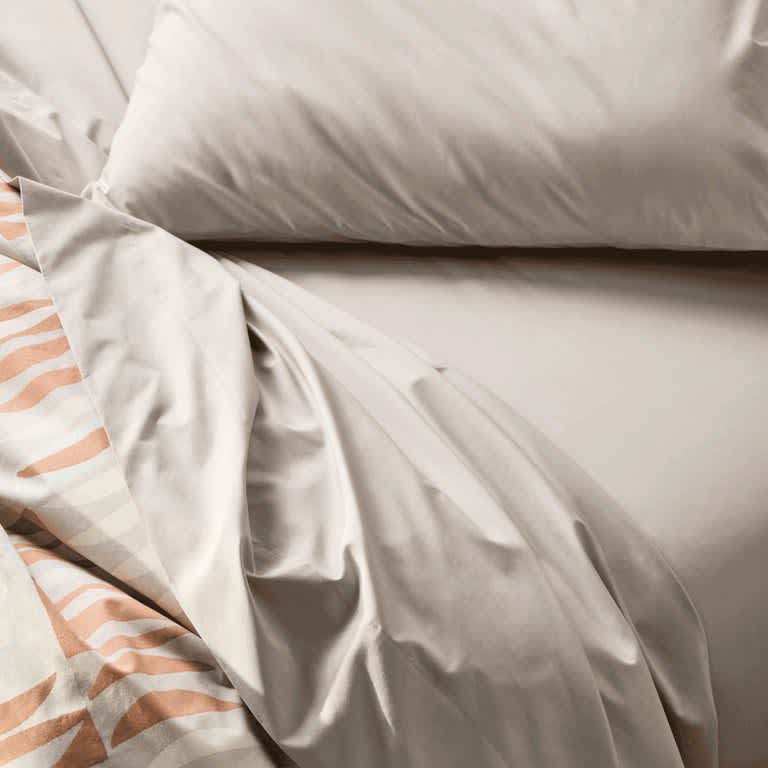 Material: 100% long-staple cotton

Weave: Sateen

Price: $189
Long-staple composition ensures good durability
Sateen weave produces an ultrasoft feel and close draping
Sold in a wide range of colors and patterns
People who prefer exceptionally soft sheets
Those who own mattresses up to 15 inches thick
Shoppers looking for bedding with a wide color and pattern selection
Brooklinen's Luxe Core Sheet Set consists of sheets and pillowcases made of long-staple cotton, which is known for both durability and exceptional softness. A sateen weave brings out the cotton's silky feel, resulting in bedding that drapes closely to the body and insulates well against the cold.
You can choose from over a dozen designs, including solid colors, stripes, and floral prints. The set is also available in all six standard mattress sizes. A 15-inch pocket depth for the fitted sheet ensures compatibility with a wide range of mattresses, including many high-profile models sold today. Each item in the set is fully machine-washable.
The Luxe Core Set is Brooklinen's standard bedding collection. You can also select a starter bundle with a flat sheet and one to two pillowcases, depending on the size. Larger sets incorporate additional components such as comforters, duvet covers, and extra pillowcases.
The Luxe Core Sheet Set is affordably priced to cater to shoppers with tight budgets. Brooklinen offers free ground shipping anywhere in the contiguous U.S. The company's generous sleep trial allows you to test out — and launder — the sheets for up to a year before deciding to return them or keep them. Should you opt for the latter, you'll receive an additional year of warranty coverage.
With a sateen weave and long-staple construction, the Luxe Core Sheet Set offers an extremely soft feel. The sheets are also durable and help keep sleepers warm, making them a good option for year-round use.
Silk & Snow Egyptian Cotton Sheets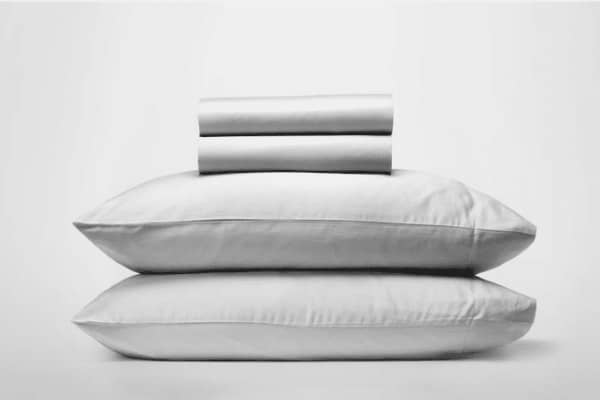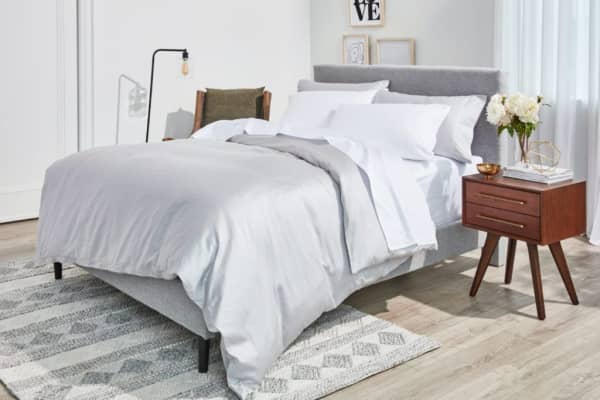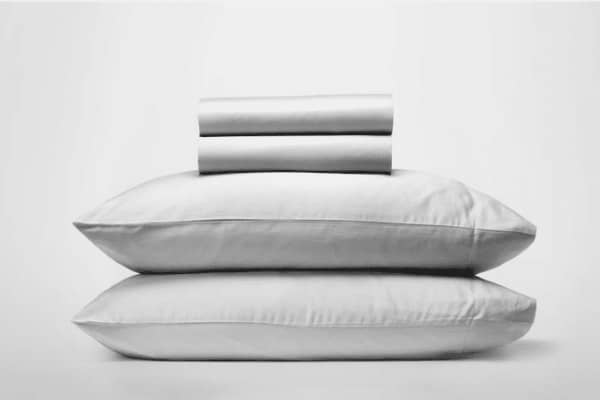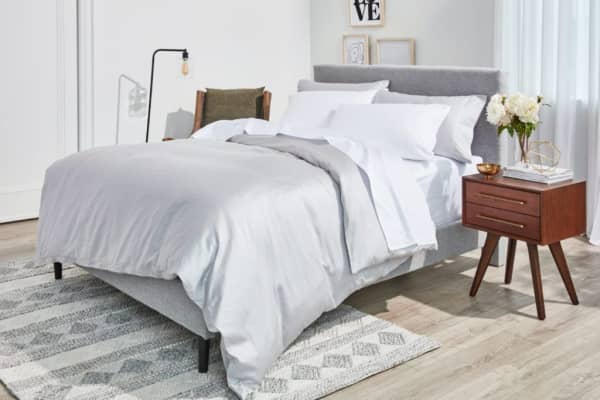 Material: 100% Egyptian long-staple cotton

Weave: Sateen

Price: $125
Certified Egyptian cotton offers exceptional durability and softness
Luxuriously smooth feel thanks to the sateen weave
Consistent breathability and cooling to suit hot sleepers
People who want to invest in luxurious, long-lasting sheets
Those who own mattresses up to 15 inches thick
Hot sleepers
Egyptian cotton's natural breathability and softness makes it one of the most sought-after bedding materials. Unfortunately, many Egyptian cotton sheet sets are composed of blends that use as little as 10% of the fabric. Silk & Snow's Egyptian Cotton Sheets are the real deal, as verified by a Cotton Egypt Association certification, which traces every fiber back to the Nile River Valley.
Long-staple composition puts Egyptian cotton ahead of the pack in terms of durability. Even with a silky sateen weave, the sheets and pillowcases in this set should hold up well with minimal pilling over time. Each item can be washed and dried in household machines, though owners should do so sparingly, since their bedding will last longer with infrequent laundry cycles and air drying.
Customers can choose from five neutral colors for their set. Six sizes are also available, each of which includes one to two pillowcases, a flat sheet, and a fitted sheet. The latter has a pocket depth of 15 inches. If you don't need a full set, you can select a duvet cover or a pair of pillowcases made from the same fabric.
Silk & Snow's sticker price for the Egyptian Cotton Sheets falls well below average, and shipping is free for all orders in the contiguous U.S. and provincial Canada. Your purchase comes with a sleep trial spanning 100 nights, and you'll receive a one-year warranty if you choose to keep the set after the trial period ends.
For people who tend to sleep hot and enjoy the luxuriously smooth feel of Egyptian cotton, we found that Silk & Snow's Egyptian Cotton Sheets provide exceptional breathability and durability at a reasonable price-point.
American Blossom Linens Classic Organic Cotton Sheets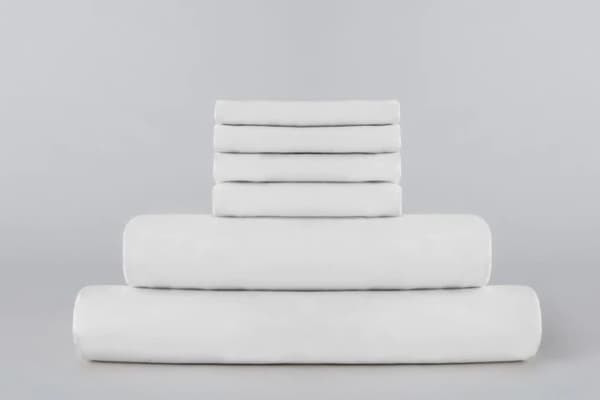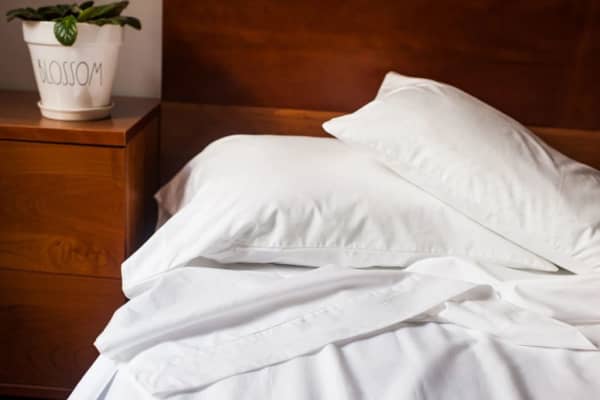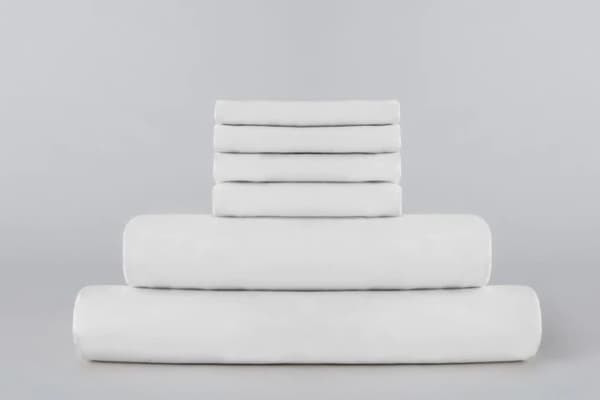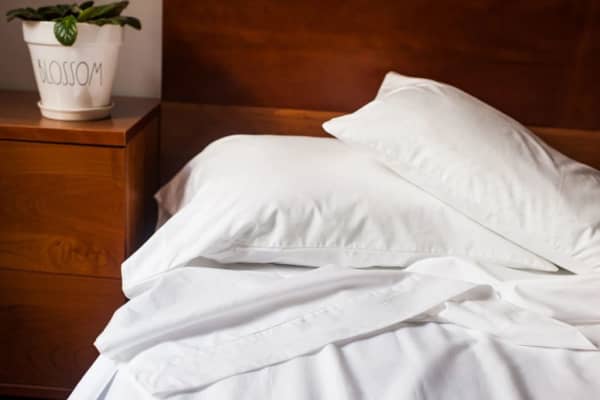 Material: Organic Cotton

Weave: Percale

Price: $289
Certified organic cotton is breathable and sustainably sourced
Crisp percale weave gradually softens with use and cleaning
Extra pillowcases for sizes queen and larger
People who prefer the crisp feel of percale bedding
Those who own mattresses up to 16 inches thick
Hot sleepers
Sustainable growth and chemical-free production set organic cotton apart from other types of the material. The American Blossom Linens Classic Organic Cotton Sheets is a standout collection due in large part to its luxurious percale weave. The sheets and pillowcases will initially feel crisp — we liken this texture to that of a freshly pressed dress shirt — but over time the fibers will loosen and each item will become softer.
Hot sleepers should also consider this collection, as each component is highly breathable to keep you cool and comfortable throughout the year. Size options include standard mattress dimensions as well as split king and a king size with standard pillowcases. All queen, king, and California king sets come with four pillowcases, which is double the normal amount for these sizes. The deep pocket fitted sheet included with each set can accommodate any mattress up to 16 inches thick.
All of the set's components are fully machine-washable. American Blossom Linens offers free standard shipping for U.S. orders and reasonable flat rates for expedited delivery. The company's generous return policy allows you to test out and launder the sheets and pillowcases for up to two years before deciding whether to keep the set.
For shoppers who appreciate organic materials and the feel of a percale weave, our testing team found that the American Blossom Linens Classic Organic Cotton Sheets offer a cool sleep, making them a good option for those who sleep hot.
Why You Should Trust Us
Each member of TheSleepDoctor.com testing team has spent years researching, evaluating, and rating sleep products. In order to provide the most subjective ratings, our team consists of people who fall into different groups based on personal bedding preferences.

To compile our list of the best cotton sheets, we analyzed dozens of sheets using the same criteria. Performance categories include expected durability, temperature control, overall comfort, and pocket depth compatibility. We also took pricing and ease of care into account.
Cotton sheets are a highly versatile choice for bedding shoppers. Depending on their composition, these sheets may feel crisp, smooth, or somewhere in between. Some cotton sheets offer exceptional breathability, while others provide great insulation from the cold. Sheets may be made from pure cotton or blends of cotton and other fabrics like polyester or bamboo-derived textiles.
Generally speaking, cotton sheets offer a more balanced feel than bedding made from other materials. They lack the smoothness of materials like silk and Tencel, but they aren't as coarse as linen and microfiber. Performance factors like breathability and durability vary by cotton variety and weave.
Benefits of cotton sheets include wide availability, easy cleaning, and natural softening over time. However, price may be a barrier for some shoppers. While cotton sheets aren't the most expensive type of bedding, you should expect to pay at least $150 for a high-quality, queen size cotton sheet set. Shrinking in the wash and wrinkling are other potential issues.
Who Are Cotton Sheets Best For?
Many different types of cotton sheets are available, making them a good choice for various sleepers. Breathable percale cotton is comfortable for hot sleepers, whereas flannel or sateen is better suited to people who need more insulation when they sleep.
Certain types of cotton may also be appealing if you want a crisp feel, more softness, or a balance of these two characteristics. People who want low-maintenance bedding should consider cotton, as these sheets and pillowcases are almost always fully machine-washable.
How Much Do Cotton Sheets Cost?
The average queen size cotton sheet set costs $150 to $250. Expect to pay more for premium varieties such as Egyptian or Supima. Short-staple cotton and cotton-blend varieties tend to fall on the lower end of the price spectrum. Additionally, sheet sets with duvet covers and other extra accessories tend to cost more than standard sets with flat sheets, fitted sheets, and pillowcases.
How Long Do Cotton Sheets Last?
With proper cleaning and care, the average cotton sheet lasts three to five years. The durability of cotton bedding is tied to its weave and staple length. Percale-weave sheets hold up better over time and resist pilling better than sateen sheets. Twill is also a long-lasting weave. Likewise, long-staple and extra-long staple cotton sheets typically last longer than short-staple cotton sheets.
How to Clean Cotton Sheets
Cotton sheets can usually be washed and dried in household appliances and don't require spot cleaning, dry cleaning, or commercial-grade washing machines. However, you should always defer to the care instruction tag on your sheets and follow every step to the letter. Laundering your sheets too often can lead to early wear and tear, so many brands suggest infrequent wash cycles. Every few months, you can air dry your sheets to refresh them.
What Are the Different Types of Cotton Sheets?
Cotton sheets come in a wide range of varieties and constructions. Different types of cotton vary in terms of texture, durability, and breathability.
Types of Cotton
While there are dozens of cotton varieties grown worldwide, only a handful are used for bedding and other commercial purposes. The most common varieties of cotton sheets include:
Regular
The catchall term "regular cotton" refers to nonorganic cotton grown in North America. There are no defining weaves or knits associated with regular cotton, and this type of bedding is available at a wide range of prices. Since regular cotton is not organic, it may be grown using chemical aids such as pesticides.
Pima
Pima cotton originated in Peru, but today this extra-long staple variety is grown across the globe. One U.S.-grown variety, Supima cotton, is commonly used for bedding. This type of cotton is known for its exceptional softness, breathability, and moisture control. Pima is also highly durable, and sheets made from this variety can last five years or longer. Due to these qualities, pure Pima sheets can be somewhat expensive.
Egyptian
Egyptian cotton is another extra-long staple variety — but unlike Pima cotton, this variety must be grown in Egypt to be considered authentic. A crisp, breathable composition and excellent durability have made Egyptian cotton popular with consumers. However, cost may be a barrier, as Egyptian cotton sheet sets can cost hundreds or even thousands of dollars.
Shoppers should check to ensure the sheets they buy are certified as authentic 100% Egyptian cotton. Some sets are composed of fabric blends that integrate a small percentage of Egyptian cotton.
Organic
True organic cotton is grown without GMOs, chemical pesticides, or fertilizers. If your cotton sheets are certified as organic, this means the material has met certain standards for growth and cultivation.
The most common organic certifications come from the U.S. Department of Agriculture and Global Organic Textile Standard. If sheets are labeled as organic without certification, then this claim may be misleading. True organic cotton sheets tend to be more costly due to the extra steps companies take to secure this certification.
Cotton Weaves and Knits
Your cotton sheets may be woven using multiple cotton yarns or knit using one continuous yarn. Weaves, such as sateen and percale, are more common. The defining characteristic of a weave is how the lengthwise warp and widthwise weft yarns are joined together.
Percale
Percale is created by weaving warp and weft yarns over and under each other, creating a gridlike pattern. This is a very tight weave, resulting in an initially crisp feel that softens over time as the cotton fibers relax with each laundry cycle. Percale is also highly breathable and well suited to hot and humid climates.
Sateen
Sateen weaves consist of warp yarns woven over and under weft yarns at irregular intervals. For example, a common weave is four-over, one-under. This creates a looser weave and softer feel, giving sateen sheets a silky-smooth texture with little to no crispness. Sateen sheets are ideal for people who want bedding that drapes closely to their bodies. Due to this clingy feel, sateen sheets tend to bottle up more heat and sleep warmer than percale sheets.
Twill
A diagonal pattern is twill's distinguishing feature. Like sateen, twill consists of multiple warps woven over and under the wefts, but this is done in a zigzag pattern to create the signature structure. Twill is highly durable and resistant to tearing. While not often used in bedding, some brands offer twill sheets. The weave is more common for materials like denim and furniture upholstery.
Jersey
Jersey is a knit created when cotton fibers are looped together, creating a single yarn. You won't find many cotton jersey sheets, as woven bedding is far more common and accessible. However, people who enjoy soft, pliable fabrics should seek out jersey bedding. Cotton jersey is often used for garments such as T-shirts and skirts.
What Should You Consider When Choosing Cotton Sheets?
There are several considerations to take into account when choosing new cotton sheets. These include aspects of the cotton itself, as well as your own needs and preferences as a sleeper.
Type
As we discussed above in greater detail, you can choose from several types of cotton bedding based on variety and weave. Keep in mind that the type of cotton you choose will likely affect how much you spend on new sheets. Additionally, make sure to verify any certifications or country-of-origin claims from bedding manufacturers before making your purchase.
Weave
Weaves consist of several yarns that float over and under one another. The most common weaves for sheets are percale, which has a crisp feel that becomes softer with age, and sateen, which is silky and smooth from day one. Twill sheets are also available, though far less common. For the most part, weave does not affect price as much as the variety of cotton or the brand.
Knit
Knit sheets are much less common than woven sheets, though dedicated shoppers should be able to track down a set within their budget. Most knit cotton sheets are jersey knit and have a soft, pliable feel. By definition, knits consist of a single yarn looped through itself. This differs from weaves, which integrate many yarns.
Staple
Staple is the measure of a cotton fiber's length and is directly linked to durability. Long-staple cotton measures 1.25 inches, while extra-long staple cotton can measure up to 2 inches long. These varieties hold up over time and resist pilling. Anything measuring less than 1.25 inches long is considered short-staple cotton and may wear out after a couple years of continuous use. For this reason, short-staple cotton sheets tend to cost much less than their longer-staple counterparts.
Thread Count
Thread count refers to the number of individual threads that constitute 1 square inch of woven fabric. Using thread count to evaluate bedding quality is somewhat tricky. Low thread counts may indicate poor quality and a short lifespan, but a high thread count does not necessarily mean the sheets are superior quality.
Furthermore, brands may make misleading claims regarding the thread counts of their sheets. The "two-ply trick" is a common example. Bedding manufacturers commonly use single yarns consisting of two intertwined strands. Some brands count two-ply yarns as two, rather than one, essentially doubling the thread count without adding much to the fabric's structure.
A good rule of thumb when choosing a sheet set is to ensure the thread count is derived from counting single yarns, rather than individual strands used for two-ply yarns. Minimum thread counts are also important for each cotton variety and weave.
What Is the Best Thread Count for Cotton Sheets?
Thread counts should be neither too low nor too high. Recommended thread count ranges for different types of cotton include:
Pima cotton: 200 to 400
Egyptian cotton: 300 to 400
Percale weave: 200 to 400
Sateen weave: 300 to 600
Twill weave: 200 to 500
Size
The most common sheet set sizes correspond to standard mattress dimensions. These include twin, twin XL, full, queen, king, and California king — though some sets are not available in all six of these sizes. Brands may sell additional sizes such as split king for couples who use adjustable beds. Keep in mind that twin and twin XL sheet sets typically include a flat sheet, fitted sheet, and a single pillowcase, while larger sizes add a second pillowcase to the mix.
Price
Since there are so many types of cotton sheets to choose from, prices vary to a significant degree. Expect to pay at least $150 for high-quality cotton sheets, and more for premium varieties like Egyptian or Pima. Before making your purchase, be sure to read the fine print about delivery and return shipping costs. You may need to pay extra for these services.
Breathability
Breathability is important for most people when it comes to bedding. This characteristic is especially crucial for people who consider themselves hot sleepers, those who tend to sweat in bed, and anyone who lives in an area with exceptionally warm or humid weather. Percale sheets typically sleep cooler than sateen. Likewise, Egyptian and Pima cotton are usually more breathable than regular cotton.