No matter who's sharing your bed, every person and furry friend needs enough room to stretch out and change sleep positions without disturbing their fellow co-sleepers. Though oversized mattresses are not as common as standard mattress sizes, they make bedtime much more comfortable for anyone co-sleeping with multiple people and pets.
Giant mattresses can range from a few inches to a few feet larger than a king or California king size bed. Although they're helpful for co-sleepers, oversized beds can be harder to find and harder to set up. We'll help you choose the best oversized mattress for your needs and provide tips on how to maneuver and care for a giant bed.
Ace Collection Mattresses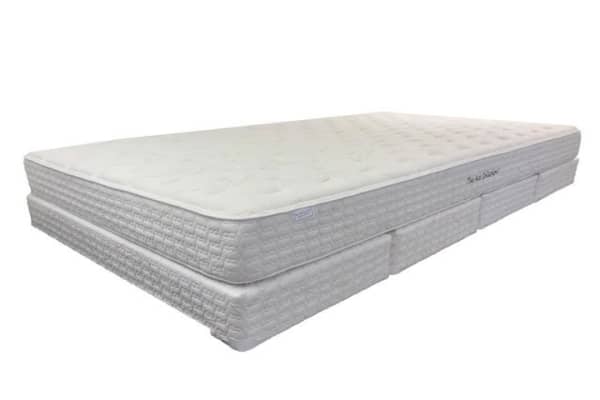 Trial Length 21 nights (35% handling fee)

Warranty 10 Year, Limited

Trial Length / Warranty

21 nights (35% handling fee) / 10 Year, Limited

Firmness Soft (3), Medium Firm (6)
Sleep Doctor's Take
Ace Collection mattresses are available in three proprietary sizes, each of which offers a larger-than-average surface to meet your needs. You can choose from multiple hybrid designs and firmness levels to further customize your sleep space.
Foam comfort system contours to the body to relieve pressure
Breathable bamboo-derived viscose cover
Pillow-top is made with gel-infused foam for cooling
No options for those seeking a firm to extra firm mattress
Price range for available models is somewhat expensive
The Ace Collection specializes in mattresses to suit tall people, adults who sometimes share their sleep space with children or pets, and those with sleep habits that require a longer or wider sleep surface. Demand for non-traditional mattress sizes led the company to create three innovative proprietary sizes: Ace Size, Player Size, and Family Size.
The Ace Size measures 108 inches wide, best suited for co-sleepers looking to maximize their sleep surface. You can also choose the Player Size, which is 108 inches long, ensuring ample space for most people regardless of their height. The Ace Size's length and Player Size's width both measure 80 inches, allowing either mattress to fit through any standard doorway despite the oversized dimensions. The company's largest option, the family size, measures 144 inches wide and 80 inches long.
You can choose from four designs for the mattress: regular, pillow-top, premium cotton, and premium natural. The regular model features a breathable bamboo-derived cover and polyfoam comfort system over robust pocketed coils composed of U.S.-made steel. The pillow-top shares the same general construction but adds gel-infused polyfoam sewn into a pillow-top cover for enhanced cooling and pressure relief.
You can also opt for the premium cotton or premium natural models, both of which hold a higher price-point and are available for custom order. The cotton model is made of American steel coils that are inner tufted, and topped with a plush latex tufted topper. This option also comes in all natural for those looking for a hypoallergenic option. In addition, the mattress comes in two firmness levels: soft (3) and medium firm (6).
The foam comfort systems in the regular and pillow-top models appealed to our side sleepers, who enjoyed the generous cushioning. Meanwhile, side sleepers who weigh at least 130 pounds, as well as back and stomach sleepers weighing up to 230 pounds, enjoyed the two premium models. Regardless of mattress type, we recommend opting for the softer design if you weigh less than 130 pounds and the medium firm if you weigh up to 230 pounds. Side sleepers weighing more than 230 pounds also enjoyed the medium firm, but back and stomach sleepers with this body type may need a firmer mattress.
All models regulate temperature well, thanks to steady airflow through the coils and breathable covers. However, the two premium models excelled most during our temperature control tests. Breathable components like cotton, wool, and latex kept the surface cool, and we noticed little to no heat buildup. The mattress' larger size is great for families, but we also found it great for couples seeking extra room. The pocketed coils give the surface a responsive feel that many couples may enjoy for sex.
In addition to mattresses, The Ace Collection offers pillows, sheets, bed frames, and other sleep essentials. The company ships free to customers in the contiguous U.S. You have 21 nights to test the mattress. Returns will incur a 35% handling fee. If you decide to keep the mattress, it is backed by a 10-year warranty.
The Ace Family Size mattress is extra wide to accommodate several family members, as well as pets. Our testers also enjoyed the choice between four designs and two firmness levels.
Big Mattress Co. Oversized Mattresses
Warranty 10 Year, Limited

Trial Length / Warranty

100 nights / 10 Year, Limited
Sleep Doctor's Take
Big Mattress Co. offers a wide selection of oversized models, many of which carry approachable price-points if you're shopping on a budget. You can choose an all-foam model that cushions the body closely, or an airbed with adjustable firmness levels, and six different sizes are available.
Six sizes to choose from
All-foam and airbed models available
100-night sleep trial with free returns
Larger sizes may be difficult to move from room to room
Limited firmness options for all-foam models
Big Mattress Co. offers one of the largest selections of oversized beds. The company's lineup includes six oversized options: Alaskan king, Texas king, Vermont king, Wyoming king, family, and the extra wide family XL. With reasonable prices on their large beds and generous customer service policies, Big Mattress Co. mattresses represent an excellent value for oversized bed shoppers.
Big Mattress Co. offers two mattress models: the 11-inch Big Mattress Classic and the 13-inch Big Mattress Premier. The all-foam version of the Classic has a medium firm (6) feel, while the foam Premier has a medium (5) firmness level.
Both the Classic and Premier are available in airbed versions. While the company refers to them as hybrid options, they feature inflatable air pods that let owners control the firmness level via a dial on the side of the bed.
Our testers noted that both models are fairly versatile, providing a balance of pressure relief and support. Additionally, they observed that the polyfoam comfort system works to stifle motion and sound so co-sleepers don't disturb one another during the night.
Big Mattress Co. beds are made to order. Each mattress ships for free and comes with a 100-night sleep trial and free returns. The company's mattresses are also protected by a 10-year limited warranty.
Featuring an impressive array of oversized options available in two models with a choice of all-foam or airbed designs, Big Mattress Co. offers an appealing sleep solution for nearly every sleeper type. The company also sells bed frames and bedding designed to fit all of the company's oversized mattress models.
Mattress Insider Alaskan King Mattress
Warranty 10 Year, Limited

Trial Length / Warranty

None / 10 Year, Limited

Firmness Medium Soft (4), Medium Firm (6)
Sleep Doctor's Take
The flippable Mattress Insider Alaska King is cushioned with plush memory foam on one side and responsive Talalay latex on the other. Foam-encased coils form a sturdy support system, while an organic cotton cover promotes breathability and cooling on the surface.
Highly durable hybrid construction
Customizable firmness
Reinforced perimeter offers very good edge support
Available in a single size with a fairly expensive price-point
Disassembling the mattress to flip can be a time-consuming process
With its hybrid construction and customizable firmness, the Mattress Insider Alaskan King Mattress is one of the most versatile and durable oversized models available. The square Alaskan king size measures 108 inches in each direction, offering plenty of space for multiple co-sleepers and pets.
Sitting at 13.5 inches thick, the Mattress Insider Alaskan King Mattress features a flippable and modular design that lets you fine-tune the feel of the bed. The comfort system consists of 2 inches of gel-infused memory foam and a 2-inch layer of Talalay latex. Our testing team found that it offers a nice balance between moderate contouring and responsiveness. The memory foam side has a plush 1-inch quilted cotton cover, while the latex side features the same organic cotton but without the added quilting.
Beneath the comfort system sits a 1.5-inch transitional polyfoam layer followed by 6 inches of foam-encased pocketed coils. We found that the coiled core offered very good support all the way to the edge of the mattress. A final quarter-inch layer of dense support polyfoam provides added stability and support to the mattress.
The comfort system is flippable, letting sleepers choose between the plusher feel of the memory foam layer or the firmer and more responsive latex layer. The firmness level can be further customized by flipping the support core and having either the firm transitional polyfoam or extra firm base layer on top. The mattress' zippered design ensures that the sections stay in place. Alternatively, you can choose to forgo the support core altogether and just place the comfort system on a flat surface.
Sleepers who like their mattress firm or extremely firm can omit the comfort system and sleep on either side of the support core. However, shoppers should note that the support core is shipped in two sections that must be zipped together, so there will be a small gap between the two sides. Additionally, you cannot order just the comfort system or the support core, so you should account for appropriate storage space if you don't plan on using one of them.
The company's Alaskan king bed ships for free anywhere in the contiguous U.S. Mattress Insider also ships to Alaska, Hawaii, U.S. territories, and Canada, but orders are subject to shipping fees. The mattress ships in three pieces, making it easier to maneuver into your bedroom. It's protected by a 10-year limited warranty but doesn't come with a sleep trial period.
While many oversized mattresses offer limited customization, the Alaskan King Mattress from Mattress Insider is a notable exception. Featuring a modular design with eight firmness variations, this durable bed lets co-sleepers customize each side of the expansive sleeping surface.
Why You Should Trust Us
At SleepDoctor.com, our goal is to help readers make informed decisions to improve their sleep. Our team performs rigorous in-house testing on every product we feature in our reviews. The Sleep Doctor testing team includes a wide range of body types and sleep preferences for a diversity of opinions. We regularly update our product recommendations to account for new releases, testing results, and insights.
What Is an Oversized Mattress?
An oversized mattress refers to any bed that's bigger than a king or California king, which are the largest standard mattress sizes. King mattresses measure 76 inches wide by 80 inches long, while California king beds are 72 inches wide by 84 inches long.
Some of the most common oversized options are square. These include the Wyoming king, Vermont king (which has the same dimensions as the Alberta king), and Alaskan king. A Texas king mattress is significantly longer than it is wide. Meanwhile, the family XL size has the same length as a California king but measures a whopping 144 inches in width.
Common Size Options for Oversized Mattresses
| | Wyoming King | Texas King | Vermont King | Alaskan King |
| --- | --- | --- | --- | --- |
| | | | | |
Where Can You Buy an Oversized Mattress?
Oversized mattresses may be hard to find in many brick-and-mortar mattress shops but are available to buy online. Most in-person retailers only stock standard mattress sizes in their showrooms, since oversized mattresses are not as popular and take up a large amount of floor space.
How Much Does an Oversized Mattress Cost?
Oversized mattress prices vary widely depending on the size, mattress type, and brand, with lower-end models starting at $1,500 and luxury options approaching $10,000. The cost of special bedding and bed frames can also add to the final price.
How Easily Can You Find Sheets and Bed Frames for These Mattresses?
Oversized mattresses are a niche product, making it harder to find sleep accessories like bedding and bed frames. However, many retailers that offer oversized mattresses also make accessories to go along with their larger mattress sizes.
For more options, shoppers can try searching online to find other retailers selling oversized sleep accessories. A properly sized fitted sheet is the most important piece. While other custom bedding is available, sleepers can also use multiple standard top sheets, blankets, and comforters on an oversized mattress.
Like standard mattresses, there are different types of oversized mattresses. Each mattress type uses a different combination of materials with a unique feel and performance. For an oversized mattress, it's especially important that all of the bed's sleepers feel comfortable and supported.
Hybrid Mattresses
Hybrid mattresses typically combine a thick foam comfort system with a pocketed coil support core. This combination gives hybrids the soft, contouring feel of a foam mattress with the resilient bounce of a traditional innerspring.
The coiled support core construction also provides superior durability. As a result, hybrid beds tend to last longer than many all-foam models.
Foam Mattresses
Foam beds are made entirely from foam layers, typically polyfoam or memory foam. The feel and performance of different foam formulations can vary substantially.
Memory foam mattresses feature a memory foam comfort system with a denser polyfoam support core. They tend to provide excellent contouring and pressure relief. Beds with a polyfoam comfort system can offer a wider range of firmness levels with a springier feel than memory foam.
A foam model can be an excellent choice for those planning to share their oversized bed with several sleepers and pets. This is because foam mattresses tend to be nearly silent with minimal motion transfer, meaning the movement of one sleeper is less likely to disturb others sharing the bed.
Innerspring Mattresses
Innerspring mattresses feature a thick support core of metal coils, a fabric cover, and minimal cushioning. With the industry moving toward foam and hybrid models, traditional innerspring beds are largely a relic of the past. However, some mattress makers use the terms innerspring and hybrid interchangeably.
When researching oversized mattresses, it's important to understand the construction of each model. Side sleepers should be especially careful to ensure that any bed with springs provides adequate cushioning for their hips and shoulders.
What Do You Need From an Oversized Mattress?
An oversized mattress should provide the right level of support and cushioning for each sleeper's body type and sleep style. A larger mattress should also have ample height and edge support to make it easy to get in and out of bed.
Description

Mattress Thickness and Overall Height

The thickness of the mattress combined with the bed frame and foundation determine the overall bed height. A higher bed allows for more storage underneath. Sleepers who have trouble getting in and out of bed usually prefer a higher sleep surface.

Edge support refers to how well a bed supports your weight at its outer edges. Strong edge support makes it easier to get in and out of bed, which is important for sleepers with reduced mobility. Hybrids or foam beds with reinforced edges typically have the best edge support.

Contouring and Pressure Relief

The top comfort layers of your mattress provide cradling comfort to the curves of your body. The comfort system also helps relieve pressure from key areas like the hips and shoulders.

Remember to look at more than the dimensions when shopping for an oversized mattress. It's important to make sure that the bed provides ample pressure relief, especially for side sleepers and people with back pain.

Firmness describes how hard or soft a mattress feels on a scale from 1 to 10, with 10 being the firmest. Optimal firmness depends on several factors, including your body weight, preferred sleep position, and personal comfort preferences.

It's important for co-sleepers to find a firmness level that works well for everyone. However, co-sleeping families may want to consider the needs of the adults more so than growing children.
Oversized Mattress Setup and Care
Setting up an oversized mattress requires more planning than a standard mattress. First, you'll need to take measurements in your bedroom to confirm an oversized bed will fit in your sleep space.
After you place your order, you may need to take additional steps to prepare for delivery. Clear any clutter or bulky items in the path from your front door to your bedroom, and take measurements of your doorways and hallways to ensure there's enough room to maneuver the mattress.
Consider the Mattress Weight, Mattress Type, and Movability
An oversized mattress can weigh upward of 200 pounds or more. With this in mind, you may want to recruit multiple people to help you transport the bed from your door to your bedroom. Some manufacturers ship their oversized beds in multiple pieces, which can make it easier to maneuver.
When your new mattress arrives, try to place the shipping box as close to your bed frame as possible before unboxing. Keep in mind that foam mattresses don't hold their shape as well as hybrids or innersprings and may be more cumbersome to move after unboxing.
Proper Care for Your Giant Mattress
Mattress cleaning and care steps are the same for standard and oversized mattresses. However, you may need an extra pair of hands to make rotating the bed and changing the sheets a bit easier.
Most importantly, try to spot-clean spills right away to prevent stains from setting in. And consider searching for an oversized mattress protector to further protect and extend the life of your giant mattress.