Continuous positive airway pressure (CPAP) therapy is one way to treat pediatric obstructive sleep apnea (OSA), a sleep breathing disorder that causes children to stop breathing or breathe shallowly for short periods while asleep.
A CPAP mask is a necessary piece of equipment that directs pressurized air into the user's airway. Choosing the right CPAP mask can make treatment more comfortable, while a poorly fitting mask can reduce the therapy's efficacy.
We'll guide you through the details of choosing a pediatric CPAP mask, share our picks for the best CPAP masks for children, and discuss how to make CPAP therapy easier for kids.
Philips Respironics Wisp Pediatric Nasal CPAP Mask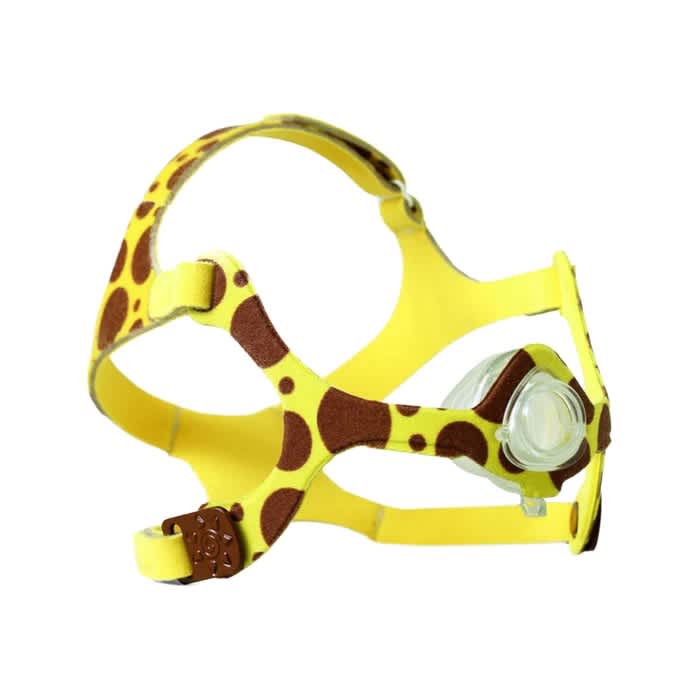 Nasal Cushion Sizes: Small, medium, large

Feature: Leak correction dial
Leak correction dial lets you adjust airflow without removing the mask
Rotating elbow port maintains a solid connection during sleep position changes
Kid-friendly giraffe print inspired by a character on Philips' YouTube channel
May not be suitable for children who primarily breathe through their mouth
Somewhat expensive for a nasal mask
Sleep Doctor's take
The Wisp Pediatric Nasal CPAP Mask is engineered for a comfortable fit, easy removal, and uninterrupted airflow throughout the night. Soft fabric embellished with a giraffe print adds a fun, kid-friendly element to the design.
---
The Wisp Pediatric Nasal CPAP Mask from Philips Respironics fits comfortably with a soft fabric frame and minimal contact to the face. A quick-release elbow port and headgear clips allow your child to put on and take off the mask with ease, and a leak correction dial allows you to adjust the airflow without removing the mask.
Why we like it
Philips Respironics' Wisp Pediatric Nasal Mask is both kid-friendly and highly functional. One standout feature is the leak correction dial, allowing you to increase or decrease airflow without removing the mask.
Other highlights include a swiveling elbow port to maintain a secure connection when your child changes sleep positions, an adjustable frame with headgear clips, and a fun giraffe print. The Philips YouTube channel features videos with Jacky the Giraffe, the animated character who inspired the mask's design. The cartoon shorts are intended to help kids get used to the idea of wearing a mask.
According to Philips, a supply chain issue has forced the company to temporarily manufacture the mask without the brown giraffe spots. Depending on the retailer you choose and their current inventory, the mask may come in plain yellow.
Circadiance SleepWeaver Advance Pediatric Nasal CPAP Mask With Headgear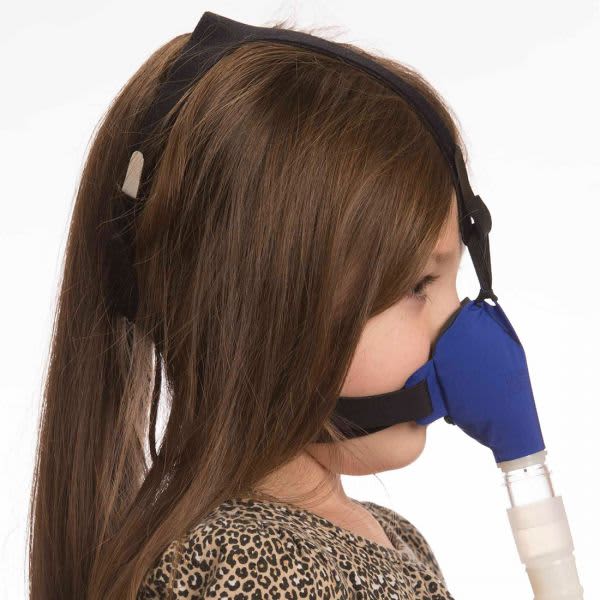 Price: $47

Size: Adjustable
Suitable for side and stomach sleepers
Children can wear glasses with their mask
Doesn't contain latex, silicone, or magnets
Only intended for children between 2 and 7 years old
Not appropriate for children who breathe through their mouth while asleep
Sleep Doctor's take
The Circadiance SleepWeaver Advance Pediatric Nasal CPAP Mask is made of soft fabric that inflates when pressurized air flows through it, forming a secure but comfortable seal against a child's face. Side and stomach sleeping does not deflate the fabric, and the lack of hard pieces makes the mask compatible with these positions even without the use of a specialized CPAP pillow.
---
Instead of the cushion design used by most masks, the Circadiance SleepWeaver Advance Pediatric Nasal CPAP Mask is made of polyester, nylon, and elastane fabric. When the CPAP machine is turned on, the pressurized air causes the fabric to balloon and seal against the user's face.
Why we like it
With its adjustable headgear and innovative design, the Circadiance SleepWeaver Advance Pediatric Nasal CPAP Mask is an attractive choice for children who do not tolerate standard nasal masks. The use of fabric also makes this mask extremely lightweight and low-profile, which may help relieve feelings of claustrophobia.
How we make our picks
Our team chooses featured products after in-depth research that covers performance, durability, manufacturer reliability, and the experiences of CPAP users. We use our knowledge and experience to contextualize information about CPAP masks, allowing our readers to better understand how the equipment works and what options may work best for their needs.
What are the best types of pediatric CPAP masks?
Pediatric CPAP masks, like those for adults, come in a wide variety of designs but only three main types. Each style has benefits and drawbacks, so it's important to consider your child's preferences and needs when choosing which type of mask to buy.
One important factor to consider is whether your child breathes through their mouth while asleep. Mouth breathing while wearing a nasal or nasal pillow mask can reduce the treatment's efficacy, so children who breathe through their mouth while asleep may require a full-face mask or a CPAP chin strap to reduce mouth breathing.
CPAP nasal masks vs. nasal pillow masks vs. full-face mask
Nasal mask
Nasal pillow mask
Full-face mask
Nasal masks usually start at the bridge of the nose and end above the lips, covering the entirety of the nose.
Nasal pillow masks feature soft inserts that seal just inside the nostrils.
Full-face masks direct air through the nose and mouth. They usually start at the bridge of the nose and end below the lower lip.
Benefits:

May be effective at lower pressure levels than needed with a full-face mask
Leaves the user's mouth free

Benefits:

Extremely lightweight and low-profile
Smaller facial footprint may reduce feelings of claustrophobia

Benefits:

Can be used by children who breathe through their mouth while asleep
Better choice for CPAP users prone to nasal congestion

Drawbacks:

Potential for discomfort if the user has nasal congestion
May causes irritation on the bridge of the nose

Drawbacks:

More direct airflow can be uncomfortable at high air pressure levels
May cause sinus irritation

Drawbacks:

Bulky design can feel claustrophobic
Can be difficult to find a comfortable sleeping position
Can children of all ages use a CPAP mask?
When administered properly under the direction of a doctor, CPAP therapy is a safe and effective way to treat OSA in children of all ages, including infants, but individual CPAP masks are usually designed for a specific age range.
Since a CPAP mask must fit correctly to be comfortable and effective, young children who are growing rapidly may need to change mask sizes frequently. Your doctor or sleep specialist can help ensure you choose the right design for your child's age and size.
Is a prescription required for a child's CPAP mask?
Like CPAP machines, CPAP masks can only be purchased with a doctor's prescription. If you choose to buy your child's mask online, you will need to submit the appropriate prescription before your purchase is processed. Individual mask replacement parts are available without a prescription.
Are pediatric CPAP masks covered by insurance or CHIP?
CPAP masks and other necessary equipment for CPAP therapy are usually covered by health insurance, though the specifics of that coverage depend on the provider. Coverage under the Children's Health Insurance Program (CHIP) varies between states.
Depending on your provider's policies, coverage for CPAP costs may require you to submit data on how often your child uses their machine. Choosing a comfortable CPAP mask for your child may encourage them to use their CPAP machine as prescribed.
Where to buy a pediatric CPAP mask
Once you obtain a prescription, you can buy a pediatric CPAP mask from brick-and-mortar and online CPAP retailers, as well as through some sleep specialists.
Retailer
Pros
Cons
Sleep specialist

Integrated with your child's treatment
Personalized advice

Generally costs more than other retailers
Minimal selection

Brick-and-mortar CPAP retailer

Allows you to see masks in person
You can bring the mask home the same day

May be inaccessible for people who live in rural areas
Higher average costs than online

Online CPAP retailer

Large selection and low prices
May offer free shipping

Asking questions can be difficult
Shipping times vary depending on your location
How to choose a CPAP mask for children
Choosing a CPAP mask for your child can be complicated, but understanding how masks work and what to look for can make the process easier. However, some children may have to try multiple mask designs before finding one that suits their needs.
Size and fit
A CPAP mask should fit securely but not tightly, as one that is too tight or loose can cause skin irritation and air leaks.

Most CPAP masks for children are sized according to age, though the exact fit of a mask also depends on its shape and design. Many masks also have adjustable headgear for a more personalized fit.
Comfort
How a CPAP mask feels depends on its overall design, how well it fits, the materials used in different parts of the mask, and how it performs at different air pressure levels.

The majority of people find full-face masks less comfortable than nasal and nasal pillow masks, but comfort is subjective, and your child may prefer a different style.
Device compatibility
CPAP masks are broadly standardized and are likely to be compatible with almost all CPAP machines. There are some outliers, particularly among travel CPAP machines, so it's important to double-check that your chosen CPAP mask will work with your child's CPAP machine and tubing.
Sleeping position
If your child sleeps on their side or stomach, or if their doctor thinks they should avoid sleeping on their back, it's worth factoring that in when choosing a CPAP mask.

Full-face masks and some nasal masks can make it difficult for side or stomach sleepers to sleep comfortably. CPAP pillows, which have cutouts or curves to provide room for the sleeper's mask, can make these positions more comfortable.
Price
High-quality CPAP masks are available at many price-points, allowing most people to find a mask that works for both their budget and their child's needs.

Since CPAP masks and mask components need to be replaced regularly, you should consider the cost of these frequent purchases when deciding whether a mask fits your family's budget.
Tips for parents new to pediatric CPAP
Using a CPAP machine for the first time can be overwhelming for some children, but there are ways for parents to make the experience easier and more comfortable.
Ease into CPAP therapy: Children who are unfamiliar with CPAP equipment can find the experience frightening, so slowly introducing them to the equipment and experience can help them adjust to using their CPAP machine.

Experts suggest gradually exposing children to wearing and using the mask in short, calm sessions accompanied by verbal praise and rewards, such as stickers or tokens. The more a child associates CPAP use with enjoyable experiences, the more comfortable they will become with CPAP therapy.
Clean and inspect the mask regularly: CPAP equipment, including masks, must be inspected and cleaned regularly to keep them hygienic and in good working condition.

CPAP masks come with cleaning recommendations from the manufacturer. However, you can keep most masks in good condition by wiping the mask cushion nightly and washing all the components with warm, soapy water once a week.
Replace worn parts: CPAP masks have a number of different components — including the headgear, mask cushion, and frame — that should each be replaced regularly. While the instructions for your child's mask will likely provide a suggested replacement schedule, components should also be replaced whenever they show signs of wear or damage.
Frequently asked questions
While CPAP masks may appear straightforward compared to other aspects of CPAP therapy, they are still intricate medical equipment. If you have questions about which CPAP mask is right for your child, their doctor can provide answers and guide you toward the best mask for your child's needs.
How much do children's CPAP masks cost?
CPAP masks for children vary significantly in price, but the average price range is between $30 and $150. Many insurance providers provide coverage for pediatric CPAP equipment, including CPAP masks.
What is the minimum age for CPAP?
There is no minimum age for CPAP therapy, since it has been shown to be safe and effective from infancy. If your doctor has prescribed a CPAP machine for your child, they believe the treatment's benefits outweigh any potential downsides.
How do you clean a pediatric CPAP mask?
CPAP masks should be wiped down daily and thoroughly cleaned at least once a week or according to the manufacturer's recommendations. 

To wash a CPAP mask, it must first be fully disassembled. You should use warm, drinking-quality water and a gentle soap with no moisturizers to wash each component, then rinse the parts well with clean water. CPAP mask components should be air dried on a clean towel out of direct sunlight.
How often should you change your child's CPAP mask?
While the suggested replacement schedule for CPAP mask components varies among manufacturers, the most commonly recommended schedule involves replacing the mask cushion or nasal pillows every two to four weeks and replacing other components every three to six months.