Many people spend a significant part of their day looking at electronic screens. While this is often a necessary job function, too much time staring at a screen can lead to eye strain and headaches. Screen use before bed may also cause disruptions to the sleep-wake cycle due to the wakeful effects of blue light.
Blue light is a natural component of sunlight and has an invigorating effect on the body. While exposure to sunlight — and high-energy blue light in particular — is an important driver of the body's circadian rhythm, artificial sources of blue light can inhibit production of the sleep-inducing hormone melatonin, making it harder to fall asleep.
Blue light blocking glasses use tints, special coatings, or other technology infused into the lenses to block blue light. We'll review our top picks for the best blue light blocking glasses before taking a closer look at what blue light is, how it can impact your sleep health, and how specialized glasses may help you sleep better.
Luminere Blue Light Blocking Glasses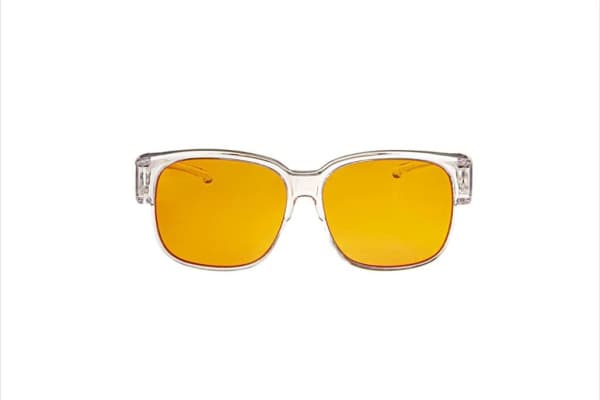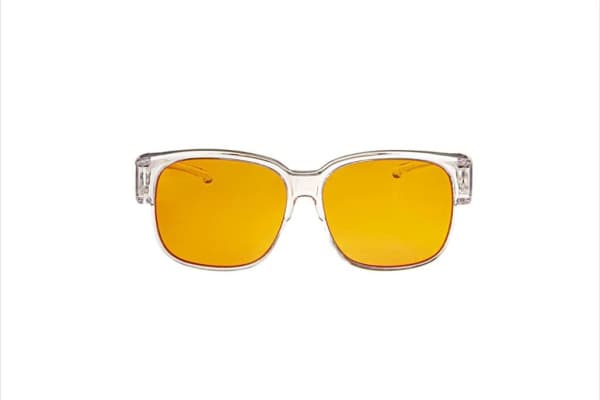 Orange CR-39 lenses block 99% of blue light up to wavelengths of 400 nanometers
Acetate frames available in black or clear styles
Choice of wear-alone or fitover models
Shoppers looking for a classic frame style
People who like to use electronics before bed
Those who don't need blue light glasses during the day
Designed with both form and function in mind, the Luminere Blue Light Blocking Glasses combine a classic look with excellent blue light blocking performance.
Shoppers can choose from solid black or clear BPA-free acetate frames. Classic frames can be worn alone, while the fitover style works well for those looking to accommodate prescription glasses. The Luminere frames also feature spring-loaded, stainless steel hinges for a better fit.
Luminere's patented lenses feature anti-glare and anti-reflective technology designed to block 99% of blue light wavelengths up to 400 nanometers. The lenses also filter ultraviolet light, providing both UV-A and UV-B protection.
Luminere offers a generous lifetime warranty on its frames. Shoppers can send their scratched or broken Blue Light Blocking Glasses back and receive a new pair for only the cost of shipping and handling.
Durable frames and a classic design complement the overall effectiveness of the Luminere's lenses, making them a great choice for people looking to balance comfort and functionality.
Ocushield Anti Blue Light Glasses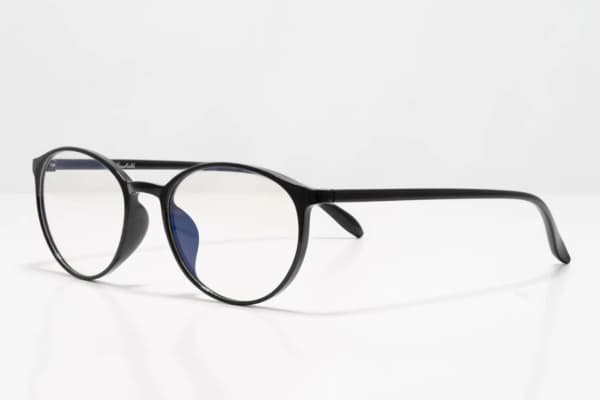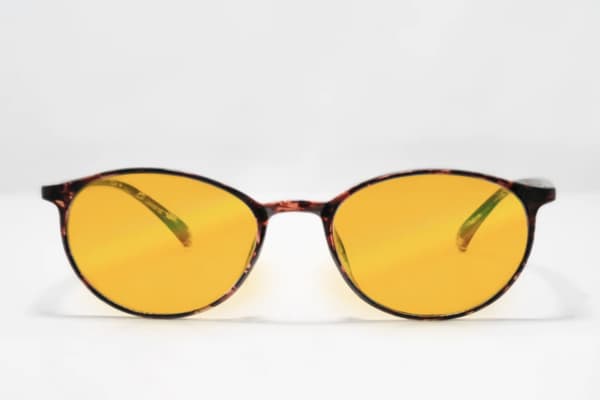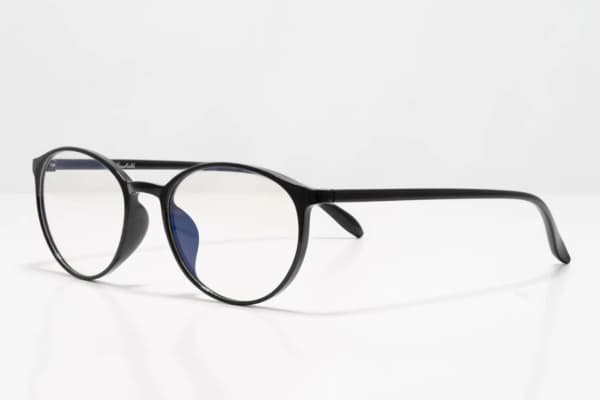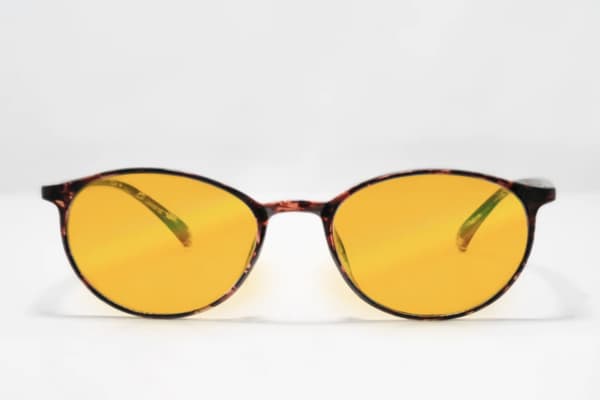 Available in a wide range of adult and kid-friendly styles
Blocks between 54% and 99% of blue light emissions between 300 and 470 nm
No prescription needed for purchase
People who routinely watch television or use smart devices before bedtime
Those who must use a computer for work
Shoppers with limited budgets
The Ocushield Anti Blue Light Glasses are durable, effective, and budget-friendly. Available in two styles — rounded "Carson" and rectangular "Parker" — the glasses feature lightweight frames and lenses that are resistant to scratches, fogging, and glare. The clear lenses are ideal for people who use computers for work and others who expose themselves to a fair amount of blue light during the day. If you enjoy watching television, reading on a tablet, or using your smartphone before bed, the amber lenses might be the best option.
Ocushield offers blue light blocking glasses for kids and adults, none of which require a prescription. The lenses filter roughly 99% of blue light emissions with wavelengths between 300 and 400 nanometers (nm), and 54% of emissions between 400 and 470 nm. This can decrease eye strain and reduce the potential for migraines. Shiny black, clear white, and tortoiseshell designs are available for both frame styles.
The Anti Blue Light Glasses have received FDA approval. All frames carry approachable sticker prices. Ocushield also covers delivery costs for orders of $63 or higher, and purchases below this benchmark qualify for affordable flat-rate shipping. The company's 100-day trial period is one of the longest in the industry. If you're satisfied with the glasses within 2 weeks of receipt, you can obtain an extended warranty with up to a year of coverage for structural defects.
Sojos Vision Blue Light Glasses
Broad range of stylish frames reflecting current trends
Several lens types and thickness options
Little to no noticeable tint
Those seeking a variety of colors, shapes, and material types
People wanting prescription blue light glasses
Budget-conscious shoppers
SOJOS focuses on fashion-forward glasses designed for women. The company offers a range of contemporary frames that can be paired with high-quality blue light blocking lenses at a reasonable cost.
SOJOS works with designers in the United States and Europe to create the latest on-trend looks. The array of frames features a range of designs and materials, including acetate, polycarbonate, wire-rimmed, and rimless.
The company's blue light blocking lenses are available in nonprescription or prescription varieties, including single vision, progressive, and readers. Prescription lenses also come in various thicknesses, ranging from standard to ultra thin. A subtle tint keeps the lenses clear while blocking 25% of blue light between wavelengths of 380 and 450 nanometers.
SOJOS offers free shipping for orders over $49. Returns and exchanges can be made within 30 days of purchase for nonprescription frames. Returns are subject to shipping fees unless the order arrives damaged.
Featuring more than 100 frame styles, SOJOS offers a variety of options, often at sale prices.
Best Blue Light and Prescription
Felix Gray Blue Light Glasses
Clear and amber-tinted lens options
Proprietary blue light blocking tech infused into the lenses
Prescription, nonprescription, and reader options
People who spend a significant amount of time on their devices
Those seeking low-bridge frame options
Shoppers looking for frame options that will fit their entire family
Felix Gray's selection of modern, versatile frames includes options for adults and children. The breadth of frame choices is matched by a selection of prescription and nonprescription lenses that offer superior protection against blue light.
The company's lineup of hand-finished adult glasses are made of organic acetate. Four of the frames are available in a low-bridge fit. Felix Gray offers a choice of either clear or amber-tinted lenses, all of which have a double-sided anti-glare coating. The clear and amber lenses are available in single-vision corrective and noncorrective lenses, as well as readers with powers ranging from +0.5 to +2.5.
The lenses in Felix Gray's blue light glasses are lightweight and shatter-resistant. Rather than using a coating or dye, the lenses are infused with a proprietary filtering formula. They are designed to block 50% of all blue light and 90% between wavelengths of 380 and 400 nanometers. Additionally, the company notes that the lenses filter approximately 30% of blue light at 455 nanometers, which is within the range most impactful to melatonin suppression.
Felix Gray provides free standard shipping in the U.S. as well as free returns on glasses within 30 days of purchase. Expedited shipping is available for an additional charge.
Made with specialized technology designed to block the blue light wavelengths that most impact sleep cycles, Felix Gray's lenses are particularly effective for people who spend long hours using electronic devices.
Best for Digital Eye Strain
EyeBuyDirect Blue Light Blocking Glasses
Large selection of frames, including premium brands
Four blue light blocking lens options
365-day guarantee against defects in craftsmanship
Those who use tablets, smartphones, or computers for extended periods
People sensitive to screen glare
Shoppers looking for a wide selection of frame and lens options
Shopping with EyeBuyDirect lets customers apply an array of lens customizations to a selection of over a thousand frames. This high degree of personalization extends to the brand's line of four blue light blocking lenses.
EyeBuyDirect's base model blue light blocking lens, the EBDBlue Plus, incorporates the company's standard blue light filtering technology. EBDBlue 360 adds to this by increasing the anti-glare capability of the lens. EBDBlue Smart has light-adjusting capability. For eye strain, the SightRelax option incorporates low levels of magnification into the bottom of the lens, making up-close reading easier.
These blue light blocking lenses cater to specific wearers, but each is designed to target the 415 to 455 nanometer range of blue light emitted by electronic devices. EyeBuyDirect's anti-scratch and anti-smudge prescription and nonprescription lenses also offer UV protection and are resistant to dust and water.
Purchases come with a 14-day return period, during which customers can request a one-time replacement or refund. The company also offers a 365-day warranty that protects against defects in craftsmanship.
Combining an impressive range of frame choices with a selection of lenses that incorporate blue light filtering and other technologies, EyeBuyDirect gives shoppers options without sacrificing effective protection from eye strain.
LOOK OPTIC Blue-Light Readers
Blue light absorbing technology built into the lenses
Clear lenses for a subtle look
Magnifying power up to +3.00
Those who like to use e-readers and smartphones before bed
People who are farsighted
Shoppers who feel overwhelmed by the number of frame options available on other sites
Designed for those who need magnification for up-close work and reading, LOOK OPTIC's Blue Light Readers provide up to +3.00 power. Clear lenses and fashionable frames spotlight style while retaining functionality.
LOOK OPTIC customers can select from 14 frames. Most are made from light, durable TR90 thermoplastic. Spring hinges and wire-core temples provide a snug but comfortable fit. Six frames feature 100% recycled materials.
LOOK OPTIC's RetinaShield TM Blue uses blue light inhibiting technology in the lens itself rather than applying a protective coating, resulting in an untinted, transparent look.
Glasses purchased from LOOK OPTIC ship free within the contiguous U.S. Orders come with a 90-day trial, including free returns. LOOK OPTIC Blue Light Readers are covered by a one-year guarantee.
While also available without magnification, LOOK OPTIC's Blue Light Readers are ideal for people who need readers to correct farsightedness but also want protection from blue light.
Why You Should Trust Us
Our goal is to provide helpful information and thoughtful recommendations that you can use to choose products that fit your lifestyle. With that in mind, we combined our years of experience in the sleep products industry with in-depth research to select our top picks for the best blue light blocking glasses.
What Are Blue Light Blocking Glasses?
Too much exposure to blue light, especially before bedtime, may cause disruptions to your circadian rhythm, making it more difficult to fall asleep. However, blue light blocking glasses can help preserve your sleep-wake cycle. 
Blue Light and How You Can Block It
Blue light is part of the visible light spectrum. Studies have shown that its higher-energy wavelengths stimulate the brain, increasing wakefulness. Televisions, other electronic devices with screens, and fluorescent light sources emit blue light. Glasses with yellow- or amber-tinted lenses, as well as other special lens coatings, are designed to block blue light. 
Benefits of Decreasing Your Blue Light Exposure
Shielding your eyes from blue light can be especially helpful in the hour or two leading up to bedtime. This prevents blue light from sending wakefulness signals to the brain and disrupting the release of the sleep hormone melatonin.
Picking the Best Blue Light Blocking Glasses
When selecting blue light glasses, you should first determine when you'll be wearing them. Daytime and nighttime wearers have different needs in terms of blue light blocking capability. You'll also want to think about what size, style, and color you prefer and whether you'll need blue light blocking glasses with prescription lenses.
Are Blue Light Blockers Budget Friendly?
Usually priced less than $50, blue light blocking glasses can be a budget-friendly choice. Blue light blocking glasses with prescription lenses generally have a higher price range, though some of the cost may be offset by insurance. Prescription blue light glasses may also be eligible for vision insurance coverage and may be an eligible expense through a health savings account or flexible spending account.
Blue light is a part of the visible spectrum of light. Along with violet light, it's part of the high-energy band of the light spectrum between 400 and 450 nanometers, with blue light extending up to 500 nanometers. While most blue light blocking glasses also target violet light around 380 nanometers and shorter-wavelength ultraviolet light, the light-blocking ability between 400 and 500 nanometers can vary considerably among models.
The sun is the largest and most important source of blue light. However, blue light is also produced by artificial sources such as fluorescent lights and the screens of televisions, computers, and smartphones.
Is Blue Light Good or Bad?
Exposure to blue light via sunshine is critical to regulating the body's sleep-wake cycle. During the day, the sun's light promotes wakefulness and helps keep us alert. As the sun sets, the body naturally begins releasing the sleep hormone melatonin in the absence of sunlight.
Sleep-wake cycles can be interrupted by too much exposure to blue light in the evening. Using devices with screens at night may have a stimulating effect by inhibiting the production of melatonin, making it harder to fall asleep.
How Do Glasses Filter Blue Light?
Blue light blocking glasses have specially designed lenses that use amber tints, coatings, or in-mass formulations to protect the eye from a percentage of the blue light spectrum. This percentage varies depending on the manufacturer and the type of lens used.
Ideally, blue light glasses should filter wavelengths between 446 and 477 nanometers, which studies have shown is the range most responsible for the suppression of melatonin production.
Are Blue Light Blocking Lenses Tinted?
Some blue light blocking glasses have yellow- or amber-tinted lenses, while others use a nearly clear coating or incorporate blue light blocking technology into the lens itself.
Tinted lenses absorb the broadest range of blue light. Their greater effectiveness makes them a good option for nighttime wear. During the day, certain tinted lenses may block out too much blue light, which may negatively impact the body's internal clock.
Those looking for a good option to wear during the day may want to consider clear coatings or formulations that don't impact the perception of colors. These lenses typically block a narrower range of blue light wavelengths, but they can still help limit exposure.
How Does Blue Light Affect Sleep?
Research indicates that during the daytime, blue light helps us wake up and remain alert. When there is less blue light after sunset, the body ramps up production of the sleep hormone melatonin.
Modern life's abundance of screens that emit blue light, including smartphones and e-readers, can negatively impact the body's circadian rhythm by inhibiting the release of melatonin and disrupting the natural sleep cycle. 
Are Blue Light Blocking Glasses Effective?
There have been some studies that show evidence of the ability of blue light glasses to promote a healthy sleep-wake cycle. However, researchers have yet to reach a consensus opinion about their overall effectiveness.
Additional Uses of Blue Light Blocking Glasses
Beyond helping to maintain the body's internal clock, blue light blocking glasses may help reduce eye fatigue when working for long periods on a computer or while gaming.
Choosing the Best Blue Light Blocking Glasses
Before selecting a pair of blue light blocking glasses, it's helpful to understand the available options in terms of fit and style, blocking strength, tints, and prescription lens availability.
Blocking strength: Tinted blue light blocking glasses generally absorb the most blue light, making them a good option for nighttime use. Clear lenses typically block less blue light and may be more suitable for daytime wear.
Tint: Tint is highly related to blocking strength. Those seeking the most blue light blocking capability from their glasses should generally opt for tinted lenses. However, wearing tinted lenses during the day may negatively impact wakefulness and may also affect the way colors appear.
Fit: Blue light blocking glasses fit similarly to other types of glasses. Just like regular prescription glasses or sunglasses, a properly fitting pair shouldn't pinch, squeeze, or feel overly tight.
Style: Frame styles for blue light blocking glasses vary widely. Most shoppers should be able to find a frame shape and color that works for them.
Prescription lenses: Using prescription blue light blocking glasses can be helpful for people who need corrective lenses. Options include single strength lenses, progressive lenses, and readers. Availability of prescription lenses varies across brands and styles.
How Much Are Blue Light Blocking Glasses?
Blue light blocking glasses without prescription lenses are generally affordable. Many of the best blue light blocking glasses at Amazon and other retailers are in the $15 to $50 price range. Glasses with corrective lenses are generally more expensive, but some or all of the cost may be covered by insurance and may be HSA or FSA eligible.
Free Trials and Return Policies
Shoppers can take advantage of free trial periods and return policies on blue light blocking glasses sold by certain manufacturers. Trial periods usually run anywhere from 30 days to a year, allowing customers to try out the frames during their day-to-day activities.
Additional Blue Light Prevention
In addition to using blue light blocking glasses, there are other ways you can reduce your exposure to blue light from artificial sources. Decrease or eliminate screen time before bed, and consider switching to light bulbs that emit minimal amounts of blue light. Using blue light filter apps and screen protectors can also help.